Celebs
Greg Locke Gets Banned from Twitter for Sharing Misinformation on COVID-19
Greg Locke, Entitled to an Impressive Net Worth, is Backed By a Supportive Wife While He Made Headlines for His Controversial Act Supporting COVID Misinformation.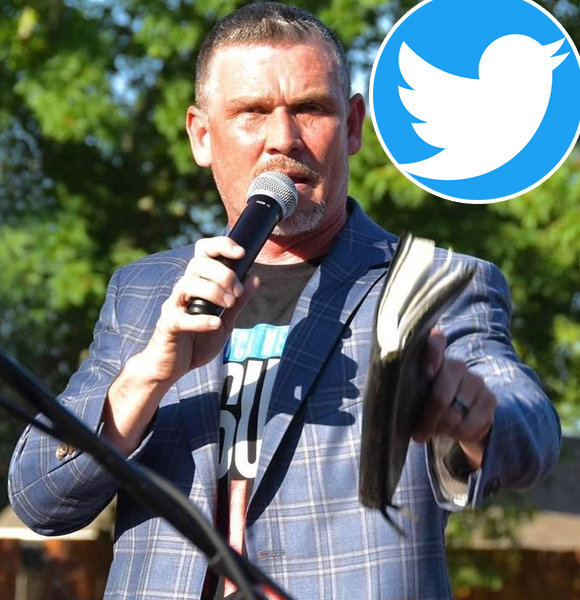 Pastor Greg Locke faced the wrath of the general public back in April 2021, when his church, Global Vision Bible Chruch, was vandalized for the way it handled its response towards the COVID-19 pandemic.
Yet again, he faced similar treatment from social media handle for "spreading misinformation" towards the COVID-19.
Consequences Of MisInformation
Back in April of 2021, Greg shared pictures of his church which was vandalized and had spray paint on its walls that read, 
"Your lies cost lives" 
The scenario raised when his church had restricted its attendees from wearing masks, and if they did, they would be "asked to sit in their car." Many deemed his actions harmful as the church went against the guidelines to fight the deadly COVID-19 virus.
Sharing pictures from the event on his Facebook, Greg shared how vandalization of his church only "fires" him up and makes him want to "fight more." Concluding the caption in bold words, he wrote,
"WE WILL NOT BACK DOWN. WE WILL NOT BE INTIMIDATED."
But by the looks of the whole situation, the pastor has been backed down, not physically or verbally but digitally. According to Herald-Tribune, In September, Twitter banned his account for spreading misinformation about COVID-19.
Talking about the unfortunate event among his followers, he informed them by writing,
"Twitter just permanently suspended my account. Welcome to America"
The pastor who earns probably a generous salary of five figures yearly surely entertains a net worth of millions, considering how long he has been in the business.
Read More On: John Hagee Wife, Children, Net Worth, Divorce
With someone with such a huge following and a good earning by preaching to hundreds and thousands of people, the general public wanted him to be warier of his consequences and the harm his decisions might inflict upon others.
But seemingly, Locke has decided not to make changes to his policies and stand by his decisions. The Tennessee pastor's occasional appearance on news outlets has made people wonder what his life away from his daily work is like.
Pastor Greg Locke's Wife 
Locke has been married to Taisa since 2018, and although they don't share any children, the pastor is a father to six children, four of which are from his previous marriage. 
However, he, along with his wife Taisa and his children, work hand in hand in his ministry. The pastor shared his four children, Malachi, Hudson, Locke, and Destiny with his ex-wife Melissa, while his other two children are adopted.
Although what caused his previous marriage to fail remains confidential, his love for his current wife is evident on his social media, where he once wrote a caption dedicated to Taisa that read,
"I love this woman more than life. She stands beside me no matter what others throw at us."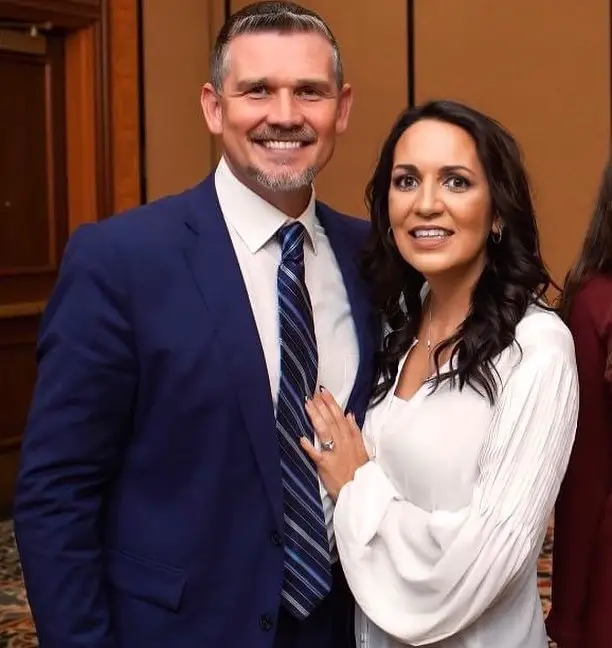 Greg Locke With His Wife (Source Instagram)
He also shared how "anointed, strong, beautiful and godly" his wife is and called her a "tremendous gift from god." He and his wife seem to live a happy life alongside each other, raising a family and going on tours preaching their beliefs in different states and countries.
Know More On Evangelist: Beth Moore's Balanced Family With 'Preacher' Husband! Evangelist's Personal Details
Greg Locke's Bio
Locke was born in 1976 in Nashville, Tennessee who led the Baptist Christianity of his grandparents in 1992. He is an Independent Baptist evangelist and pastor and calls himself a Revivalist. 
He preached his first sermon when he was at the age of 19. Greg, a bachelor's degree holder in Biblical Studies and a Master's Degree in Revival History, wrote a book named "Blinded by Benny."
Additionally, he has also released Amazon's #1 Bestselling book, "This Means War: We Will Not Surrender Through Silence." Despite being surrounded by criticism for his controversial act, the pastor holds firm with his belief and goes on with his everyday professional life, which has brought him a hefty fortune.