Using his explosive personality & faith in Christianity, be it on TV or congregations across the churches in the US, television evangelist John Haggee has garnered jaw-dropping net worth.
However, all his achievements pale in comparison when placed next to his married life with his wife, with whom he shares five children and eight grandkids. A great father figure to many, John can now count on his offsprings to cement his legacy.
Read along to learn more including his education background and parents info!
Shares Five Married Children With Wife; Once Divorced
To John, his wife Diana Castro Hagee is more than his a wife; she's his support system.
Married To Pastor:- Kierra Sheard is Not Married! Single and Motivated With No Boyfriend Issues
Besides being a mother to his five children and their eight grandkids, Diana is a Chief of Staff for John Hagee Ministries television ministry. She also serves as event coordinator of Women's Ministries at San Antonio, Texas-based Cornerstone Church -- a nondenominational, evangelical church founded by the pastor.
A graduate of Trinity University, the mom-of-five, and her world-renowned pastor husband got married on 12th April 1975.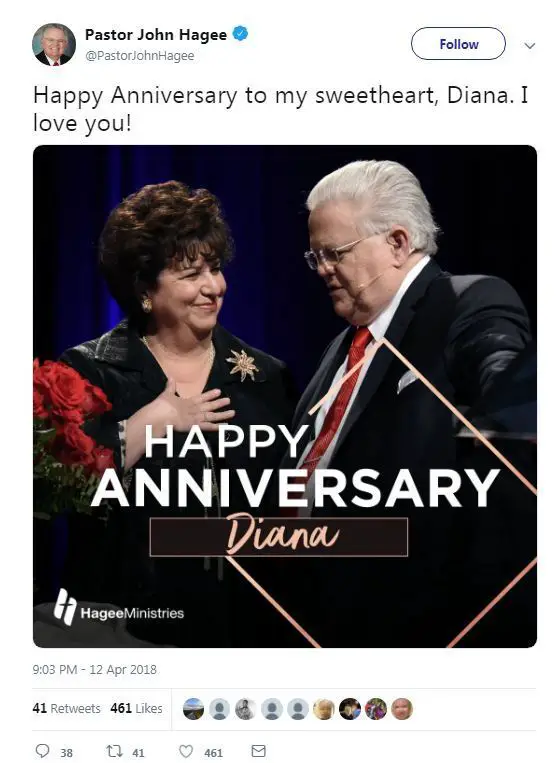 John Hagee wishes his wife a happy 41st wedding anniversary (Photo:- John Hagee's Twitter)
Many may not know, but Diana isn't John's first wife. The latter was in a happy marital relationship with a woman named Martha Elizabeth Downing before a tragic divorce ended it all.
The divorce is a minor blemish in his otherwise spotless life. Nevertheless, he couldn't be more thankful for how things panned out. Along with his second wife, he has raised truly exceptional kids.
Son Following Father's Footstep:- Jim Jefferies Admired By Wife-Like Girlfriend! His 'Like Father Like Son' Situation
Of his five offsprings, the youngest, Matthew Hagee is the one likely to follow his footsteps. Already a hit among the Cornerstone flock, Matthew credits his parents for inspiring him to take up the mic and spread the word of the Bible. He once said:-
"Every hour I've ever lived and breathed, I've always known I wanted to be a preacher... "
Seeing how much his father has been able to garner in net worth, it might not be a wrong career path after all.
Behind John Haggee's Net Worth; Height & Age Disclosed
To put it context, John, like his son, learned all the tricks from his parents -- Reverend and Mrs. Bythell Hagee. Although raised in a very conservative household, the Texas native got to explore the world when he enrolled at Trinity University to study History and Education.
For his Master's degree, he joined the University of North Texas. However, it was during his years studying Diploma in Theology from Southwestern Assemblies of God University when he truly honed his skills as a pastor.
At age 78, John - who stands six feet and two inches (187 cm) in height - works twice as hard as anyone on the television evangelist circuit.
The author of more than 23 books has been relentless in his approach since his foray into the world of "organized Christianity." Active since the '70s, he led Trinity Church and later the Castle Hills before establishing the world famous Cornerstone Church.
Preacher With Equally Impressive Net Worth:- Andy Stanley - A Family Man Who Knows How To Make Them Feel Special!
At present, the veteran pastor serves as the CEO of Christian Evangelism Television, John Hagee Ministries as well as National Chairman of Christians United for Israel. Safe to conclude that John is one of the wealthiest preachers alive with a reported net worth of $5 million to his name.