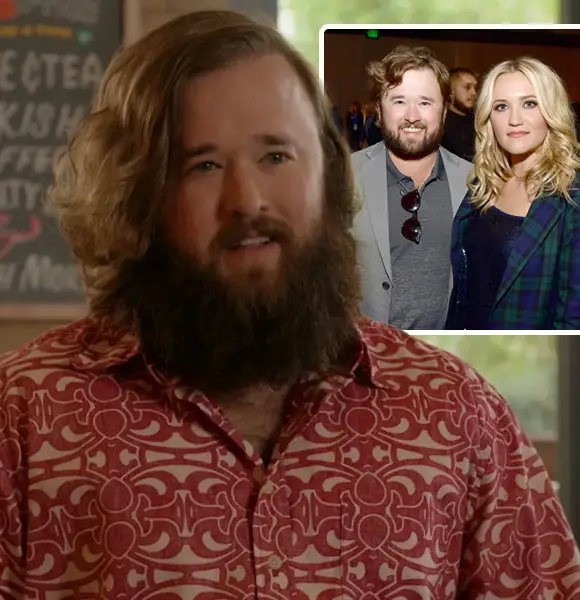 Haley Joel Osment is one of those celebrities who racked up immense love and support from the people around him from a young age, and standing where he is at present, he has maintained the essence intact in his personal life. 
Osment seems to have kept many things private, whether it be his wife, girlfriend, or other personal details. However, he has given a lot of hints regarding his relationships in several different forms.
There are many stories to narrate and questions regarding his better half, love life to uncover.
Who Is Haley Joel Osment's Wife?
Well, this question, for now, would be answered as no one as Osment does not have a wife. So far, Osment has always been a private person who barely brings off his details, but he was once spotted with a girl once, which ignited the rumors of him having a girlfriend. 
In 2014, he was seen holding hands with a tall, beautiful girl walking beside him, the couple walked carefreely yet happily in the street, and this was not the only time they were spotted together. 
The couple was spotted once again walking beside each other in the streets of New York. Although the two were spotted multiple times, Osment never made their relationship official and talked regarding the matter.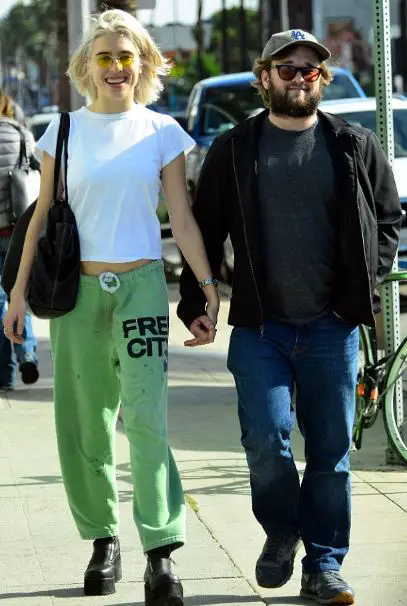 Haley Joel Osment spotted with his blonde girlfriend (Source: Dailymail)
In addition, back in the same year, Osment went on Reddit and answered his fans' queries, where one of them asked,
"Hey Haley, how was it working on TUSK? Is it as messed up as I hope it's going to be? Thanks for doing this AMA."
To this comment, he replied,
"It is. I saw a rough cut two days ago. Immediately knew my mom and my girlfriend would both not be able to sit through it."
So is the girlfriend he mentioned in Reddit, the same lady he was spotted with? Well, this question can only be answered by Osment but, sadly, he never gave out the details about his girlfriend or his potential wife. 
Likewise, in 2002, he was linked with his co-star Mae Whitman, an American actress.  
The two met in the set of 'The Jungle Book 3.' During the movie's promotions, Whitman and Osment seemed pretty close to each other, which aroused thousands of rumors and questions.
However, they decided to keep the rumor aside and never really came up with an answer addressing it.
To this date, any other news regarding his girlfriend, wife, engagement, or married life has not come to light or gone sporadic.
So there are possibilities of him having his special someone yet keeping her away from the eyes of the media. However, even if he has a wife he has not publicly introduced, the support he gains from his audience would never get less.
It is because he has been garnering an ineffable amount of love and support from his followers since a young age.
So, his audience, who have been admiring him since then, would love to see him with his wife. So, time might lead Osment to ring his wedding chimes with his future wife sooner or later.
You Might Like:- Matthew McNulty's Low-Key Family Life Alongside A Loving Wife
Joel Osment's Family
The Oscar nominee from 'The Sixth Sense' glorified his presence since the tender age of ten, where he successfully snatched thousands of hearts. Yet, his journey as a child actor remains in all of his fans' reminiscence. 
Adolescence is a phase of life where a teen is unsure and violent regarding their steps. Here, their way of paving paths seems disastrous to many but the best to themselves.
Osment as well has been through such a consequence. In the year 2006, he was on his way while drunk. 
Unfortunately, the car was overturned, for which he got fined, probation for three years, and sentenced to rehabilitation. While talking to The Guardian, he said, 
"Terrible mistake of an arrogant teenager in car-centric Los Angeles; It could not have had less to do with Hollywood."
He still does repent for the stupidity he made during his teenage years. However, Osment has always had his immensely supportive family right beside who showed him the right way and forgave him for his mistakes. 
Joel is the son of Eugene and Theresa Seifert Osment. He grew alongside his sister Emily Osment, who is also an incredibly popular American actress.
Recently, the siblings attended the LA Dodgers Holiday festival, and Haley took to Instagram and uploaded a series of pictures from the event, one of which was included a picture alongside his sister making the Dodgers sign.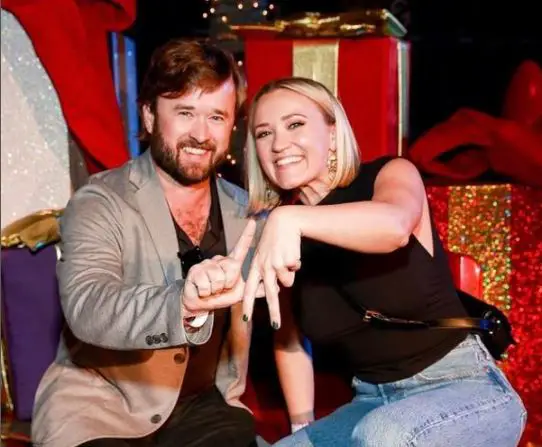 Haley Joel Osment posing adorably with his sister, Emily Osment (Source: Instagram)
Haley posted this picture and captioned it as"Yuletide..." His fans were in awe after coming across such an adorable picture.
They both looked chic with astounding outfits that made them stand out even more. The siblings seemed all ready and excited for the launch. 
Osment seems to be the perfect person every individual needs in their life. His jolly yet friendly personality always grasps an enthralling vibe.
He has been in Hollywood for many years, but his passion for learning and evolving still brings out a young and enthusiastic kid in him.