Music
All About Harry Belafonte's Married Life & Children- Where Is He Now?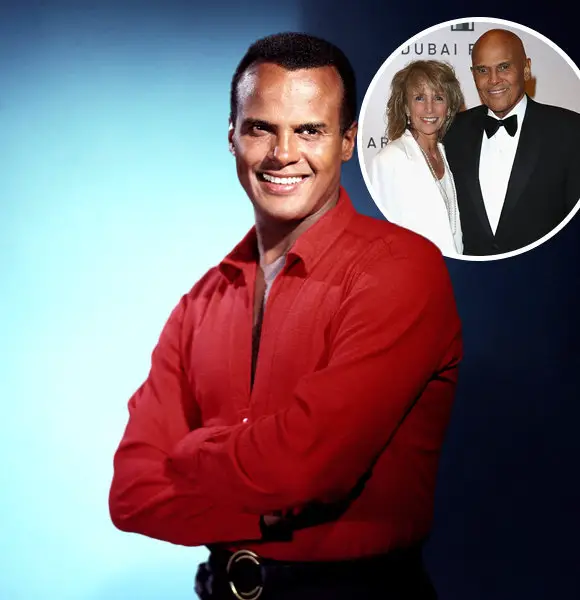 American celebrity Harry Belafonte has seen the world. He has been through everything from fighting against racism before the civil rights movement to selling millions of records.
In addition to his prosperous career, he has been married thrice. But did he have a successful marriage with his spouse? Continue reading to satisfy your curiosity. 
Harry Belafonte's Spouse
Harry was married to the 'Night of the Quarter Moon' actress Marguerite Byrd. His first wife was regarded as one of the most attractive women at Hampton Institute.
The 'White Man's Burden' star and his then spouse, Marguerite, had very different opinions regarding the various topic and often had arguments concerning them.
Perhaps due to their disagreements, the pair grew close and eventually began dating. After some time of courting, the couple got married in 1948.
Harry with his first wife, Marguerite Byrd. (Photo: Instagram)
The couple has two beautiful daughters, Adrienne Belafonte, born in 1949, and Shari Belafonte, born in 1954.
Adrienne, Harry's eldest child, works as a family and children's counselor. Like her father, Adrienne is also involved in humanitarian work. 
Adrienne is the executive director of the Anir Foundation, which promotes volunteer opportunities in Southern and Eastern Africa. Additionally, she is proud to be the mother of Rachel Blue Belafonte.
You May Like: John Amos's Kids Following His Footsteps-Who Are His Kids?
Harry's second daughter, Shari Belafonte, has carried on her father's legacy. Shari is a well-known actress who has performed on 'The Morning Show,' 'General Hospital,' and FOX's '9-1-1.'
In 1954, Harry was in the beginning stage of his acting career and was filming 'Carmen Jones' with Julie Robinson. While filming the movie, Harry and Julie started to have an affair. 
After finding the affair between the actors, Marguerite divorced Harry in 1957 and returned to her family.
'The Banana Boat Song' singer married Julie right after his divorce from Marguerite yet had to keep his marriage secret from the public. But before Harry's film 'Island in the Sun' was released, word of their marriage got leaked.
Find Out: Timbaland's Married Life & Kids- Still Together with His Wife?
Both his marriage and movie stirred controversies because of the interracial relationship, which was not legal then.
Despite their interracial marriage, the couple has welcomed two kids, son David Belafonte and daughter Gina Belafonte.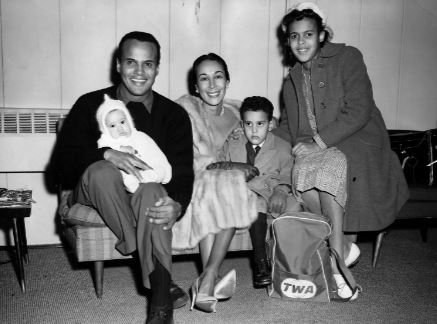 Harry with his second spouse, Julie Robinson, and his children. (Photo: PEOPLE)
Harry's only son, David, continued in his father's acting footsteps by performing on 'Timebomb' and 'Across the Tracks.' He currently works as executive director of Belafonte Enterprises Inc., a company owned by his father.
Together with his model wife, Malena Belafonte, David has a daughter named Serafina.
Gina Belafonte, Harry's youngest child, is an actress and producer. She is well-known for the films 'Courting Des Moines,' 'The Commish,' and 'BlacKkKansman.'
Know About: Who Is Terry Crews's Married To? All on His Family Life with Kids
Like her father, Gina is an activist who works for Sankofa.org, founded by Harry. She and her partner, Scott McRay, have a daughter, Maria Belafonte.
While married to Julie, he also had an affair with Joan Collins, the actress from 'The Big Sleep.' Joan claims that after dating for some time, Harry eventually returned to his spouse, and she moved on.
However, Harry and his second spouse, Julie, split in 2004 after almost 50 years of marriage.
But, Harry found love for the third time. In 2008, he married a photographer, Pamela Frank. The duo doesn't have any children together.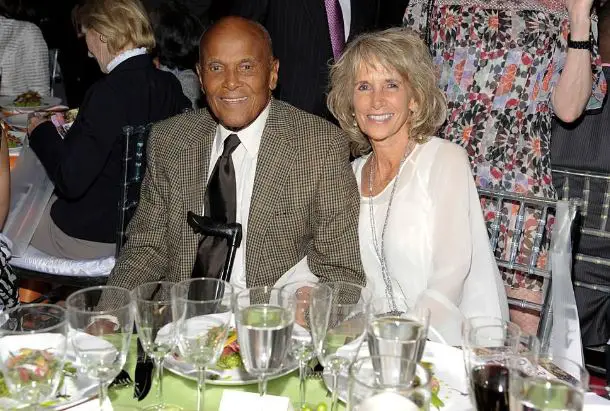 Harry with his third spouse, Pamela Frank, in 2016. (Photo: AmoMama)
Since Harry has been out of the public eye for a while, his followers are wondering if he is still alive. 'When did Harry Belafonte die?' is a common question from his fans.
Is Harry Belafonte Still Alive? 
Harry hasn't made many public appearances, but he is still alive. 
On March 1, 2022, Harry celebrated his 95th birthday, attended by around 1000 well-known personalities.
His foundation, Sankofa.org, hosted an event with performances and the first Harry Belafonte Social Justice Awards presentation on the occasion of his birthday.
The claims of the gospel singer's demise are all incorrect; he is living peacefully with his current spouse Pamela.