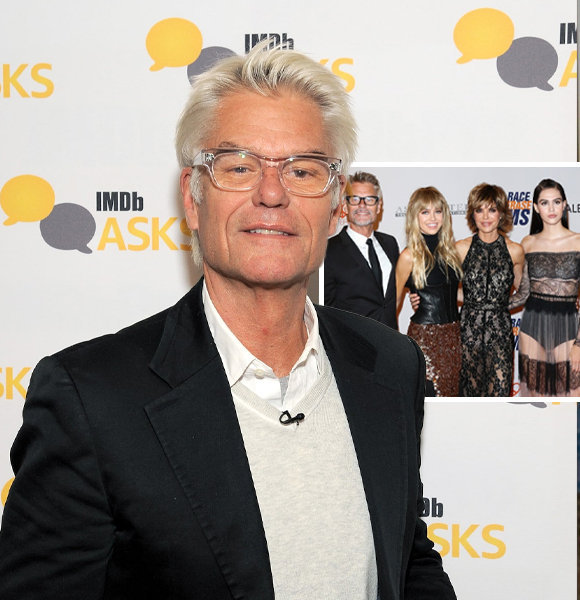 Harry Hamlin, a movie personality who has presented himself amongst several masterpieces on-screen, is recognized by many people.
However, apart from being a movie star, he has also set himself as an exemplary individual who has emerged his career as an entrepreneur and author.
Just as Harry relishes his professional track with a hefty net worth, his personal life too is embellished with immense glee.
However, many of his fans have brought their queries forward regarding his children, wife, and past relationships. So stay engaged; we have got your back. 
Harry Hamlin's Wife & Children
The first relationship Harry made public was with actress Ursula Andress. They hadn't tied the knot, but they did share a son named Dmitri Alexander Hamlin, whom Ursula gave birth to in 1980.
The couple kept their bond intact till 1983 and got separated due to some unrevealed consequences. 
After two years of separation from Ursula, Harry walked down the aisle with Laura Johnson, his first wife, in 1985.
But unfortunately, they got divorced in 1989 after four years of togetherness, and they didn't share any children. 
Again, in 1991, he tied the knot with his second wife, Nicholette Sheridan.
But, the couple couldn't prosper their wedding any longer than a year. So, the pair separated in 1992 without making any public statements regarding their separation. 
Soon after, in 1997, Harry got married to the love of his life, Lisa Rinna. Staying true to their wedding vows, Harry and his wife still remain together as a family with their children. 
While walking through the beautiful journey of love, the couple also introduced the two most significant people into their lives, their daughters, Amelia Gray Hamlin and Delilah Belle Hamlin.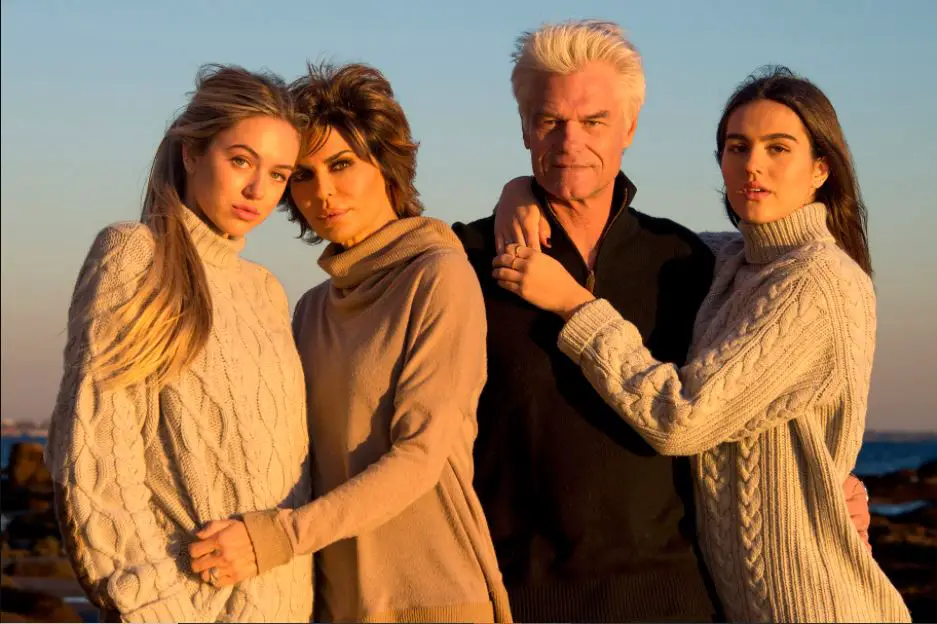 Harry Hamlin's children & wife posing for a family portrait (Image Source: Bravo)
The children of the adorable couple have grown up as gorgeous ladies by now. Both daughters have stepped into modeling and have been flourishing ever since.
In addition, the father, Harry, seems immensely proud of his children, who have grown into someone so bold and successful. 
These princesses got their tiara with thousands of struggles hidden underneath. Their father was a superstar, but that didn't mean success would be easy for the daughters.
Amelia has suffered from anorexia, and Deliah has undergone a Xanax dependency. In addition, the girls have both dealt with an eating disorder.
Amelia also took a message on Instagram regarding her struggle with eating and much more. Yet, the girls stand tough today, combatting these many tough phases of life. To this, their father, Harry, gushed,
They've dealt with the things that all kids have dealt with, Especially in this day and age, when you've got the cellphone, the internet, social media, and all eyes on you.
Harry Hamlin, for sure, is a proud father of his children, but he also takes away the crown for being the best husband to his wife, Lisa. The couple has been walking alongside each other for more than two decades. 
But, the couple almost got their way to the divorce a few years back.
'The Real House of Beverly Hills' was reputed with several controversies back then. And, most of the couples who made their presence ended up with a divorce.
In their fifth season, Lisa was offered to join that show. Out of glee, when she shared the news with her husband, he didn't seem happy about it. The reputation that show had made him insecure, and out of rage, he said, 
Nope. I'll divorce you. If you do it, I'll divorce you. I have my divorce lawyer on speed dial, and I do.
He brought these words out of frustration, he nowhere meant it, so the divorce drama, fortunately, didn't occur.
However, things did settle down, didn't infuriate, and now the couple is on their way to mark their third decade of togetherness.
Indeed, Harry Hamlin and his wife are like the old couple whose age hasn't let the love diminish, and the essence is still fresh and pure.