Entertainment
Jack Harlow Says He Would Have Done Shower Scene with Lil Nas X If He Could?
Jack Harlow who was rumored to be gay after his collab with Lil Nas X has cleared up the rumors & revealed all about his girlfriend.
Jack Harlow is no doubt Man of the Month for all the months of 2021. Everywhere you see, he has been in the news and it was all for the good reasons, but it was also more so for his link-ups, relationship rumors, and questions surrounding if he is gay. 
Harlow, a popular figure, got more recognition after he collaborated with Lil Nas X, and without saying much, their chemistry did not go unnoticed by fans and media. As a result slowly, people started speculating that he was gay. 
Is Jack Harlow Gay?
After Lil Nas X announced his collaboration with Harlow in his song, Industry Baby, social media was taken by storm. When the music got released, the song garnered wide critical acclaim and became a fan favorite. 
But the most interesting conversations took place after the music video for Industry Baby took place. 
Well, we are quite shy to explain all about the video but let's say IT WAS STEAMMYYYY!!!
Lil Nas X gave the queer community a lot to talk about- those talks happened and it was even trending for a while on Twitter. 
Unfortunately, Harlow was not involved in anything steamy in the video, but he alone was enough for people to drool over his good looks. 
Lil Nas X being an openly gay artist has gained a wide following, and he is very famous on stan Twitter as well. From being involved in Twitter memes to TikTok trends, Nas is a fan favorite, to say the least. 
The two's collaboration landed Harlow on one of those lists. However, upon not finding Harlow being involved in anything 'steamy,' fans began to express that it would have been nice to see Harlow in some 'action.'
Taking fan's concern into consideration, Harlow tweeted and stated that the concept of the video was Nas X's idea, but he also added that he "woulda been in the shower scene" if Nas had asked him to.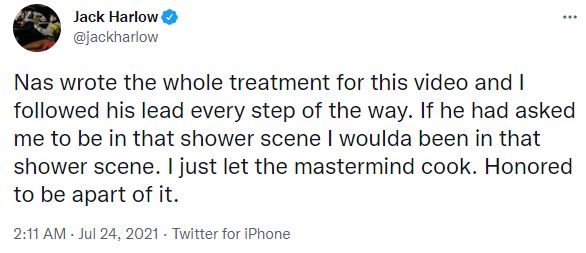 Jack Harlow's Response (Source Twitter)
(Missed Opportunity)
Oh no, that's not how we feel (actually do), but that's how Lil Nas X feels. After Harlow's statement, Nas was quick to respond, 
 "Wait!!! I didn't know! Let's shoot it again! Please Jack Harlow!!! Please."
YES! PLEASE!
The queer community could not spare this treason by Nas X, and thus they began confronting Lil Nas X as to why he did not do it. 
As required, he put out an apology for the community and wrote, 

This was the prime conversation that led to people doubting Harlow's sexuality, and after that, the duo kept feeding people with their chemistry. For example, when Lil Nas X was giving an interview on the red carpet of VMA's, Harlow appeared in the background and joined him. 
Jack Harlow Joins Lil Nas X In The Interview 
This again spread a whole ship moment for Twitter and people began talking about the way Harlow talks about Lil Nas X and the way he looks at him.
Be honest! We would all have fainted if Harlow looked at us like that. 
Harlow's chill attitude and calm way of responding to things while being so effortlessly attractive are what made people fall in love with him. 
Another Rumored Gay Personality: Rumored as Gay, Matt Gutman is Married? Who is His Wife? or Girlfriend, Dating?
However, he has broken silence on his sexuality rumors and came forward hinting that he is not gay. The revelation regarding his current girlfriend and sexuality happed in an interview with GQ magazine, where he revealed quite an interesting statement. 
Who Is Jack Harlow's Girlfriend?
During the course of his career, there have been many articles and link up rumors regarding him. However, considering he is such a charmer, it is no shocking news. 
Harlow, who was rumored to be gay, cleared out all the air regarding his sexuality in an interview with GQ when he answered some burning questions. 
In an article published by GQ in late October 2021, he was asked if he was single or not, and his response was like an arrow hit on two targets as one. Responding to the question, he said, 
"I am. I love women and dating is good."
So there you go, peeps; the Moana singer is not gay and is currently single. Who would think a statement was enough to make one mass of people so happy and another so sad.