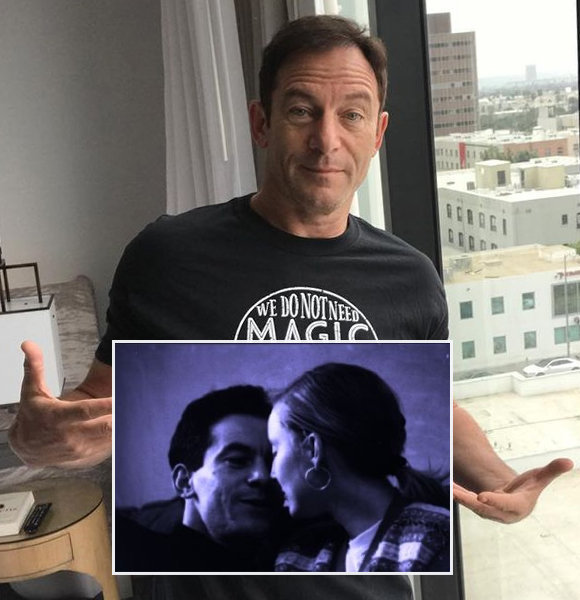 None of the Harry Potter fanatics can ever forget actor Jason Isaacs who gave life to the odious character Lucius Malfoy on big screens. Jason's monumental decades of contribution to the entertainment industry echoes through numerous of his spectacular portrayals.
While his professional journey has been colossal, the ups and downs the actor has gone through because of drug addiction shed light on a different side of his life story. But regardless of any obstacle, one thing that has ceaselessly remained by his side is the everlasting support of his beloved wife.
Jason Isaacs's Wife Through It All
Jason cannot stretch enough on the importance his spouse, Emma Hewitt, bears in his life. Although he often takes to his social handle to express his love for his beloved, his love-filled words might not be enough to justify their decades of fulfilling married life.
On the occasion of Halloween of 2020, the marvelous actor wished his Instagram followers through a reminiscent picture with his wife from thirty-three years ago.
Reflecting on the Halloween the actor celebrated decades ago, he shared the story behind the picture from his youth where the couple is seen sharing a cozy moment.
As he elaborates in the caption, their couple-moment was captured behind a Venetian blind where they shared a kiss. And still today, with several years passing, their love is as youthful as it was before.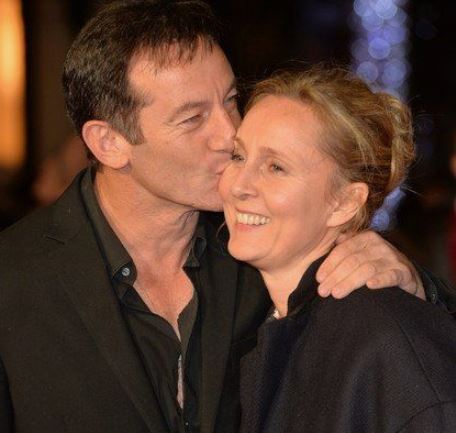 Jason Isaacs planting a peck on his wife's cheek (Source: Pinterest)
In 2020, through an essay he wrote to his younger self, Jason opened up about the side he seldom talked about. The essay issued in The Big Issue elaborately touches on his 'love affair with drugs' and his spouse's support through it all.
Get to know - Brandon Quinn Credits His Wife for Shaping Him Into a 'Better Person'
Jason, who had moved to London with his parents and brothers while 11, fell into the rabbit hole of addiction when he was merely twelve years old. That's when he began to get the taste of alcohol, and before he could realize it, his youth was taking a dark turn when he was introduced to drugs.
He remembers his youth mostly consumed by addiction, but one of the few treasurable incidents that had happened to him while he was in the rut was meeting his wife, who has seen him up close during his highest highs and the lowest lows.
Despite having seen Jason clutched with drug addiction, she did not leave his side because 'she always loved who he really was and who he really could be.'
After the Harry Potter actor got off addiction, he and Emma started their relationship all over again, and their love for one another has never stopped growing ever since.
The couple added a new chapter to their life when they tied the knot in 1988. Adding bliss to their family are their two children, Lily Isaacs and Ruby Isaacs.
The happy family of four is occasionally seen making red carpet appearances. On that note, Jason was spotted with his family attending the premiere of Downsizing back in 2017. The flawless family of four could not look more perfect.
After decades of leaving his addiction behind, Jason is now a blessed man fortunate enough to have a blissful life with his wife and children. And backing up his fulfilling family life is his praise-worthy career garnering him an eye-widening net worth. 
Jason's Heavy Net Worth Earning Career
Jason's start in entertainment dates back to the year when he married his beautiful wife. Throughout the decades, the actor has not only built a wonderful family life, but his professional life has also flourished exponentially.
And evident to his astounding career are his countless films, TV series, and theatre performances he has appeared in since 1988.
Jason's marvelous portrayals never ceased to amaze the audience. However, his portrayal in smash-hit Harry Potter film series is something none of his admirers can get off of their minds.
Given his affiliations with several hit films and TV series, Jason is entitled to 12 million dollars net worth per Celebrity Net Worth analysis.
As much as he enjoys his hard-earned fortune, his generosity reflects through his involvement with a few non-profit organizations such as Red Cross, Lumos, Bravehound, and so on.
Winning both in his personal and professional front, splendid actor Jason continues to gleam through his note-worthy portrayals, marking his dominance in the entertainment industry.