CNN Journalist Jessica Dean's beautiful wedding ceremony and low-key married life are worth taking a look at.
While CNN correspondent Jessica Dean is all flashy about her professional life, her personal life is the last thing she likes to share publicly.
However, despite her low-key online presence, her details on married life and her husband are up for grabs down below. 
A Look Into Jessica's Wedding
October 24, 2009, marks the CNN congressional correspondent's beginning of a new chapter in life when she tied the marital knot with her husband, Blake Spencer Rutherford.
Their wedding ceremony was officiated by Pulaski Height United Methodist Church's pastor Harriett Akins-Banman at her parent's home.
Several of the couple's close ones attained their wedding, including the parents and grandparents of both bride and groom.
Stealing the event, the CNN correspondent looked beautiful in her wedding gown given by her father. No doubt her ivory charmeuse dress with a sweetheart neckline and strapless design, paired with a long-tailed veil, was a head-turner.
And, walking down the aisle with a bouquet of fresh lavender, hydrangea, orchids, gardenias, and roses was a cherry on the top of her wedding look. While Mary-Kathryn Royce Irby was the flower girl, the groom's father served as the best man.
The event seemed even more magical with the two exchanging vows in the garden, where they stood under a big tree decorated beautifully with an arrangement of different flowers.
After the two sealed the deal with 'I do,' the buffet at the reception arranged in the backyard awaited the guests. With candles and lanterns in the dining area accompanied by Memphis Soul Revue's music, the night was glowing brighter.
Soon after the unforgettable ceremony, the newlywed couple took a trip to Napa Valley.
Relishing their happily married life, Jessica and her husband are still together, but they barely make any noticeable public appearances. However, judging Jessica's online presence, it's assumable she is yet to have children.
Who Is Jessica Dean's Husband Blake? 
Jessica's husband, Blake, also follows into the private nature of his wife, making a bare minimum online presence. However, his LinkedIn profile does shed some light on his personal and professional details.
Receiving his education from Little Rock Central High School, he enrolled at the University of Arkansas School of Law, where he majored in Doctor of Law in 2000.
After finishing his diploma study, he later went to Middlebury College to get a bachelor's degree in arts, political science, and government.
As impressive as his academics are his versatile work experiences. Beginning his career as an associate, he joined Wright, Lindsey & Jennings LLP in 2003.
Later he worked as a director of public communications and general counsel at Stone Ward. Likewise, Blake's works expand to being vice president, chief of staff, senior director.
After his short-term affiliation with Streaming Media Startup, in 2020, he became editor-in-chief at SourceStream Media, where he devotes his full-time.
With almost twenty years of expertise in politics, media, content creation, and production, Blake has established himself to a successful career, and his wife is no less when it comes to professional accomplishments.
Inside professional life of - What Is Herb Dean's Staggering Net Worth & Salary As A Sought-After UFC Referee?
What Is CNN's Jessica Dean's Salary? 
Making her way to the top through years of showcasing her brilliance in journalism, she eventually landed her place as a CNN corespondent who played a major role in Capitol Hill coverage on Joe Biden's presidential campaign.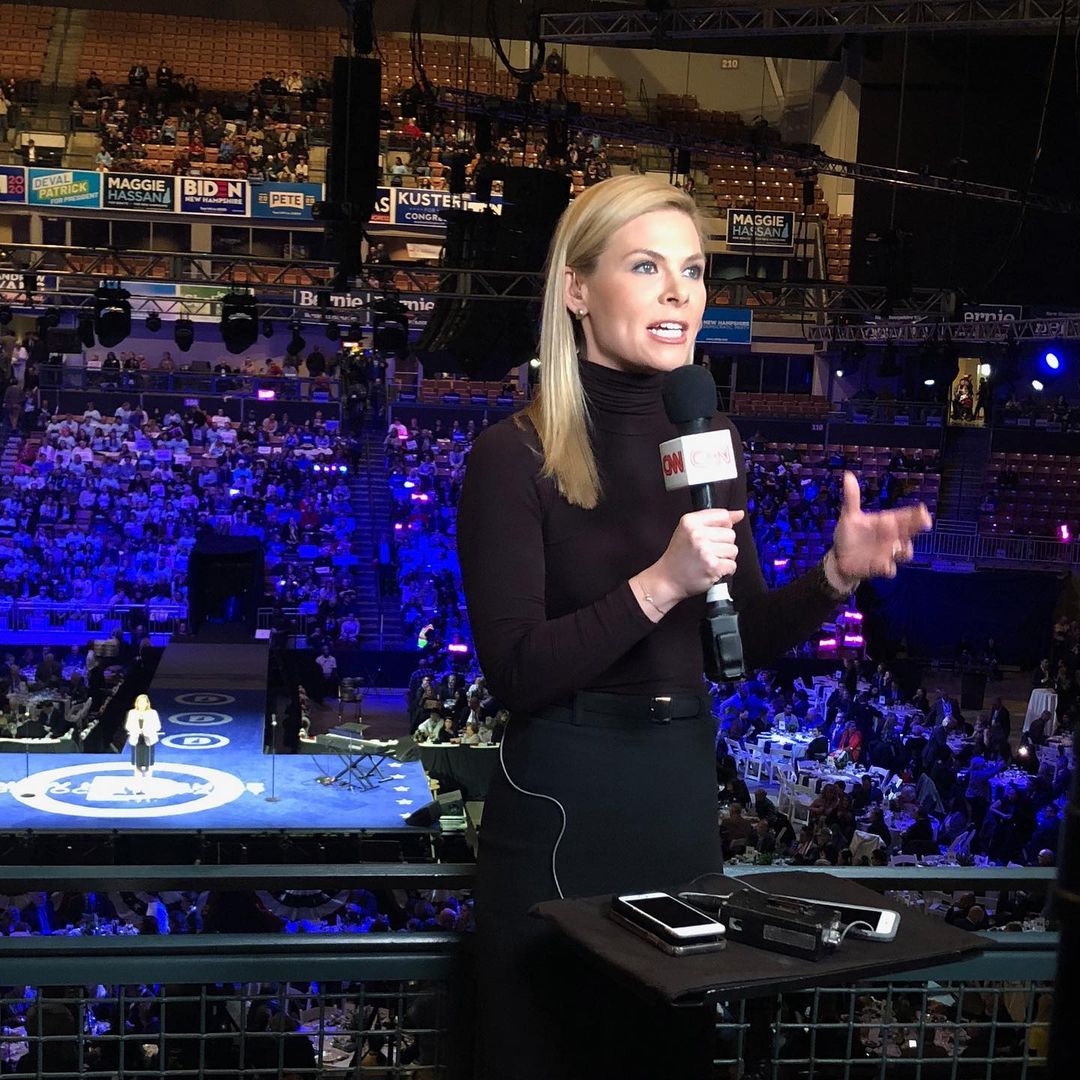 Jessica reporting for CNN (Source: Instagram)
As a co-host for the weekly evening news, Jessica, age 36, had already gathered substantial experience from her affiliations with KYW-TV in Philadelphia. 
During her tenure at KYW-TV, she was a part of several major coverages, such as the Republican National Convention of 2016 held in Cleveland, the Democratic National Convention of 2016, and so on.
Needless to say, she quickly rose to an impressive level of success which also added a noteworthy amount of dollars to her bank account.
As for her salary, her annual earning at CNN as a correspondent is assumably over 35 thousand dollars analyzing the basic salary report by Glassdoor. Looking at the direction her promising career is headed, it's no wonder she is yet to add more to her existing fortune.