Celebs
Jorge Ramos's Outstanding Career Highlights & Marriage Details
Jorge Ramos who is a multiple-time Emmy Awardee has amassed a hefty fortune of net worth and now lives a fulfilling life alongside his long-time girlfriend.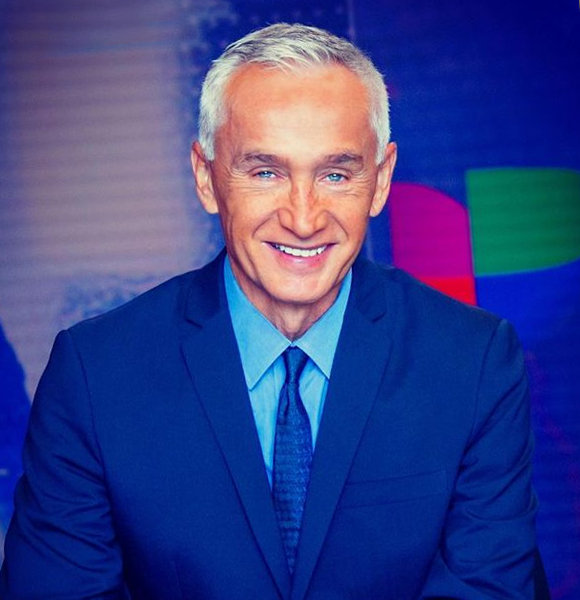 Best referred to as The Walter Cronkite of Latin America, Jorge Ramos is a Spanish-language news anchor in the USA. 
As a Mexican and American journalist, he has bagged an unimaginable number of Emmy Awards for his contribution to the industry. 
Being such a huge journalist, it is only certain that Ramos is backed by a net worth that matches his accomplishments and contributions. 
Jorge Ramos's Net Worth
When we talk about Emmy Awarded journalists and personalities, they usually have a resume with two or three Emmy wins up their sleeve and don't get us wrong, sitting in a comfortable chair and writing about how less Emmy's one has achieved than the other is the last thing we would do. 
Each of their accomplishment is unmatchable and extremely worthy. However, never have we covered (just a guess) an article of a journalist who has bagged ten Emmy Awards. 
Yep! you heard that right, TEN!!
The ten times Emmy winner (can't believe we are writing this) started his journey in Mexico City with a local network's version of 60 Minutes. 
Extremely Close: Winner of 9 Emmy Awards, Mary Calvi's Husband, Married Life With Mayor of Yonkers, Mike Spano, And Their 3 Children
However, things did not work out for him or let's day destiny had bigger plans for him.
He decided to leave Mexico and arrived in the US, where he was hired by KMEX-TV, an affiliate of Spanish International Network. Steadily, Ramos, who was just a worker in the office, played a massive part in changing the face of the company. 
Jorge Ramos's Ted Talk
He worked with various Spanish language newscasts and hosted many public affairs. Ramos also covered the news of the Persian Gulf War, the disintegration of the former Soviet Union, and the 9/11 terrorist attacks. 
With the perks of his exceptional journalism skills, he has been critically acclaimed by many big news media houses, and he has prepared and published columns for companies like CNN and MSNBC. 
With the years of expertise and other various reputed awards such as the Maria Moors Cabot Prize, it is only fair that this 63-year-old hardworking journalist has a salary that matches his caliber, and by the looks of it, he does. 
As reported by CelebrityNetWorth, his salary is $3 million, which ranks his net worth to be around $14 million. 
It's not that Jeroge did not face any hurdles in his life; he did both in his professional and personal life, but as of now, life seems to be stable and filled with happiness for Ramos as he has a partner to go home to. 
Keep Reading: Actor Fred Armisen Accompanies His Girlfriend Natasha At Emmy Awards 2016! View Full Report
Does Jorge Ramos Have a Wife?
To answer that question, he does not have a wife, but he was a married man once. Twice, to be precise. He was married to Lisa Bolivar and Gina Montaner. 
Gina Montaner was his first wife, with whom he has a daughter named Paola Ramos. Paola was just two years of when her parents got divorced in 1990. 
Although his marriage did not work out, he has always made sure to be there for his daughter. All of the immense love that he shared for his daughter came to light back in 2015 when he prepared a beautiful letter for her. 
While describing the whole letter might be impossible, he had expressed the love and pride that he shared for his daughter. 
"A family friend once told me: "Paola is going to save you." You had just been born, I got my first gray hair, and I didn't understand what she was trying to tell me at the time. But later on, it became very clear that the most important things in my life would be you, and your brother Nicolás."
This is just a fraction of Jorge's long letter for his daughter. He also has a son named Nicolas Ramos, who was born from his second marriage with Lisa Bolivar. 
The couple was together for good 13 years before they decided to part ways. He is currently in a relationship with his girlfriend, Chiquinquira Delgado. 
She also has two previous children from her relationship, and if the pair happen to marry each other, then it would be the third marriage for both of them as Delgado also was married twice before. 
The couple has been together for about eight years now. Although Ramos likes to keep his personal life extremely private, there is no denying that he is extremely happy with his relationship and in a good place right now.