Sports
All on Josh Allen's Net Worth, House & His Collection of Notable Brand Endorsements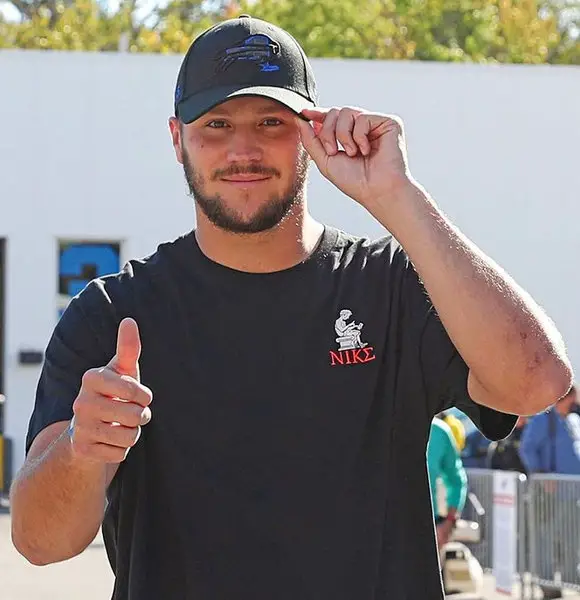 Josh Allen, this name itself is adequate to describe the abundant success that he has landed his team, Buffalo Bills. 
His countless collection of achievements through the course of his professional life is a defining factor to the kind of gifted individual he is. 
However, looking into his net worth and his age simultaneously might leave anyone shocked and dazzled at the same time. 
As well-rounded as he is, the football quarterback is uniformly equipped with the ability to inspire millions. He has recently extended his contract with his team, and no doubt his career is coming to a head.
Such a polished football player; it should not come with any confusion that he has accumulated quite a net worth from his career. 
Josh Allen's Net Worth
The 25-year-old NFL player was drafted by the Bills seventh overall in the 2018 NFL draft. Fairly new and young into the career, he had a lot to prove. 
However, he found himself facing a good amount of difficulties molding his career during the initial days. But as they say, "No matter how great the talent or efforts, some things just take time," and likely the same happened for Allen. 
After having an unstable run in his game for two years, he finally found his foot in the field in 2020, and then came his breakout.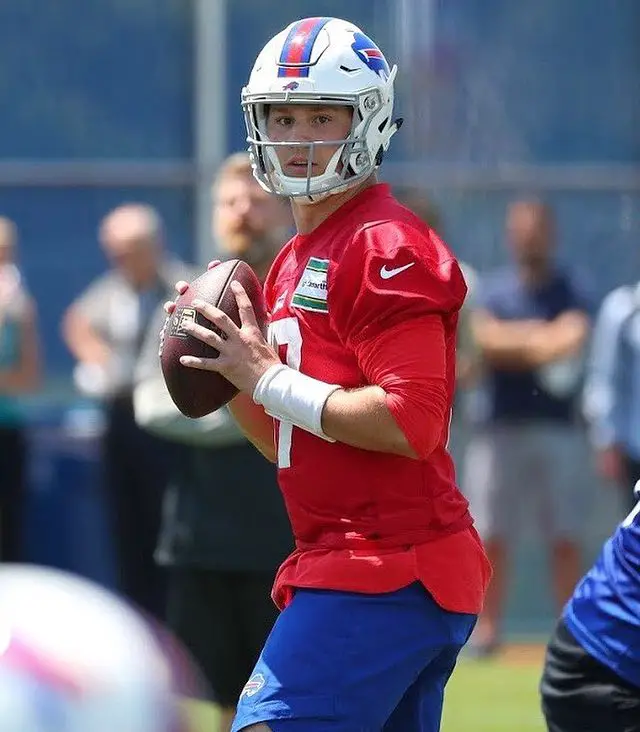 Josh Allen On His Buffalo Bills Jersey On What Seems To Be During Practice (Source- Instagram)
2020 was his breakout season when he led the team to their first victory post-1995. Well, whatever might have gone through in those two years, getting drafted was a huge opportunity for Allen. 
Although a prolific player during his college days, he stepped away from declaring for the 2017 NFL Draft as he thought one more year would be good for his resume. 
Well, it surely was good but not ideal. 
Allen was the person of expectation for a particular individual. Adam Schefter, an ESPN reporter, said that he would be the No.1 pick for the NFL draft next year (2018). 
But on the day of the draft, Allen's previous tweets of using unacceptable racial and homophobic slurs were brought up, which made a huge impact on Schefter's prediction. 
Eventually, he was drafted by the Buffalo Bills, and he signed a four-year contract worth $21 million. 
Now, an integral player of the team, he has recently signed a 6-year extension with Bills, a deal worth a staggering $258 million with $150 million guaranteed. 
He received a salary of $5.3 million as of today. Although his salary and contracts account for most of his net worth, his impressive collection of brands endorsements builds on his fortune as well. 
Another Player From Buffalo Bills-: Micah Hyde's More Than Beautiful & Fulfilling Life Alongside His Wife
Endorsements Entertaining His Net Worth 
In 2021 alone, Allen endorsed brands such as Microsoft, Surface, Hyundai, and Tommy Armour golf. 
Furthermore, he is also under a contract with Nike, and these are just some of the collection of ventures he has put his hands on. 
All of this at just 25!
As remarkable as the achievements are, it is simply inspiring. 
So what has someone like Allen, who has achieved a lot despite being at such a ripe age in his career, has been able to amass such fortune during his career?
Well, hold your horses!
Josh Allen entertains his life alongside his girlfriend, Brittany Williams, and their kids, all the while sporting a net worth of $14 million, as per Celebrity Net Worth. 
Impressive, isn't it?
And the most wonderous of it all, he is just getting started. Alongside his impressive earnings and his career, his followers commonly have queries such as, 'Where does Josh Allen live?' , 'Where is his house?' to which many people have assumed that his house is in West Seneca and he lives there.
However, it is not true, and Allen does not own a house there as Allen currently lives in his house in Orchard Park, NY, along with his partner and children.