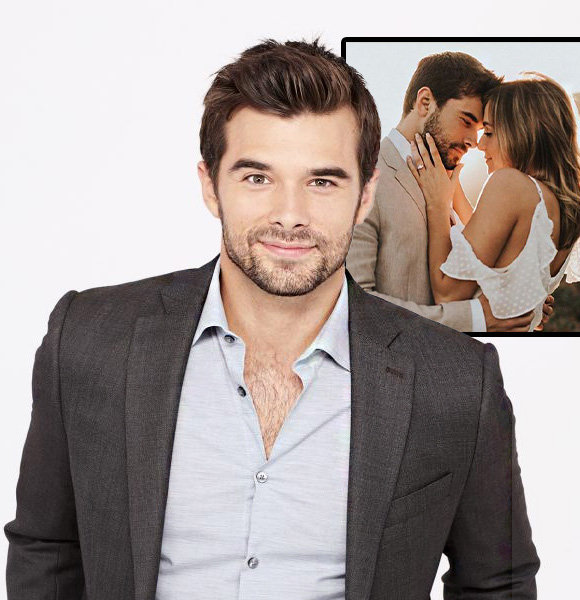 Josh Swickard has to be one of the most charming men in Hollywood. But, at the same time, the 'General Hospital' fame is also an American model, and honestly, we see why. 
Sad for many of us, but surely happy for him; Josh is a married man with a happy family.
Ever since tying the knot in a memorable wedding a few years back, their kindling relationship is truly one of a kind, and the family has to be one of the most attractive families in the biz. 
Josh Swickard's Wedding
Sad for us because guess for a lot of you souls out there, having a partner just like Josh is what you would have hoped, and happy for him because, well, do we even need to explain it?
He has been married to the love of his life, his wife, for a year now. Undoubtedly, the actor and his wife, Lauren York, had a glamourous and enchanting marriage. 
His forever one donned a sleek silk sweetheart neckline gown at the wedding, and our charming groom walked what seemed like a wedding recessional with his wife.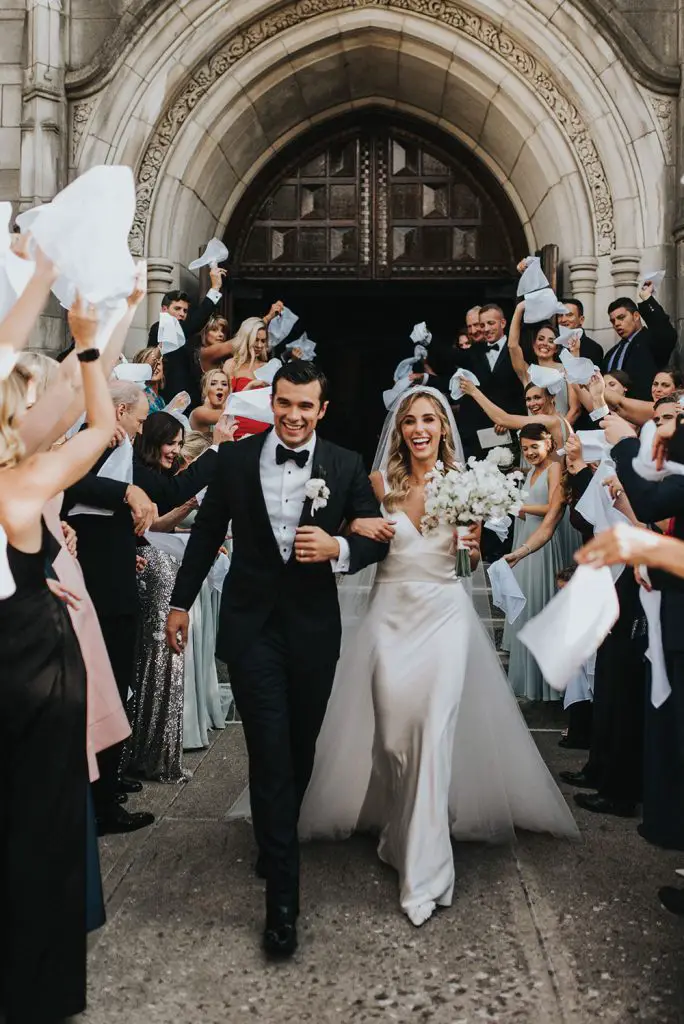 Josh Swickard and His Bride At The Wedding (Source Cincinnati Magazine)
Josh had a perfect black tuxedo with a bow tie that complemented his overall look well. 
More From The General Hospital: To Whom Ryan Paevey Sharing His Splendid Net Worth?: Who's His Girlfriend? Dating With Jessa?
The two apparently met in a movie set, and Swickard asked for his future wife's number under the Warner Brothers water tower in Hollywood. 
Their wonderful wedding echoed old Hollywood weddings in the background. Their reception happened on July 6, 2019. 
The holy ceremony further complimented famous movie quotes about love. The two also performed inspired by their favorite movie 'White Christmas.'
Their wedding was truly something out of a fairytale, and it couldn't have been any better. 
Picture-perfect, just as we like to call it. The two now have a beautiful baby and have completed two perfect years together. 
Happiness of A Lifetime 
The proposal took place when both of their families were together playing charades. 
It was a unique one!
Josh proposed to her by acting out the word proposal, and there it was, a commitment of a lifetime, right in front of their parents and with their full blessing. 
Guess being in the show-biz did have its perks. Announcing the new beginning with his to-be-wife during the time, the actor took to his social media to post some pictures of the magical time and wrote, 
I can't keep this to myself, l just asked this beautiful girl to spend the rest of her life with me...  I love you so much and I can't wait to grow old with you.
Two years later, life is just as amazing as when the two first met. The only difference is that they now have a new member, their beautiful daughter. 
Commemorating their two years together on social media, his wife posted several wonderful pictures of their family, and the two spent a wonderful time together with nothing but all smiles.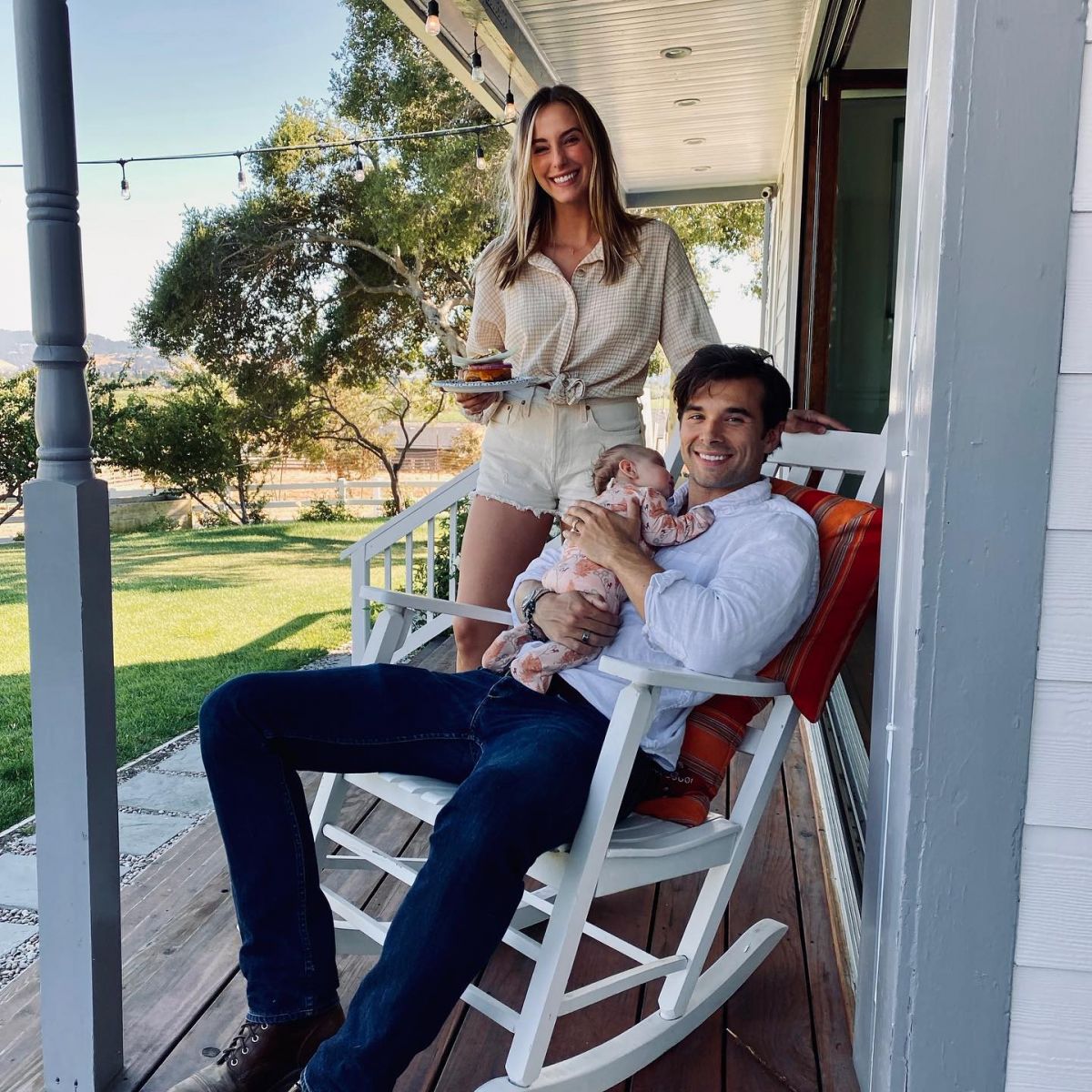 Josh Swickard with His Wife & Daughter (Source Instagram)
Learn about Steve Burton Credits His Wife As 'The Greatest Wife'
The pictures are enough to make all of our hearts melt. Just two people so much in love starting a family together and having to see each of their special moments is indeed a beautiful sight to see. 
His wife shares much of their family life on her social media, and honestly, we couldn't be any more thankful. 
Getting a daily dose of cuteness is just what we need in life right now. 
And it seems like, as of very recently, their daughter started speaking. "Mama" was her first word, and the mama herself took to her social media to share on a wonderful day. 
SHE SAID MAMA!!!!!!!!!! Working from home with a baby is such a wild ride. If you only KNEW what my house looked like behind my "zoom" view.
Both the husband and wife are actively working parents, and they are quite busy with their careers. But working alongside your partner does cut much of the stress off. 
Yes, suppose you don't know already. In that case, the pair is also an on-screen couple and worked together in Netflix's popular show 'A California Christmas' and its sequel, 'A California Christmas: City Lights.'
For those curious to know how their chemistry is, you should head on to the platform to watch more of them. We are sure that you will be left mesmerized and in awe.