Sports
JuJu Smith-Schuster Spotted with a Girl- Is She His Girlfriend?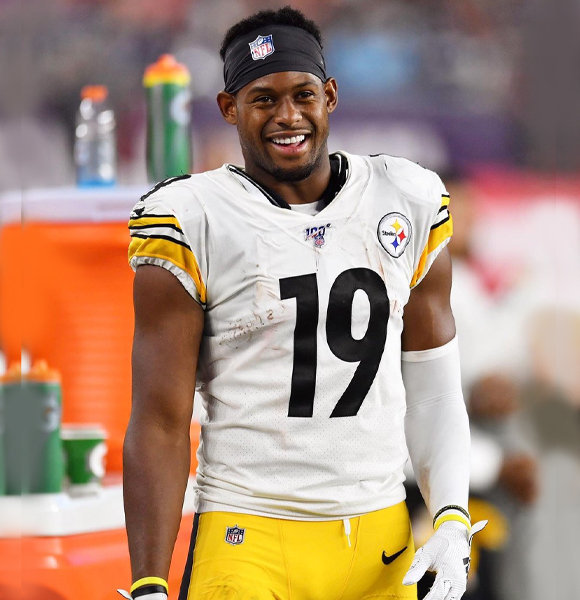 Professional football player JuJu Smith-Schuster might be young, but he has already bagged several records up his trunk of NFL achievements. 
The Kansas City Chiefs wide receiver was drafted by Pittsburgh Steelers in the second round of the 2017 NFL draft, and ever since, he has held several prestigious records and made history for himself. 
While his list of achievements and more about his family is well-elaborated in another article, the question regarding his girlfriend remains unanswered, which many want to know.
So let's put the information together and see who the wonderful face JuJu has fallen in love with is. 
Who Is Juju Smith-Schuster's Girlfriend?
As an NFL player, much of JuJu's professional front is a heavily discussed aspect of his life, but having a part of his life openly on the media helps another part, such as his dating life, catch a break from the eyes of tabloids and media. 
JuJu has willfully kept many details of his relationships private, but as discussed earlier, it is also because not much digging is done when it comes to his relationships. 
However, we might have been able to find something that is interesting. The athlete has been rumored of dating a girl named Rheannon Guy. 
The girl seems to be 21. However, we cannot confirm what she does as her social media following is filled with only personal people, so she might not be an influencer. 
There have been pages that have recorded the two being together, but Rheannon's personal Instagram does not show any signs of them being together, nor does it show her being in a relationship with someone else.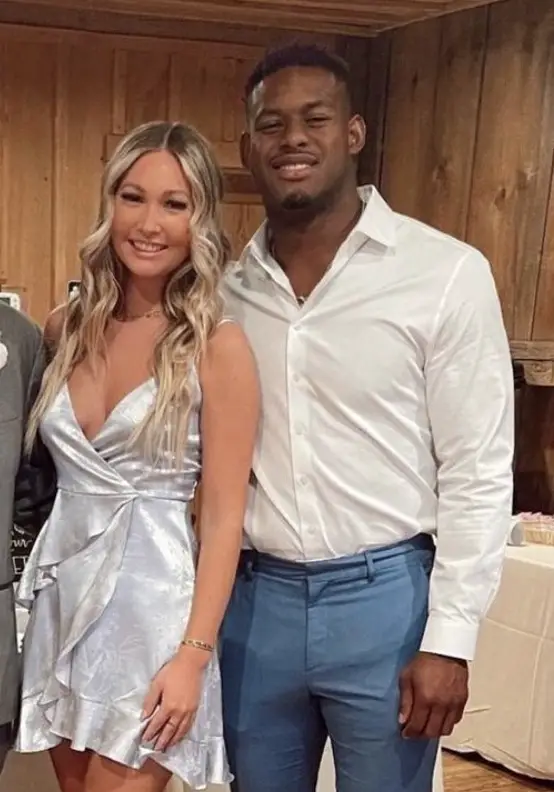 JuJu Smith-Schuster with His Rumored Girlfriend (Source BlackSport Online)
So, either she is keeping it lowkey, or she is single, and nothing is going on. However, a website was able to track down the picture of the two together. 
But, if she is actually his girlfriend still remains a mystery as there is no actual proof of the two being together other than in the picture. 
However, his relationship rumors were put to rest back in 2019 when he discussed his relationship status on a YouTube video titled, "Is JuJu Single?? Answering Fan Questions!"
The video that now has over 506k views on YouTube as of 2022 was a sit-down video of the football player discussing his personal life and relationship. 
JuJu Smith-Schuster Answers
In the video, JuJu Smith-Schuster goes through some questions that he got through his fans on his Instagram and answers the question. 
While there were a lot of questions about things outside his dating life, there were also questions asking him about his relationships. 
One of the questions asked was whether he was single and dating anybody. 
To which he was quick to answer, "Yes, i am single, am i dating anybody? No i am not dating anybody."
JuJu further elaborated on why he was single and discussed and hinted how some females are "money grabbers," and he doesn't trust anybody. 
At this level when you are like... famous, females would do anything to get with you... females have the wrong intentions or like they are money grabbers which is probably called gold diggers... they want this, they want that..
Well, we are quite unsure what made him say that, but by the looks of it, he had no plans of having a girlfriend for a while. 
It has also been three years since the video came out, so maybe he finally found someone now. 
We wish we could confirm these ongoing rumors about Rheannon being his girlfriend, but we sadly cannot. Nonetheless, now you know his views on relationships and who he is rumored to be dating. 
Moreover, we will update you without delay whenever we can confirm something about his girlfriend. So, stay tuned!