Celebs
A Look Inside Karen Rogers Personal & Professional Life
Karen Rogers, been married to her beloved husband for decades, has a beautiful story to share about how their love story began.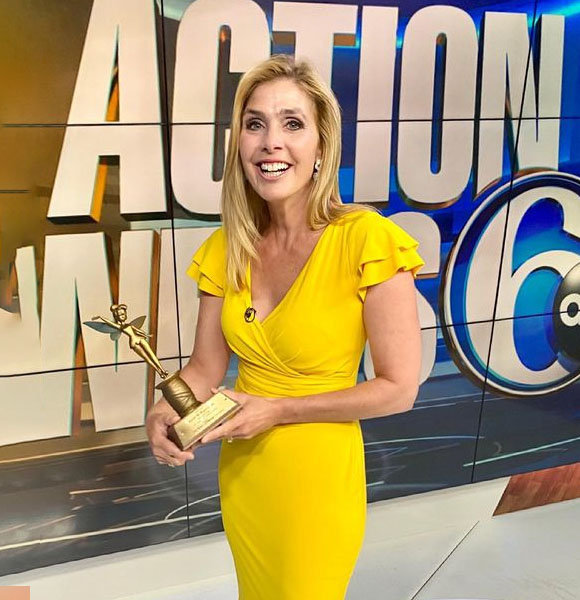 The ABC meteorologist Karen Roger takes to her social handle to share her joy of completing her 20 years of married life.
Reminiscing about her wedding day, she uploaded a few beautiful pictures from her big day and shared how she met her husband.
Not many are lucky to have a marriage that lasts decades, but Karen is indeed the lucky one to have her husband by her side through all walks of her life.
How Karen's College Sweetheart Turned Her Husband?
"It's hard for me to believe, but my husband and I are celebrating our 20th wedding anniversary today."
Karen wrote on her anniversary post to elaborate on her swoon-worthy love story. As her story goes, she met her spouse, Kevin, in her college. In fact, he was the first person she encountered as she joined her college. At the time, Kevin was a resident advisor.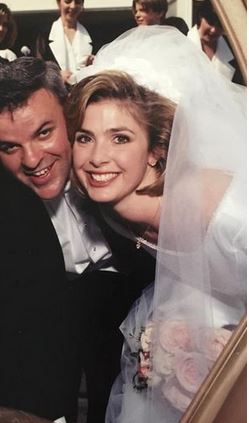 Karen Rogers and her husband from their wedding day (Source: Facebook)
Further talking about her initial bonding with Kevin, she said that seeing him made her 'feel like everything was going to be ok.' She wrote,
All these years later, he still gives me that same feeling. The sound of his voice can completely turn around a bad day. He believes in me, even more, than I believe in myself. Most importantly, he makes me a better person.
Too sweet to be true!
Having dated for eight years, Karen and her husband got married at Rutgers University's chapel. Little did she know that her 'love at first sight' would turn into a bond of a lifetime.
As the pair were 'trying to cut costs,' they had a small intimate wedding. But despite their low-key wedding ceremony, the couple's joyous moments, as seen in the pictures from their special day, tell all about their excitement to be building a family together.
In the twenty-fifth year of their marriage, the couple is now parents to four children.
Get to know - Debunking Truth about Stephanie Ready's Husband
Karen Rogers's Family Life
Karen and Kevin share four kids, but they are not biological parents to any one of them. The couple, a huge believer in providing a home to needy kids, opened the door to their home for their four children. 
Sharing their adoption story, Karen spoke to 92127 Magazine, saying that she adopted her son Braden from Oregon at his birth and added that she shares a close relationship with his biological parents.
Likewise, Karen turned her family of three to six after adopting three more kids, Lilah, Sofie, and George, from foster care in San Diego.
While she was also rumored to have been pregnant in the past, the rumor seems to be untrue as she never had a biological child and is a mother to only her four adopted children.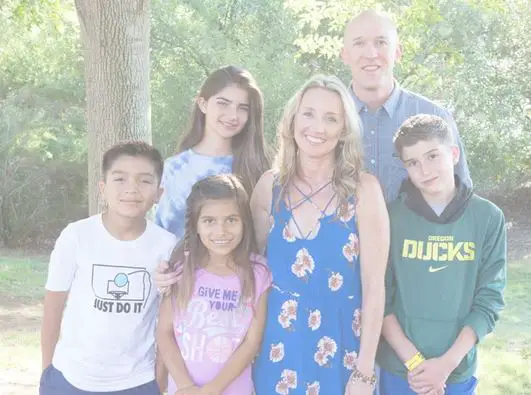 Karen Rogers Alongside Her Family (Source: 92127)
Undoubtedly, the kids are lucky enough to have parents like Karen and Kevin, who put in their best efforts to give their kids all needed for their better growth.
As for their kids' education, per the report by 92127 several years ago, Liah and Braden attained Bernardo Heights Middle School, while Sofie and George went to Stone Ranch Elementary School.
However, as the information on their education is from several years ago, there have been no further updates on this matter.
But seemingly, their children are doing great doing whatever they are pursuing currently.  
More on - What's Life Like for Paula Jones After 2 Decades of Lawsuit Settlement
Karen Rogers's Salary 
Not only has life blessed Karen with a loving family, but her success in her professional life adds to her prosperity.
Currently, as a meteorologist for 6abc's Action News Mornings, Karen probably has a salary valued at around 65 thousand dollars as per ZipRecruiters.
Karen, one of the sought-after meteorologists at the station, began her journey in media after receiving Broadcast Meteorology certification.
Joining the Action News team in 1996, the meteorologist initially served as a reporter and producer. But as she began working with the AccuWeather team, she realized her genuine interest in weather broadcasting.
Having served for decades, Karen is now a household name to 6abc viewers, and her exponentially growing expertise in her field of work is sure to add to her fame in days to come.