Celebs
Debunking Truth about Stephanie Ready's Husband
With super secretive family life, the Emmy award-winning journalist Stephanie Ready has her fans confused about her husband's identity for quite a long time.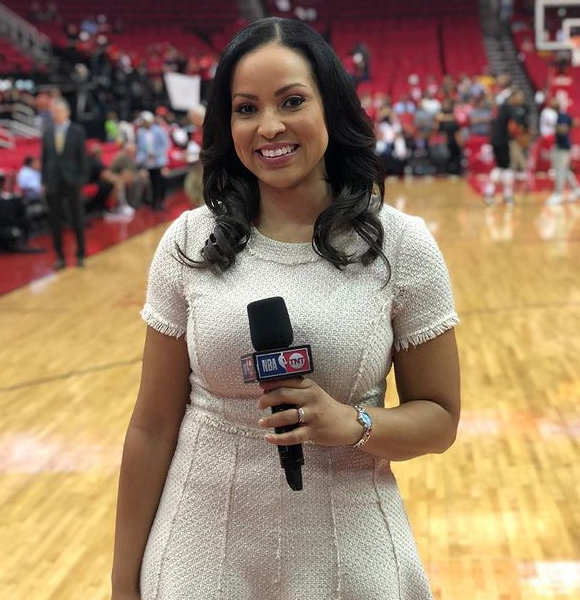 The Emmy award-winning American sports broadcaster Stephanie Ready's notoriously secretive love life has people confused about her husband's identity for a long time.
More so, her bare minimum display of personal life on her socials also assists largely in keeping her family details under the shadow.
Who Is Stephanie Ready's Husband?
Over the years, Stephanie has been cited to be married to Perry Jones, a renowned NBA player. If you take your time to search her partner's name on the internet, several of the tabloid sites may appear referring to the NBA player as her spouse.
But in fact, the NBA athlete is yet to get married and has no relation with the Emmy Awardee whatsoever. Instead, Stephanie's husband is Barnaby Perry Jones.
Well, learning the name of her partner, you might have already guessed where the confusion might have arisen in the first place. It seems like the internet needs some updating to keep her personal details right.
Get to know - Roger Goodell's Wife Defending Him on Twitter - Anonymously?
As Barnaby is not a publicly eminent personality, his further details remain undiscovered. But through an interview with Sporting News, the journalist gave some insights into her happily married life.
Talking about her husband's support in her accomplished career, the sports broadcaster said,
I married a saint, so that's extremely helpful. Perry is the best husband, and partner, and cheerleader, and field producer that anyone could ever have. Further, she praised her beloved as a 'terrific parent.'
More on Stephanie's Family Life
Stephanie expanded her family to four, welcoming her two kids, James, 12, and Ivy, 10.
Making a rare family post on her Twitter, she once shared an adorable picture of her two kids where they appeared in batman and batgirl costumes.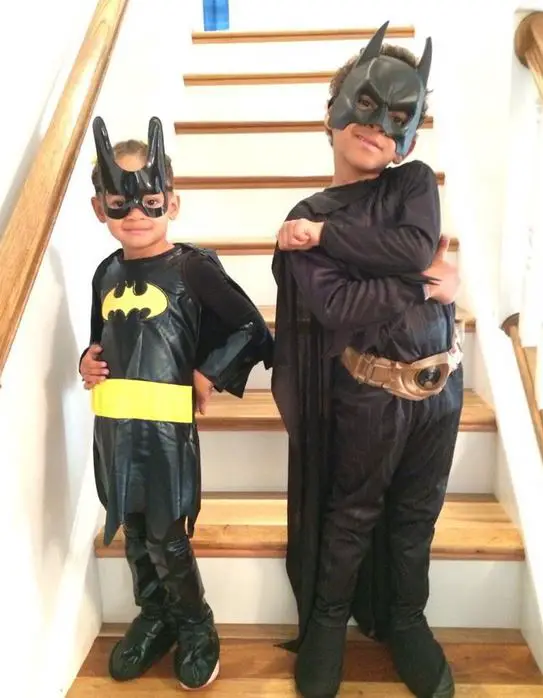 Stephanie's kids dressed in comic book characters (Source: Twitter)
Being a mother of two and playing the field as one of the sought-after NBA sports broadcasters, it's certainly not an easy job handling both aspects of her life parallelly.
Sharing a few words on her journey as a mother of two juggling between work and fulfilling parent responsibilities, she reminisced her friend's advice as,
She told me, "Stephanie, it's hard. Every parent deals with guilt if they're working and a present parent. The thing that's going to help you survive is to be 100 percent in wherever you are. If you're at work, you're 100 percent into work. If you're with your family, you're 100 percent into your kids."
Reflecting on her friend's suggestions, she hinted that it helped her get through her responsibilities. However, she is not alone in her journey to raising her kids.
Personal life of - Who Is Jericka Duncan's Baby Father?
Her husband, whom she refers to as 'saint,' plays a huge part in maintaining a balance between her family life and career.
Also, as her kids grew up getting used to her busy schedule, she says that her little ones understand her demanding schedule. In her words,
Obviously, you want to spend as much time as you can with your family, but we have to work. They get it…When we're home, and there are certain things I have to do like watch an NBA game, they're cool with that. In fact, they use that to their advantage sometimes to stay up late. They cuddle up next to me and watch it with me.
Stephanie's Professional Accomplishments
The Coppin State University graduate, who began her professional career in media in 1998, made her name in the list of Ebony magazine issued 'The 56 Most Intriguing Blacks of 2021.'
The list also comprised legendary names such as Kobe Bryant, Michael Jordan, and Shaquille O'Neal.
More on - Who Is Jericka Duncan's Baby Father?
The famed journalist's hard work and determination were recognized with an Emmy award during her affiliation with the Charlotte Hornets.
Having been an athlete during her college days and having experience with volleyball coaching have hugely added to her career in sports journalism.
From being a broadcaster at Charlotte Hornets to becoming a full-time NBA game analyst, Stephanie's professional achievements mark her as exemplary.
While the NBA analyst is at the peak of her vocation, with the amount of effort she puts into her job, the sports journalist is yet to achieve more significant milestones.