Entertainment
Katt Williams's Relationship Update- Separated from His Wife?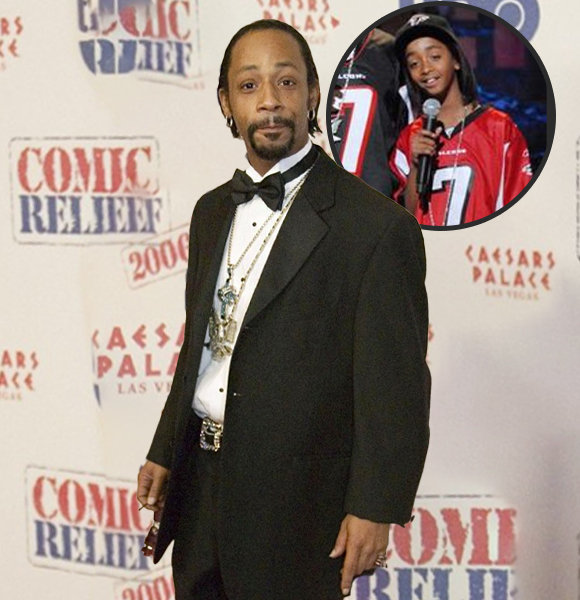 American stand-up comedian and actor Katt Williams is well-known for his role as Money Mike in the movie 'Friday After Next.'
Katt has been active for over a decade, and audiences have loved his comedies until now.
Based on his on-screen persona, his fans often wonder if Katt has a wife or still dating.
Keep reading to learn more about his personal life.
Does Katt Williams Have a Wife?
Meanwhile, Katt appears to be single. But, he was married to his former wife Quadirah Locus. Katt hasn't disclosed any information about his wedding, married life, or divorce from his former wife to the public.
However, Katt and his previous wife share a son named Micah Romeo Jenkins-Williams. 
His son will shortly begin a career in fashion designing. Despite his preference for private life, he attended the 2006 BET Awards and was spotted with his father at 'Wild 'n Out' third season.
Katt with his son in the 2006 BET Award. (Photo: gettyimage)
Regarding Katt's children, he is the father of eight. Seven of his kids are adopted, and has one biological son. 
He has so many children because he promised himself to help people after achieving success in his career.
Katt has only been married to his biological son's mother; however, he was rumored to be married to Eboni Gray. 
Eboni filed a lawsuit against Katt, claiming to be his former wife and asking him to pay her $2.5 million per month in spousal support.
Interesting: Comedian Arj Barker, Busy in Tours, Resides in Australia With Girlfriend
His supposed former wife requested a hefty ransom so she could live comfortably and pay her rent, her lawyer's bills, her moving expenses, and the professional financial service.
Even though Katt is reserved, he never mentions marrying another woman. It appears that there are no public records of Eboni and Katt's marriage.
However, the court rejected Eboni's request after it was presented during a hearing. 
Besides his marital drama, he was in a committed relationship with entrepreneur and rapper Hazel E. The couple started dating in 2014 and called it quit after two years.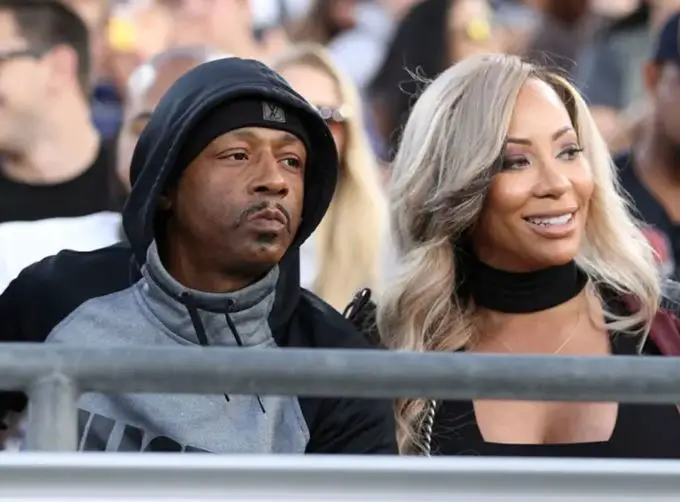 Katt with his then-girlfriend, Hazel E. (Photo: celebrityinsider)
When asked about the reason behind their breakup, Katt blatantly called his former girlfriend "ugly" and stated that she is an atheist and doesn't want to be with someone who doesn't believe in God. 
On the other hand, Hazel revealed having a miscarriage and shared that Katt did not reciprocate any of her emotions. In an interview with djvlad, she said, 
"Last season—I guess with efforts of being honest because it's something that I never admitted to—I was pregnant, and it got tricky for me. I ended the season with being pregnant, I ended up having a miscarriage,"
Hazel also shared that she and Katt were going through a separation. 
"It was actually very hard because we had to separate. He handled it a little bit different than I did."
She added, 
"He was a little disappointed, and I kind of needed a friend."
Hazel made it clear that Katt was unavailable to her when she needed a listening ear or a shoulder to cry on.
After the interview, Katt took to Instagram to express his regret for acting inappropriately and begged Hazel to give him another chance.
However, they never got back together. 
His relationships were certainly difficult to manage, but he amassed a huge net worth from his successful career. 
Katt Williams's Net worth
Micah Katt Williams, age 50, celebrates his birthday every September 2.
From an early age, Katt had a wonderful sense of humor and aspired to pursue a career in comedy. 
He began giving comedic performances in Avondale. He perfected his comic delivery by rehearsing his act in venues all around the country, and by 1999, he had made a name for himself as a stand-up comedian.
In 2006, he started his show, 'Katt Williams: Live: Let a Playa Play.'
You Maybe Interested: Awesome Comedian Reginald D. Hunter: Neither Married Nor Dating, Is He Gay? Girlfriend And Wife Rumors!
Adding to his comical journey, Katt, who stands at the height of 5ft 4 inches, made his acting debut on 'NYPD Blue' in 2002. He then gained fame by starring in 'Wild 'n Out' for several seasons.
With his outstanding acting and stand-up humor, the actor from 'The Last O.G.' has accumulated a large net worth.
His stand-up comedy and acting careers have made significant financial contributions.
According to Celebrity Net Worth, Katt presently has a $2 million net worth, which will undoubtedly increase over time.