Sports
Kerry Rhodes's Lavish Wedding- Did He Split from His Wife?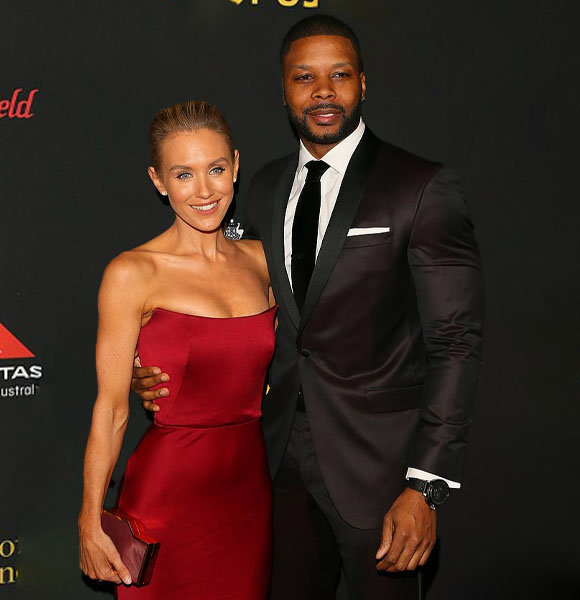 Known for being the former NFL player, Kerry Rhodes has been in the headlines regarding his dating life.
From rumors regarding his sexuality tagging him as a gay man to having a possible wife, today we answer them all.
But firstly,
Does Kerry Rhodes Have a Wife?
Single now former player Kerry Rhodes has been away from the dating pool currently.
Nevertheless, he was previously married to his former wife, Nicky Whelan.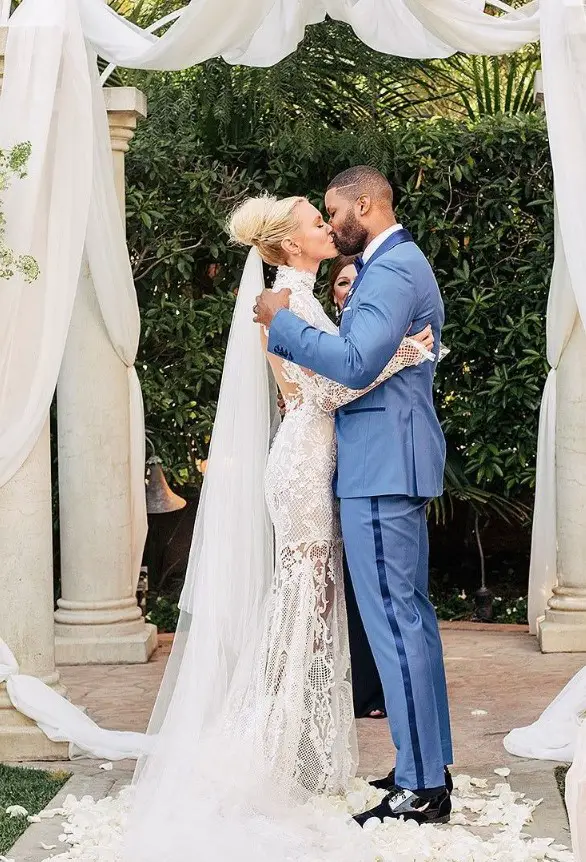 Kerry Rhodes with his former wife, Nicky Whelan (Source: Pinterest)
You must be thinking, who this beautiful lady is.
Nicky is an Australian actress with more than 60 film credits to her name.
With 'Maneater,' 'Dangerous Methods,' 'The Girl in the Window,' '1 Last Night in Rozzie,' 'Famous Adjacent,' 'Dear Christmas,' 'Love by Drowning,' 'The Binge,' and 'InstaPsycho' being her recent work from the year 2020 to 2022, the star actress has exceptional talent.
Moving on to the husband and wife's relationship, the star couple met for the first time on 'The Morning Show' back in 2015.
Explore: Spike Lee's Resounding Family Life with His Wife & Kids
From filming a skit to playing hard to get, then-boyfriend Kerry stated,
'I tried to play really hard to get and I think it worked. That is why I got her.' 
After getting acquainted, the former husband and wife started dating and eventually got engaged the following year on Valentine's Day.
Adding to their happiness, the star couple then decided to get married around April 2017.
Saying I do, in a lavish wedding ceremony, the couple held their celebration at the Beverly Hills Hotel on a Sunday.
Both the stars love traditional weddings and wanted to carry out the tradition as they grew up in a similar environment.
Planning a successful wedding with a three-tier cake, rings from Rafaello & Co., flowers arrangement from Petals LA, and Amsale's bridesmaids dress, the star couple went all out.
But the best part about their special day was no phones were allowed, former wife Nicky stated,
"It was amazing to watch everyone get up and communicate and dance — not one person was looking down all night. It really proved about point about how incredible people are when they come together and don't have their cell phones."
Adding on, the couple also had their families from Australia, Alabama, and the U.K. all in the same room, which made them the happiest.
With such an amazing vibe, there are divorce rumors circulating around.
Did the star husband and wife part ways?
Divorce and Gay Rumors
After being married for almost six months, the duo decided to follow their different routes.
Verifying the rumors Nicky quoted,
"I can confirm that I have left him,"
"But other than that I am not willing to comment any further, because anything else I say is going to make things tricky."
"'I just want to focus on my work and on business, which is going really well."
Since the parting, Nicky did change her Instagram account to private.
Read About: Timbaland's Married Life & Kids- Still Together with His Wife?
After a year of dodging divorce talks, Nicky revealed around 2018 about the star couple's divorce, stating that even though feeling like she had lost everything, the actress gained more love for herself.
Moving on from the former couple's relationship, the star was linked to former girlfriends Whitney Cummings, Jessica White, Jennifer Hudson, Melyssa Ford, and Eva Marcille.
With a multi-million net worth, there were some rumors stating Kerry to be a gay man.
Why was that?
It turns out there was a photo circulating of Kerry Rhodes with his former assistant, where he had his hand around him.
Clearing the air, the former player stated,
"I am not gay. The shots were taken during a past vacation in a casual environment with my entire business team."
"I know a lot of people are recently talking about athletes struggling to come out to their fans right now, and I support them, as well as wish those individuals comfort."
Stay with us for upcoming updates regarding the former star player's romantic life.