Entertainment
Kevin Samuels Shares about His Past & Current Relationship Status
While Kevin Samuels is known for his relationship-related suggestions as a dating expert, his not-so-known married life has his fans curious about who his wife is.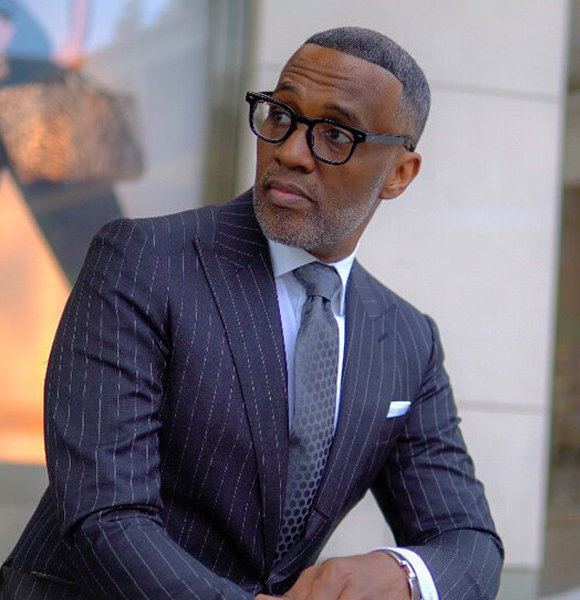 'It wasn't a good idea to get married in the first place,' multi-hyphenate influencer Kevin Samuel told while talking about his failed first marriage in an interview. 
Been through his share of ups and downs in his first marriage, he married for the second time but only to see its end. While his love life did not seem to go expectedly well, his fans are left with a big question if he is in a relationship currently. 
Is Kevin Samuels Married?
In the interview of June 5, 2021, with Vlad TV, the YouTuber opened up about his love life which he barely shares publicly.
Kevin Samuels talking about his past relationships (Source: YouTube)
While he explored what went down the road in his past failed relationships, he updated the fans of his current relationship status, saying he was single and happy.
And his answer to the interviewer's question of whether he plans to get married anytime soon suggests the influencer is not giving much thought to third marriage currently.
Sparing his opinion on marriage in general, the dating expert further remarked,
Marriage is what you make it. You act on what you know and how you know to do things. That's why I say I would never begrudge my ex-wives. Why did things fall apart, we could talk about it for hours and hours, but I don't say anything negative about them because there is no reason to.
Well, sharing his profound thoughts on marriage, he did hint that he might get married again if he finds the right partner. He said,
Would I get married again? Sure. I don't anybody wants to live this life truly by themselves. We just don't really know how to get it done.
As he is not saying 'no' to marriage, we might see him tie a knot in the future, but it's just a matter of finding a suitable partner.
Get to know - Zak Bagans's Broken Relationships, Girlfriend & More
Kevin Talks about His Ex-Wives
Talking about his first wife, he elaborated that they remained married only for over a year. From his relationship with his first wife, the influencer shares one child.
The high school sweethearts' love came to a halt, ending up in divorce. Further explaining his turbulent relationship with his previous partner, he said they were better off as friends than romantic pair.
Although he did not touch the personal aspect of his failed first marriage in-depth, he admitted to having a great relationship with his first partner. 
Obviously, it might have been tough moving on from his divorce, especially when he had known his first wife since fourth grade. But, seven years later, love found its way again, and Kevin got married for the second time.
Not having luck with the second marriage, the relationship resulted in divorce in three years. He reasoned his second divorce as irreconcilable differences.
Since his second failed marriage, the love expert has remained single for several years. Still, recently he came under the spotlight for his rumored relationship with an Instagram model, Brittany Renner, as reported by a gossip site.
However, without confirmation from either of the alleged couple, the rumor seems to be nothing more than speculation.
Moreover, according to his interview with Vlad TV, the renowned personality is currently single, so the rumor is probably a hoax.
More on - "I want to be a family man" Said Shemar Moore, So Is He Married Now?
Kevin Samuels's Net Worth
As for his professional life, the love expert is quite a reputed personality who has been expanding his reach on online platforms with his intriguing live advice.
His 1.2 million subscribers on YouTube proves his dominance as an influencer on social media, while his Instagram has already garnered one million followers as of 2021.
According to Socialblade analysis, the internet personality receives an annual income of around 600 thousand dollars from his YouYube channel.
Given his successful professional journey, Kevin is sure to have amassed a generous amount of net worth, which remains to be revealed by the love expert.