Entertainment
Leslie Odom Jr. & His Wife- From Being Broadway Co-Stars to Husband and Wife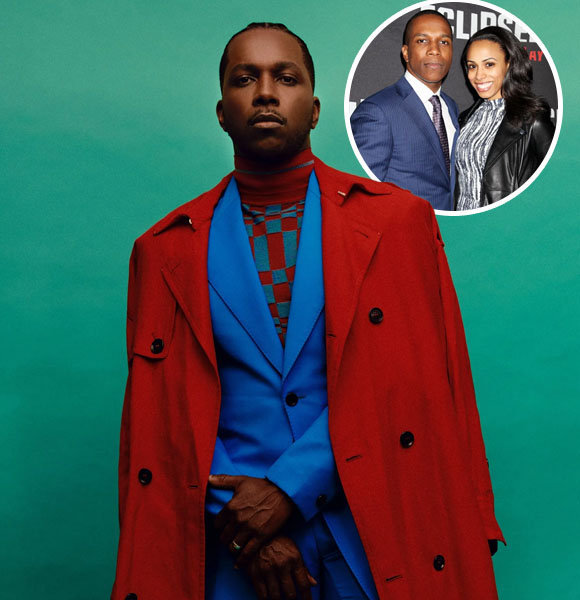 From being Broadway co-stars to life partners, Leslie Odom Jr. and his wife share a beautiful life together.
Rising to stardom by portraying the role of Aaron Burr in the Broadway musical 'Hamilton,' Leslie's relationship with his wife is a tale loved by all.
With all the details, let's start with,
Who Is Leslie Odom Jr.'s Wife?
Married in 2012 to his wife Nicolette Robinson, the pair have been together for a decade.
His wife, Robinson, is also a Broadway star who made her debut through 'Waitress' on Broadway by starring in the lead role of Jenna.
Explaining how this step was her biggest milestone, and she still cannot believe it happened, she stated,
"I've loved this show since it opened on Broadway, and I've connected with Jenna in such a deep way. I've loved this music."
"I was just a big, big fan, and in the back of my mind, Jenna was always a dream role of mine. But it never even occurred to me that I could play her." 
Still active in the industry, the star actress has 12 credits on her name.
Also Read About: Daniel Ezra's Net Worth & His Life with His Parents
Adding to an amazing career, the star actress met the love of her life through her work.
Broadway Stars to Married Duo
The star couple met in the production of 'Once on This Island.' But their chance was not quite sure yet.
Wife Robinson did not really get a role for the said production.
But one thing did happen, a co-star who was in the production 'Once on This Island' fell sick therefore leaving a spot open for Robinson.
After taking the spot, the star couple got the chance to work together.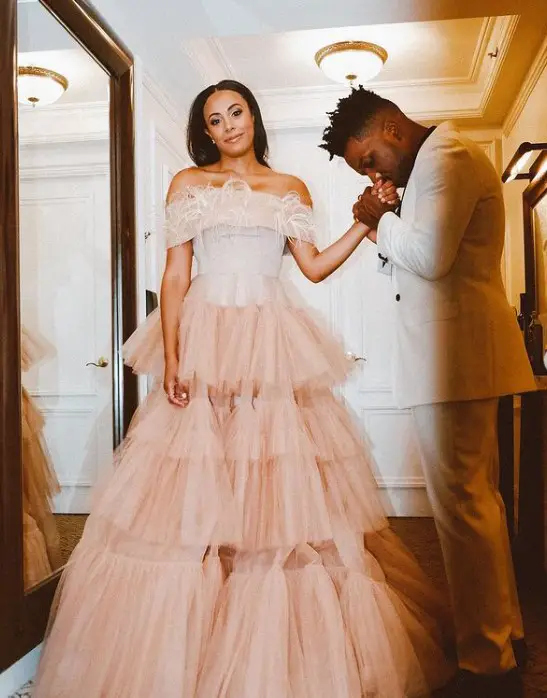 Leslie Odom Jr. with his wife, Nicolette Robinson (Source: Instagram)
The question here lies, was it love at first sight situation?
Apparently not as Robinson stated,
"It was not a romantic thing at first," 
"It was really just a human connection like, 'Wow, I need to be around this person all the time. We stayed in touch after the show and started dating pretty soon afterwards."
With their first date being confusing and a kiss solving it all, the star couple ended up dating for four years.
After their four years together, the beautiful pair decided to take a step further, which involved wedding bells in 2012.
Explore: Who Is Terry Crews's Married To? All on His Family Life with Kids
Now with 10 years together, the husband and wife are still very much in love.
Do you think this is all? Well, hold your breaks.
Adding to their beautiful relationship, the duo also starred as an on-screen couple in the project 'One Night In Miami,' portraying the roles of Barbara Cooke and Sam Cooke.
Moreover, turning their successful married lives around and being parents to daughter Lucille Ruby and baby boy Able Phineas the beautiful family of four, lives together and are extremely happy.
As a family raising two kids who were born on 25th March 2021 and 23rd April 2017, the father, Leslie Odom Jr., really wants to teach his children how to be in a relationship; he also quoted,
"I really want my kids to know how to be in a relationship. If you know how to make a friend, you can build your whole life on that. You can build your whole life on your support network, and that will cover you in places where you may fall short,"
"That extends to partnerships and to intimate relationships."
Along with happy family life, the star is also making big moves.
With works in 'Gilmore Girls,' 'Grey's Anatomy,' 'Vanished,' 'Smash' and many more the star has successfully accumulated a raving net worth of $10 Million.
For more updates on Leslie Odom Jr., be sure to check in.