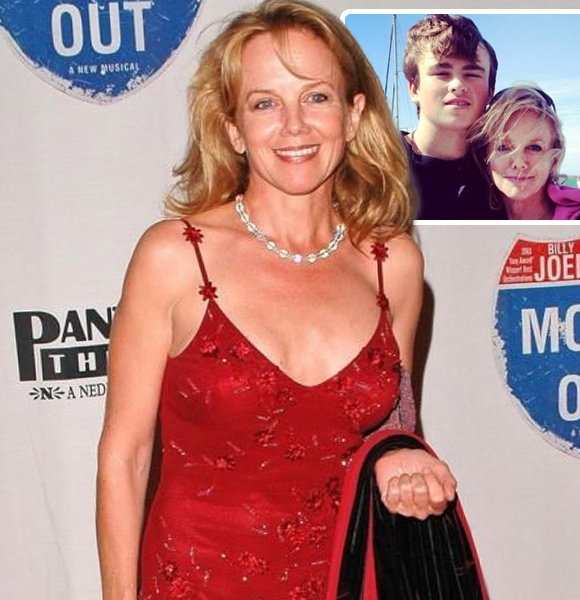 The super gorgeous Linda Purl has witnessed her career at an all-time high for most of her life. However, 'The Office' fame has gone through some serious instability in marriage and seen some pretty lows in her love life. 
Purl gave marriages multiple shots, but none seemed to work. Yet, despite having failed relationships in her book, there is one relationship that is eternal, her relationship with her son. 
Linda Purl's Son
Purl has been actively working in the industry since the mid-late '60s. Into over five decades in her career, Purl has at times made headlines with her notable works in her projects and, at times, with the news surrounding her love life. 
And she is still in the news time and again for her married life. Guess being married four times comes with a lot of media attention. 
Yes, Linda was married four times (which we shall come back to later)
But her marriages did not work. Bitter or sweet they were, her marriage with her third husband gave her a blessing of a lifetime, a son.
Lucius Cary, son of Linda Purl, might not be a known name for many. Born to his father, Alexander Cary, he is a full-grown adult now. 
Lucius will soon turn 27 this February of 2022. And, the doting mother loves him dearly. 
On the occasion of her handsome lad's 25th birthday, Purl took to her official Instagram account to post a beautiful mother-son moment.
Sharing a picture of Lucius holding her tight in his arms, sharing happy smiles she wished, 
"25 years ago today, 14 hours of labor were worth every second for this beautiful boy! So grateful to be his Mom"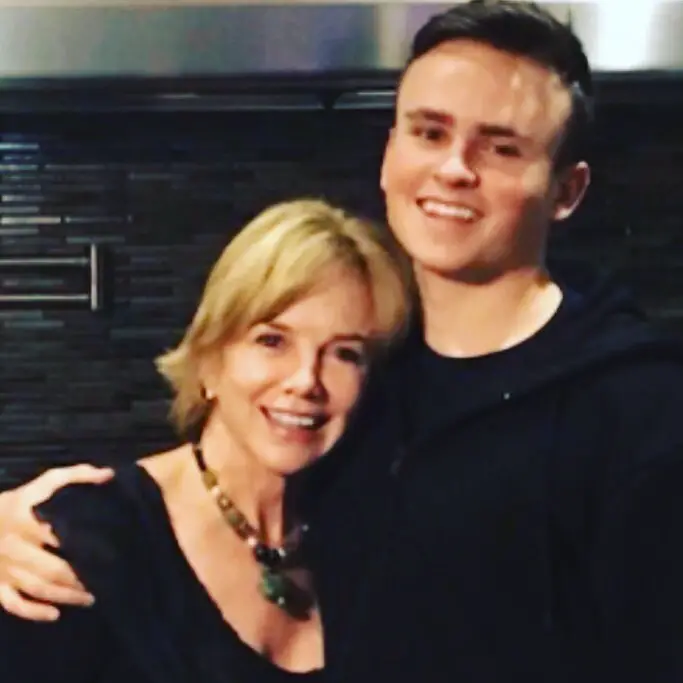 Linda Purl With Her Son (Source Instagram)
Whatever the outcome of Linda's relationships has been in the past, one thing is clear, this is her biggest blessing and her biggest strength. 
Lucius, like his mother, is also an achiever. He plays soccer, and supporting him through and through is his wonderful mother.
She can't keep herself from being proud and sharing every little moment of her handsome boy's football journey. 
Her lad seems to have taken a different approach in his career as he seems to be much interested in football. 
More Of The Office Cast: David Denman: One-Time Divorcee is Happy With Current Actress Wife, Girlfriend and Dating History?
But, hold that thought because he is working in Paramount as of now. Purl, back in 2020, shared a picture after grabbing lunch with Lucius and also shared that he was working there. 
Moreover, by the picture, her seems to have a tattoo on his arm.
Whatever approach her son takes, whether it's football or photography (yes, and he is pretty good at it) or the showbiz, one thing is for sure Purl will be his biggest fan and supporter on whatever he does. 
But the good news is that her lad is not the only one who fulfills her life. There is a special someone in her life that she is very fond of. 
Who Is He?
Purl married four times in total. Her first marriage was with Desi Arnaz, Jr., but the marriage was short-lived. They were together for a year (1979-1980).
She then got married to William Broyles Jr. after eight years, but that marriage too did not last.
Then came her marriage with Alexander Cary in 1993 that blessed the two with a child, but their relationship also eventually saw its downfall. 
Purl then, in 2006, married James Vinson Adams, and sadly, they parted their ways.
But all through the failed relationship and hurdles, Purl has always been optimistic, and for someone who has so much love to give, it seems like Linda has finally found her "the one."
She is dating Patrick Duffy, the ABC sitcom 'Step by Step' actor, and everything seems to be going wonderful so far. 
She and Duffy started dating somewhere around late 2020. Duffy came back into the dating world after he lost his wife of 34 years to cancer in 2017. 
The pair seems to be happy as of now and are enjoying their start with hearts full of love and happiness.