Sports
Look Back to Merlin Olsen's Outstanding Career & Cause of His Death
Merlin Olsen's saddening death is a loss to the sports world, but his legacy still echos through his heavy net worth earning career.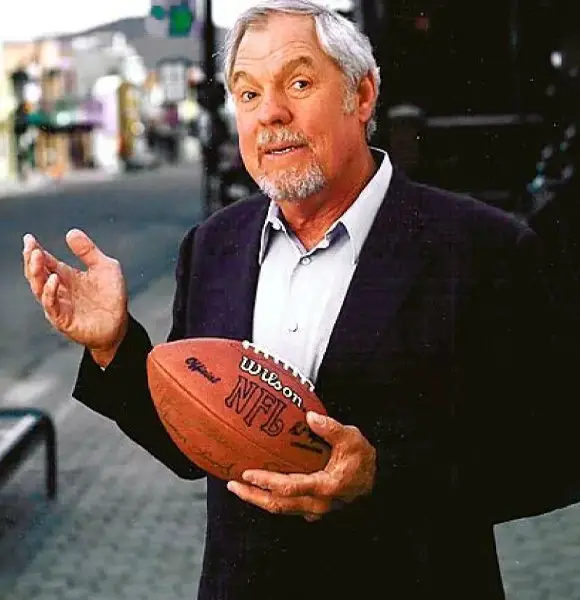 Merlin Olsen might not be among us, but the legacy he has left behind is something that one cannot shut their eyes to, and not to forget the net worth his career landed him. 
Or should we say careers?
Olsen played different roles throughout his career, sometimes an American football player (which was basically most of his life and for which he is mainly known), sometimes an announcer, and sometimes an actor. 
Whether it was the sports industry or the entertainment industry, Olsen has left behind a void that can never be filled and a legacy that does not have an end to it. 
Merlin Olsen's Net Worth 
Olsen's career was bright from the start, to say the least, and he was bold with his decisions from the very beginning. First, he rejected the scholarship for Standford University and opted in for Utah State University, where he was a three-year letterman in football as a defensive tackle. 
Formulating a stronghold for his further career during his college days bore fruits right after he was out of College. 
He got offers from Los Angeles Rams and the Denver Broncos. Eventually, he signed with the National Football League team Los Angeles Rams.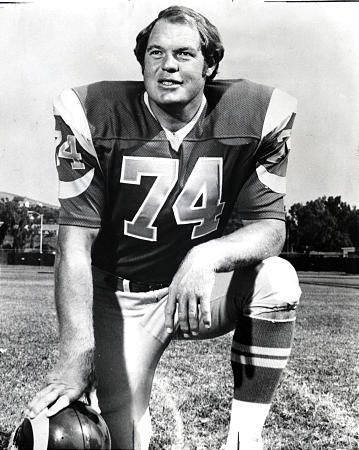 Merlin Olsen In Los Angeles Rams Jersey (Source Desert News)
He signed a contract worth $50,000 for two years, and before anyone thinks, "oh that's not much," the year was actually 1962. During that time, an average salary of a player was just $12,000 a year, so one can probably guess what a great athlete Merlin was.
New Generation Of Los Angeles Rams: Dante Fowler Stats & New Contract | Shipped To The Rams For Draft Picks
Olsen also grabbed the title of NFL's Rookie of the Year in 1962. It is no less to say that he achieved many greater heights in his career that most wouldn't be able to. 
Named Athlete of the Century by the state of Utah, Olsen displayed his outstanding and noteworthy range of gameplay on the field. 
Utah State University's Tribute For Merlin Olsen
The defensive tackle made Pro Bowl 14 times out of 15; as a result, he was enlisted to Pro Football Hall of Fame in 1982. 
Although Olsen's fruitful career as a footballer came to an end, his retirement only opened more pages for him. 
He then ventured into a different career path as an actor and a commentator. He is known for his portrayal of a farmer named Jonathan Garvey on "Little House on the Prairie," but more significantly, he is known for his work in NBC drama, "Father Murphy."
This generous personality also frequently appeared on the Children's Miracle Network telethons, a television fundraising event that raises funds for children's hospitals. 
With decades of contribution to the sports and entertainment field, it is of no doubt that Olsen has amassed a staggering net worth that is valued in millions. 
However, the reality is that it has been over a decade since the NFL star's passing, and he is not around to provide a testament to the net worth. 
We can only assume but looking into his career, it might not be less than seven figures. 
Unfortunately, Olsen passed away at the age of 69, but the news of the remarkable football player's death wasn't limited to that itself.
After his death, lawsuits through his wife followed to many recognizable organizations, which in fact, the pair had already filed before Merlin's passing, deeming that the organization exposed him to harmful substances, which ultimately cost him his life. 
Fight With Cancer: TV Host Wendy Mesley Revealed How Her Battle With Cancer Forced Her to Chase The Cancer Answer
Merlin Olsen' Cause of Death?
Merlin Olsen was married to his wife, Susan Wakley, for over 48 years. But, sadly, the couple who would have completed their happy golden jubilee were separated through unfortunate events played by destiny. 
Olsen died due to mesothelioma, a rare form of cancer. Upon finding out about the disease, he and his wife filed a lawsuit against NBC Studios, 20th Century Fox Film Corp., Sherwin Williams, etc., claiming that they exposed him to Asbestos, which further caused his mesothelioma. 
As reported by TMZ back in 2010, a month after his death, Susan amended the lawsuit again for the 38 defendants that she and her late husband sued.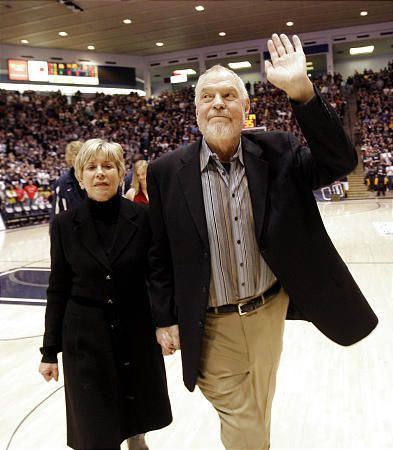 Merlin Olsen With His Wife (Source DesertNews)
Standing at the height of 6 feet 5 inches, he was as tall as his career accomplishments.
Although the sports world mourns for the loss of one of the prominent athletes of his time, nothing is as big as the pain faced by his family following his demise.  
A son named Nathan Olsen, who has played as a defensive lineman for San Marino, and two daughters named Jill Olsen and Kelly Olsen.
His children, however, do not seem to be shadowed by their father's legacy and have been leading a well-settled life. The hard-earned career accomplishments left by Olsen are purely unbeatable and one that people will not simply forget.