Entertainment
Where Is Olivia Brown Nowadays? Has She Left the Show Biz?
Living in the hearts of many since the 90s, Olivia Brown has disappeared from the limelight recently. So, many fans have been curious about how she is doing today.
Although she is active on social media platforms like Twitter, her appearance in the entertainment industry is quite scarce.
What is she doing now? Find out the details of beloved Olivia's whereabouts. 
Olivia Brown Now
After starring in 'Miami Vice,' Olivia Brown gained extreme fame and is still known for her role in the show. However, she isn't seen much in the show biz now. 
So, the curiosity arises about her whereabouts and whether she is doing well. Moreover, some speculate that she has retired from the industry as an actress.
More on 'Miami Vice' cast: Don Johnson Wife, Children, Relationship, Family
However, even during her peak years, her involvement in Hollywood was relatively low. So we can see the gaps in her career as an actress. 
Now, she is a host for foreign exchange students. Although she hasn't revealed the details of her job now, we can see in her Twitter bio what she is up to recently.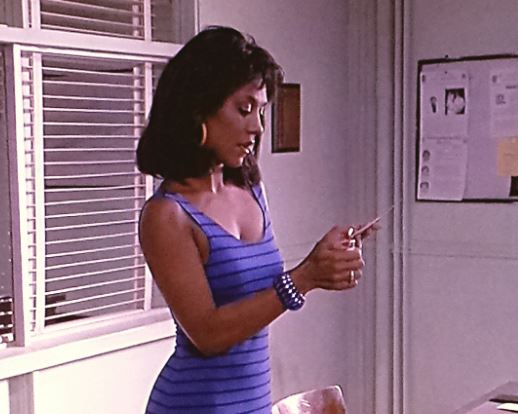 Olivia in Miami Vice (Source: IMDb)
According to IMDb, she got featured in a recent project called 'Blue Lightning.' However, there is no evidence of her appearance till now. 
Apart from her career, Olivia has also come a long way in her personal life. She is a wife and a mother. So naturally, people are curious about her life with her husband and children. 
Olivia Brown's Husband and Children
Olivia has been happily married to her husband, James Okonkwo, for decades. Of course, the exact date of their wedding is under the covers, but they sure have been married for a long, long time. 
The beautiful couple support and love each other dearly. Olivia and Jameskeepg the promise of never leaving each other's side intact. 
Moreover, they share two children together. However, the details of their children are a mystery to the media. This is because they prefer to raise their children out of the limelight. 
You Might Also Like: Actress And TV Reporter Jill Nicolini And Her Baby Boy: Is She Married? Know About Her Husband, Boyfriend?
Nevertheless, their two adorable children complete the family. Olivia is extremely proud to be their mom and is delighted to share such a great family with her husband.
Before having it all, Olivia did go through something rough. She had once before given a shot at marriage. However, the marriage didn't work out. 
When Olivia starred in 'Miami Vice,' she fell in love with her co-star, Mykelti Williamson. The former couple dated for a while and finally decided to exchange vows in July 1983. 
Unfortunately, the marriage came to an end in 1985, just two years after their wedding. Neither of them has talked publicly about their divorce, so the details are unknown to the media till now. 
Read Also: Know About Hoda Kotb Divorce And Her Journey To Motherhood
Whatever happened, happened for the best because Olivia got another chance to find her soulmate. Hopefully, her soulmate, her husband James, will be her ultimate life partner until the end of the road.
Today, Olivia continues to become a good wife and an even better mother. Moreover, she is a good host to foreign exchange students.