Entertainment
Mara Brock Akil and Her Husband Still Feel Like Newlyweds!
Screenwriter and producer Mara Brock Akil is the name behind many popular television shows. Equally successful as her career is her married life with her husband. 
A perfect example of love at first sight; take a look inside their wonderful story and how far they have come.
Mara Brock Akil and Her Husband
Mara is married to her husband, Salim Akil, who comes from the same professional background as Mara. 
It's common for actors to find love in co-stars on sets, but Mara and her husband work behind the camera, so the set was not where they met.
Instead, Salim saw Mara walking down the street, and she instantly caught his eye. He took the chance and asked her out for a date to watch Wynton Marsalis perform, and then their story began. 
Mara admitted that the night was when she fell in love with Salim. Subsequently, their relationship blossomed into a marriage. They had their nuptials in 1999 and have been together ever since.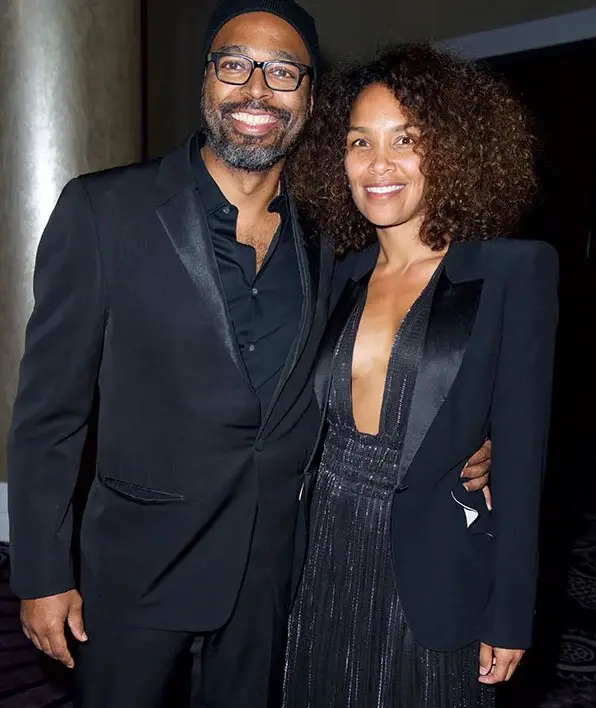 Mara Brock Akil and Her Husband, Salim Akil (Source: Essence)
So, they have a reason to celebrate their loving bond time and again. Mara wrote in a caption for their 19th anniversary, "Let's keep defining and redefining this thing called Love and Partnership!" and added that she still feels like a newlywed.
The love and passion for each other are well alive between Mara and her husband.
However, they didn't reach here without any struggles. Their long-lasting bond is the result of a lot of understanding and compromise. 
Both busy bees are consumed by work most of the time. On top of that, they're parents to two sons, Yasin and Nasir. 
Read more on: Leon Robinson's "Soulmate" Could Not Be His Wife!
So, the husband-wife duo put in extra effort to make the work-life balance. Whether it be maintaining boundaries for work, pampering the other one with some vacation time, or going on date nights, they're always looking out for each other. Salim said,
Whatever we need to do to maintain our friendship and relationship, we do.
Likewise, she has two other men that make her life full of love; her two sons. Of course, as a talented personality, she must have a lot of knowledge to impart to her children, but she revealed that they had taught her something valuable too.
"These two taught me how to truly love, and know how to prepare space for someone else to simply BE. They encouraged me into a needed healing so that I could emerge my better self and be the best MOTHER I could be for them..." she wrote on Instagram.
Also check out: Antwone Fisher Did Not Want to Have Kids- What's the Story Behind It?
As a loving mother, supportive wife, and an award-winning writer, Mara has excelled in all aspects of life. As a result, she has an outstanding career and net worth to her name.
What Is Mara Brock Akil's Net Worth?
Mara was born in Los Angeles to her parents and was raised in Kansas City with her siblings, William Brock and Kara Brock. Her parents divorced when she was young, and her mother raised her. 
She found her passion when she was young and continued to pursue it. Brock Akil started writing for television in 1994 and has been the person behind many hit series such as 'Girlfriends,' 'The Game,' 'Being Mary Jane,' 'Black Lightning,' and 'Love Is.' 
She has become a renowned writer and producer at the age of 51.
According to Celebrity Net Worth, she has amassed a substantial net worth of $8 million from her successful ventures.