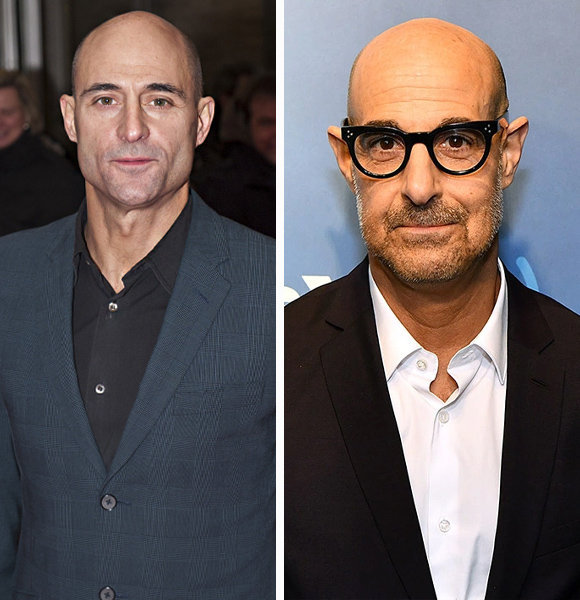 'Stardust' actor Mark Strong has been in the industry since the 90s. He was seen in 'Shazam!' and has appeared in many popular TV series and movies. 
Mark is often confused with another actor in Hollywood, a renowned face, Stanley Tucci. 
Yes, the resemblance is quite uncanny, but we can confirm these two are different people. So how are Mark and  Stanley Tucci related to each other?
Mark Strong and Stanley Tucci Are Related?
Apart from their facial resemblance, they are not related to each other. However, mark and Stanley do look-alike because of their similar facial structure. 
But isn't it weird, considering no one has seen the two in one place simultaneously?
Just Kidding!
But yes, it is an often-ongoing conversation in social media on just how closely related they are with each other.
So and so that the British actor Eddie Eyre himself took to his social media to post a picture of the two side by side, with the caption, "Anyone noticed that Stanley Tucci and Mark Strong are basically the same person!?"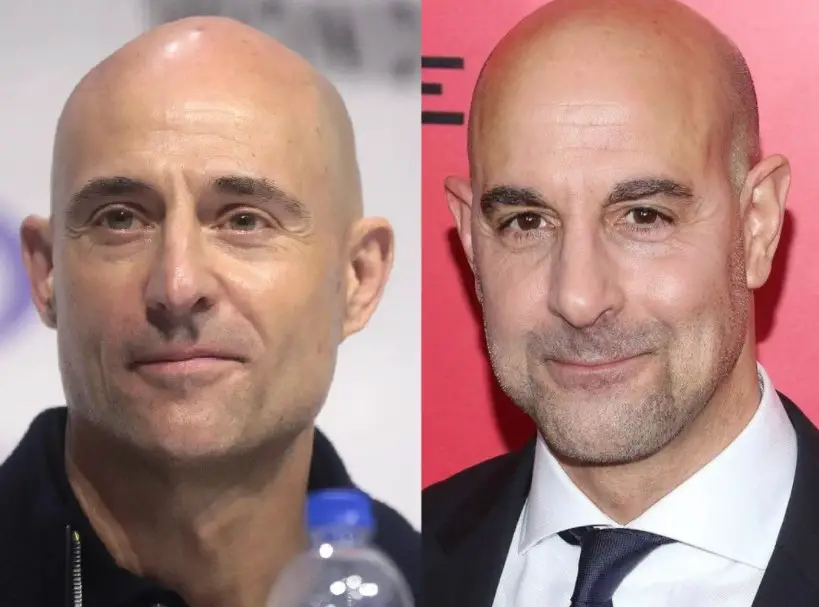 Mark Strong and Stanley Tucci (Source Reddit)
While we have scoured everywhere to find any connection between the two or even the two being friends, we do not seem to have proof of it. 
Surely the two talk with each other during events, but their bond outside their professional area does not seem to exist. 
Also Read: Mark Strong Married Life With Wife | Children & Net Worth
The only connection we could see between them was the 'The King's Man' franchise.
For those who know, Stanley Tucci appears in the movie 'The King's Man,' released in 2021. As much as a magnificent actor Tucci is, his work in the movie is wonderful, to say the least. 
Likewise, Mark is also a part of the franchise. He was part of the movie's prequel, 'Kingsman: The Secret Service,' released in 2014. 
Although the two did not have any correlation between their characters in these two movies, both of their works have been well appreciated by the fans. 
Moreover, Mark played the role of Merlin in 'Kingsman: The Secret Service,' and interestingly enough, Stanley has also played the role of Merlin in the movie 'Transformers: The Last Knight.' 
Besides their facial resemblance, the age is also not too far apart. Stanley Tucci is 61, while Mark is 58.
Further digging into another fact that adds to their resemblance is the beginning of their professional careers in the show biz, which was in the 80s for both.
After decades of dominating the big screens in the industry, both talents have marked their presence through several remarkable projects. 
With countless movies and TV series credited to is name, Mark has held his dominance in the show biz as a recipient of prestigious awards, including the Central Ohio Film Critics Association Award, Palm Springs International Film Festival Award, Tony Award, and Theatre World Award.
Even if you are not a movie fanatic, then the chances are that you have at least watched one of his films. And his most recognizable works are in 'Sherlock Holmes,' 'Kick-Ass,' 'The Imitation Game,' 'Kingsman,' and so on.