Sports
Matt Lafleur Says His Wife Is 'True Rock Star in the Family'
Matt Lafleur is undeniably one of the sought-after football coaches, but he is a big family man at heart who has been blessed with a supportive wife who he calls 'the true rock star in the family.'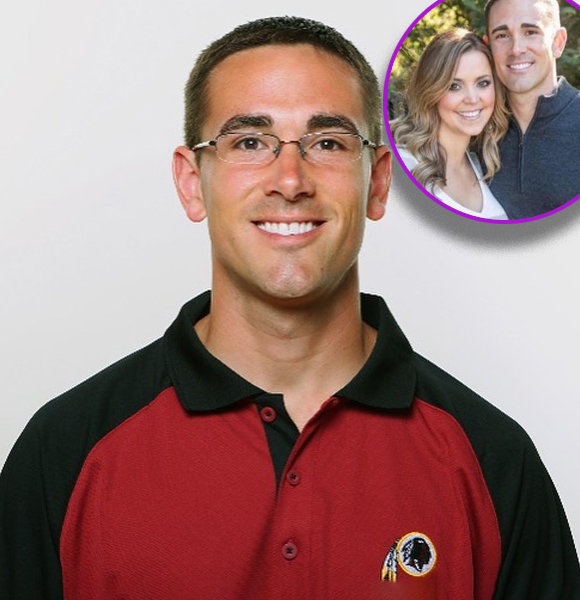 American football coach Matt Lafleur addresses his beloved wife as "The true rock star in the family." 
Matt's almost invisible personal life on his social handles raised quite a curiosity about him being married but the America football coach is actually a happily married man relishing a fulfilling family life with his wife of several years.
Matt Lafleur And His Wife
Matt became the talk of the town when he was appointed as the head coach of Green Bay Packers back in 2019. But along with his career achievement, his personal life also grabbed attention significantly.
Although the head coach is not very flashy about his personal life, Matt addressing his family at the first press conference at Packers as its head coach indeed proves he is a big family guy at heart. He remarked,
I'm all about family. I love my family.
Matt is married to his wife BreAnn, who is a pharmaceutical representative. As a supportive partner, BreAnn has been with Matt since day one and never once hesitated to move around due to Matt's job.
Talking to MLB, Matt's wife once shared a few words about moving for Matt's work, saying,
I have a career where there aren't a ton of jobs available. Hopefully, I can find a position where I can transfer.
Get to know - Sydney Mclaughlin Soon to Be a Bride to Her Long-Time Boyfriend
Matt and BreAnn's relationship dates back to their college days when both of them were attending Central Michigan University.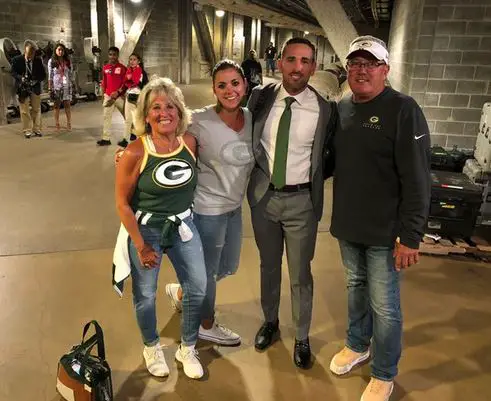 Matt with his wife and parents (Source: Twitter)
Well, the pair's love story began with not so fondly start as BreAnn once mentioned in an interview with Packers News. As she mentioned, their first encounter in college began with Matt harshly yelling at her on the football field. In her words,
He yelled for me to get out of the way. There probably was more vulgar language that I remember, he doesn't.
However, Matt denied ever yelling at her. Little did the couple know they would be parents to their two sons, Luke and Ty.
The pair welcomed their firstborn, Luke, in 2011, while their younger one was born in 2013. BreAnn once gushed about her husband being a loving father to their kids, saying,
It's amazing to see him go from this passionate football coach and coming home and doing nothing but wrestling with my kids, and having a great time. Always a smile on his face. He's just an absolute people person, and that's what I love most about him.
Indeed, Matt is winning as a responsible person who knows how to balance eveything from the football arena to his home.
More on - Sydney Mclaughlin's Parents Behind Her Successful Career
More on Matt's Fulfilling Family Life
Matt comes from a family with a football background, which is probably what got him into football.
His father, Danny Lafleur, played as a linebacker for Central Michigan, while his mother, Kristi, was a cheerleader.
Later Matt's father took on the path of coaching, and so did his mother. Danny is now a coach for Mt. Pleasant High, and Kristi taught cheerleading in the past.
His wife's brother is also said to be a part of the National Football League. With Matt's long history of a football background, now it remains to see what career path his boys will pursue in the future.
Well we really hope it's football... Fingers crossed!