Sports
Sydney Mclaughlin's Parents Behind Her Successful Career
Sydney Mclaughlin's success in her career is a big shout-out to her parents a college runner father, and a high school runner mother, who introduced her to tracks at an early age.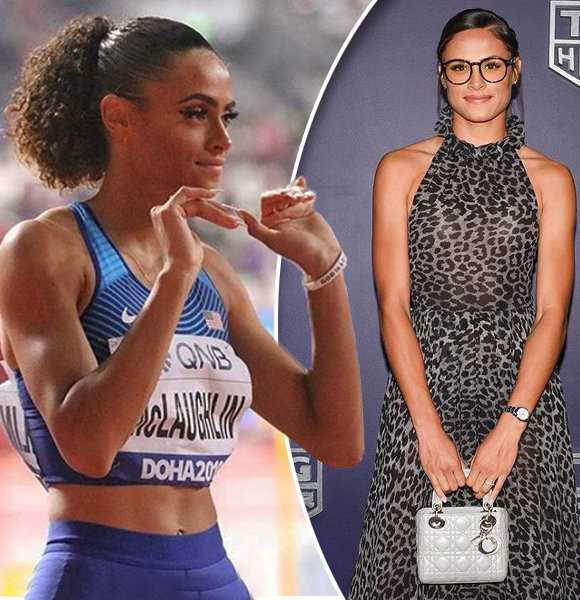 The feat Sydney McLaughlin has achieved as an American hurdler and sprinter while she is just in her early twenties is not something that comes without relentless hard work and dedication.
And the source of her inspiration to give the best of her on the tracks comes from her family. Well, Sydney is not the only one making a big name as an athlete, but her parents also garnered quite a reputation as star runners back in the day. 
Sydney McLaughlin's Trackstar Parents
Born on August 7, 1999, Sydney was highly influenced by her athletic parents, who grabbed attention as runners during their high school and college days.
The Olympic gold medalist's mother, Mary Neumeister McLaughlin, a Manhattan College Alumni, was a runner in high school. She held a good potential as a runner for 400m and 800m, but as the track was not available for females at her college, she had no other option but to halt.
As for Sydney's father, Willie McLaughlin, he was also a brilliant runner who held multiple titles as All-American at Manhattan College. He even landed in the semifinals at the U.S. Olympic Trials for 400m.
Sydney's parents, who went to the same college, have four children, Morgan, Tylor, Ryan, including Sydney. Her parents did introduce all their kids to tracks at a young age but did not pressure anyone to pick a sport. 
Sydney McLaughlin with her siblings (Source: Instagram)
Learn more about - 'The best day of my life!' Scott Frost's Wife Remarked About Their Wedding
But eventually, all of them turned out to grow inclination towards sports. Talking about the kids with NJ, Sydney's father said,
They all did other sports like soccer and basketball. But we knew all along they'd get into the track.
He added that he got his kids started on the track when they reached eight. As his daughter Morgan began progressing on the track, Sydney and Tylor gradually joined her to harness their track abilities.
While all the McLaughlin kids have the athletic spark, Taylor and Sydney stand out the most based on their accomplishments.
Besides Sydney, her brother Tylor is also a well-recognized runner who bagged a silver at IAAF World U20 Championships in 2016 for 400m hurdles.
While Sydney's sister Morgan used to be a good runner at Peter's University, the Olympic gold medalist's brother Rayn is also doing well as a runner.
While each one of the McLaughlin is excelling in their respective fields at their own pace, the pressure of doing the best seems to be more prevalent on Sydney's shoulders especially.
Already headed to achieve a more significant milestone, Sydney feels pressure due to people's high expectations of her. But, her parents are there to ensure she is at ease with whatever she does on the track to the best of her abilities. On that note, Sydney's father remarked,
We wanted to make sure they aren't putting pressure on themselves. We're very proud of them.
Likewise, Sydney also commented her share of opinion on this matter, saying,
People expect you to break records and set a high standard. But I'm just trying to focus on doing my best, not worrying about what other people are running, and just having fun.
More on Sydney McLaughlin
Sydney, belonging to mixed ethnicity, has established her name amongst the top young athletes with a long list of accomplishments she has garnered throughout her career as a runner.
Get to know - Yadier Molina's Lavish Wedding & His Family Life Is Definitely Worth a Look
The Union Catholic Regional High School graduate not only holds an outstanding record on the track, but her academic qualifications are also extraordinary.
Having started her training at an early age, the athlete came to the major limelight since her participation 2015 Cali World Youth Championships for 400m hurdles.
Since then, she has never looked back. However, her career-defining win is the Olympic gold medal she bagged in 2020.
With a passion for achieving more, the athlete, who is just at the age of 22 as of 2021, indeed has a remarkable future ahead of her.