Sports
Sydney Mclaughlin Soon to Be a Bride to Her Long-Time Boyfriend
Sydney McLaughlin's Heavy Net Worth Earning Career Followed by Her Fulfilling Personal Life with Her Boyfriend-Turned-Fiance Is Simply the Cherry on Top.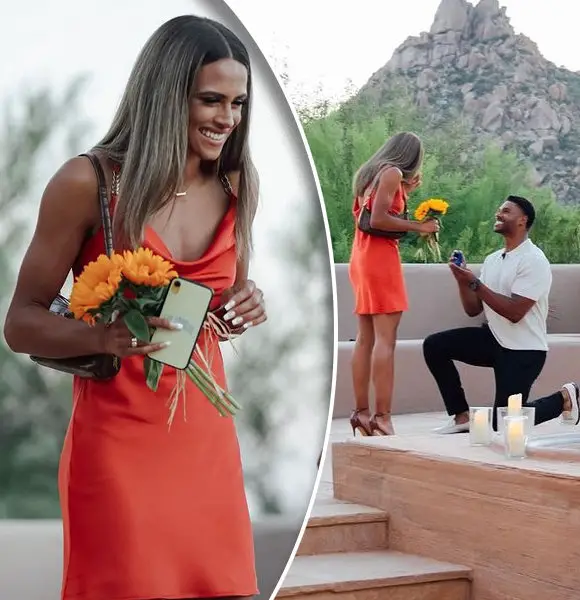 Wedding is just around the corner for the star athlete Sydney McLaughlin who recently turned fiancee to her longtime boyfriend.
After her career-defining win in 2020, bagging an Olympics gold medal, 2021 blessed her with another reason to be excited for. With her Instagram post revealing her proposal moment, she has her followers wondering when the two will share the vows.
Sydney McLaughlin's Boyfriend Turned Fiance
The Olympian shared her excitement with her Instagram followers posting her adorable proposal pictures on August 25, 2021. Along with her love-filled photos, she expressed her sentiments through a lengthy caption dedicated to Andre Levrone Jr., Sydney's boyfriend-turned-fiance.
Andre surprised his beau at a romantic getaway at Four Seasons Resort Scottsdale, where he bent on his knees, asking Sydney the big question.
As seen in engagement announcement pictures, Sydney, who was dressed perfectly in an orange spaghetti straps mini dress, looked pretty with a wide smile on her face as her boyfriend bent down holding an engagement ring.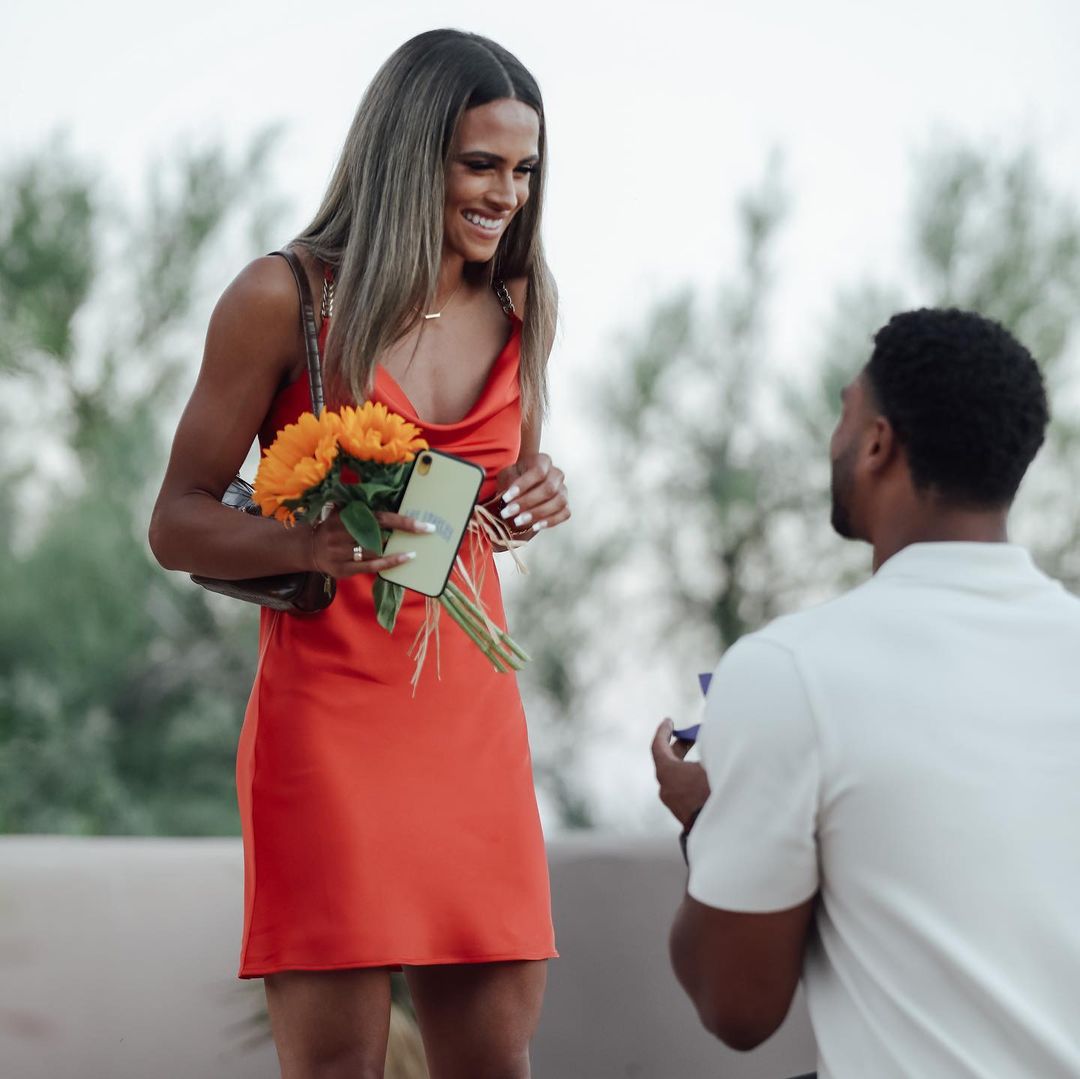 Sydney McLaughlin's longtime boyfriend proposed to her with an engagement ring (Source: Instagram)
Following the first one, the next picture displayed the setting where Andre proposed to her. The place, decorated with flowers and a rocky hill standing as a backdrop, lit up even more with the couple's romantic moment.
Personal life of - 'The best day of my life!' Scott Frost's Wife Remarked About Their Wedding
The latter picture showed her celebrating the special moment with her friends, while the last one displayed a swoon-worthy romantic gesture flaunted by the couple while the moonlight shone upon them.
Treasuring the pictures on her Instagram, the athlete wrote a caption that encapsulated her gratefulness and happiness for the bond they strengthened with the proposal. Her love-filled words read,
Dear future husband, till this day I still can't comprehend how someone who possesses everything I've prayed for, has finally come into my life.
Addressing her beau as her husband, Sydney could not stop praising her fiance and letting her followers know how happy she was to be with the man of her dreams, her 'perfect man.'
The athlete further added,
I fall in love with you more and more each day off of the strength of your faith. Andre, you are the most God-fearing, passionate, honest, loving, hard-working, protective, and genuine man I've ever met.
Andre, a former NFL player, reciprocated his love for his fiancee through an engagement announcement post on Instagram. Posting a series of pictures from the surprise proposal, Andre paired those with a caption saying,
May we never love one another cautiously, but instead always be eager to love one another extravagantly, in the manner that Christ loved the Church.
While Sydney had just achieved her significant career milestone bagging gold at Tokyo Olympics in 2020 at the 400m hurdle, the surprise proposal added another milestone in her personal life.
More on - Yadier Molina's Lavish Wedding & His Family Life Is Definitely Worth a Look
Sydney's Impressive Net Worth
Breaking her own previous record at the Tokyo Olympics game, the athlete dominated the tracks. Her excellence and perfect execution have her name amongst the top-tier runners globally.
As an NBC report suggests, the Olympian probably bagged a hefty sum of 37,500 dollars for her gold win in Tokyo.
Talking about her career earnings, Sydney's net worth is estimated to the value of 2 million dollars as per CelebrityNetWorth.
Besides, adding to the Olympian's staggering net worth is her collaborations with high-end brands, including New Balance. The young athlete also flaunted through a 2019 Twitter post that she was getting her first car.
Indeed her prosperous career is setting her to a promising future, and her hard work and determination are always there to get her to the top.