Entertainment
Max Homa's First Ever 'Gram Post Was Of His Beloved Wife
Max Homa's social media oozes his love for his beloved wife as he does not back away from giving his fans sweet moments of his blissful married life.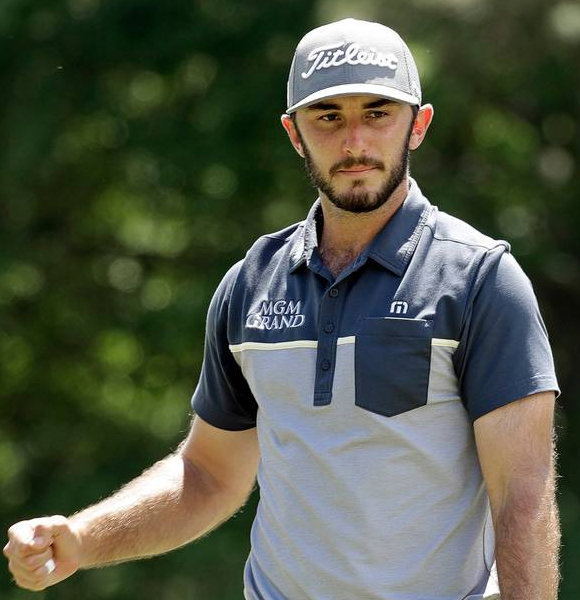 Love is in the air!
The American professional golfer Max Homa's love for his wife oozes through his Instagram. Flaunting his happy married life, the golfer dedicated his first 'gram post to his beautiful wife and let the world know how much he prioritizes her. 
Max Homa's Love For His Wife
"First IG post is of my beautiful new wife because 1) I love her and she always comes first, and 2) I've enjoyed being married and don't wanna sleep on the couch tonight."
Max wrote on his first Instagram post sharing an adorable picture with his wife, Lacey Croom, from their wedding day.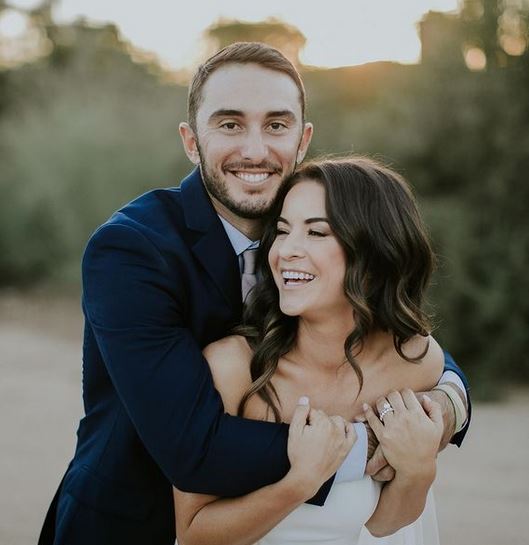 Max Homa embracing his wife (Source: Instagram) 
Overjoyed with excitement to have been blessed with a loving wife, an Arizona realtor, the proud husband does not miss any chance to reflect his emotions for her through his socials. 
Watch out! His sweet anniversary post might get you teary eyes.
Taking to his social handle on November 30, 2020, which marks their first wedding anniversary, he shared a dreamy picture posing with his wife for their wedding photoshoot.
Both dressed up in their stunning wedding attire, posed candidly, holding each other in their arms, and the beam of rays coming from the sun right behind the pair added the heavenly touch to the picture. 
Adding more sweetness to the picture, he captioned his swoon-worthy 'gram post, writing how Lacey always makes him laugh. 
'Couple who laugh together, remain happy together,' is this even a quote? However, it suits them well.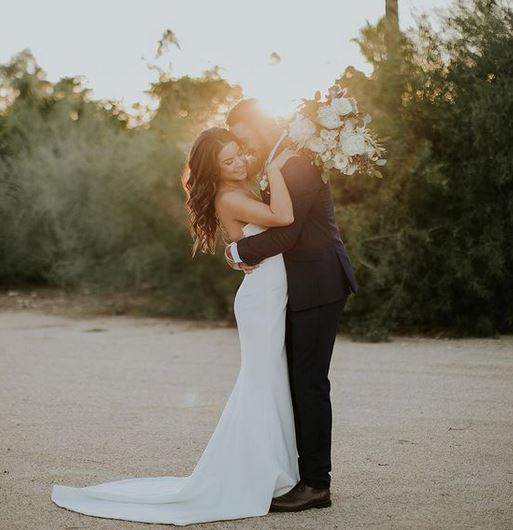 Max's wedding anniversary post (Source: Instagram)
Besides, their everlasting bond goes way back to 2013, when they first began dating.
Taking their time with their relationship, they concretized their bond with marriage in 2019. To Max, marrying his girlfriend of six years was undoubtedly one of the best decisions of his life. 
Though they are yet to have children, as for now, Max and his wife are parents to their fur baby named Scotty. Moreover, the couple even has an Instagram page containing Scotty's adorable pictures, so adorable that you can't take your eyes off Scotty. 
Love life of - Inside Max Kepler's Short Lived Relationship
Get To Know Max's Mom & Dad
Max sure does have a happy married life, but he equally had an awesome childhood blessed with a loving mom and a doting dad. 
Born in a Jewish family, his father is John Homa, and his mother is Bonnie Milstein. 
His dad is an accomplished acting coach based in Los Angeles, while his mom serves at Valley Produce Market as an office manager. 
Despite the differences between the line of work of the father and son, Max talked about how his dad's assistance as a mentor helped him growing up. He said, 
But being raised by a man who teaches is always good and helpful, I feel, for a kid. [My father] knows his strengths, when it comes to teaching. 
Adding to his conversation, the golfer pointed out the only common thing between his and his father's profession was the acting part. He said, "at times trying to act like I'm the best player in the world."
Personal life of - Yasiel Puig's Partner Treats His Son From Previous Relationship As Her Own
More On Max Homa 
After his dad recognized Max's inclination towards golf, he did not waste any time and immediately sent him to a coach. 
Supported by his parents, the California born began his golf training from a young age. Winning a 2009 Foothill league MVP at Valencia High School, he continued playing golf in college at the University of California. 
Having played in major golf arenas, Max's participation includes platforms such as Masters Tournament, PGA Championship, U.S. Open, The Open Championship, etc. 
With continuous dedication and love for the sport, the golfer has bagged three PGA Tour wins, and two Korn Ferry Tour wins, and his undying determination is sure to lead him towards greater success.