Entertainment
Mike Alstott And His Wife's Perfect Use Of His Career Fortune
Mike Alstott has garnered significant net worth over the course of his career and he has found a perfect purpose to spend it alongside his wife.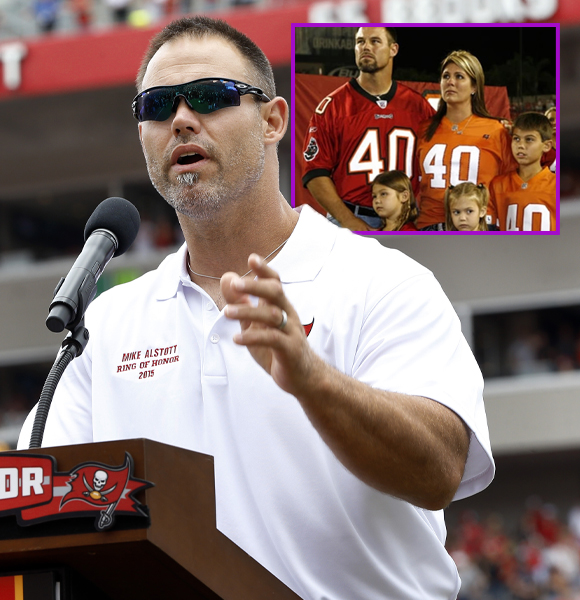 It is not an unknown fact that Mike Alstott, the former NFL player who donned jersey number 40, made historical marks in the field of football. During the course of his career, the 47-year-old won his first Super Bowl title for the team he was playing for, Buccaneers. 
These are just some of the many accomplishments that he is celebrated for to this day and not so shocking information, but the American football fullback was traded for multi-million dollar deals back in the day. 
Mike Alstott Net Worth
Alstott was drafted by the Tampa Bay Buccaneers in the second round of the 1996 NFL Draft. Mike attended Purdue University, where he also made the history of becoming MVP three consecutive seasons. 
More On Another Buccaneers Player: Aqib Talib Wife, Family, Net Worth, Salary
His association with Tampa Bay was deemed quite fruitful for him as he was inducted into the Buccaneers Ring of Honor in 2015. 
And to not miss, the 47-year-old landed a contract of a whopping $32 million in 1998 with the Buccaneers. 
$32 MILLION! That is a lot. But not a lot for someone with out-of-par talent and skills. 
He then went on to play as a fullback for Tampa Bay for most of his career. The football fullback then signed a year-long contract with the team in 2005 and extended it in 2006. However, he was thinking of his retirement all the while. 
Unfortunately, Alstott's journey as a footballer was cut short back in 2007 when he suffered a neck injury that led him to retire his jersey on January 24, 2008, at 35 years of age. 
Watch Mike Alstott's Game Highlights
His decade-long super successful football career landed him on the list of one of the most notable players in the history of the NFL and was ranked #10 on the NFL Network's "Top Ten Power Backs."
Throughout his career, Mike earned a lot of name and fame and, obviously, a hefty fortune which undoubtedly ranks his net worth in the millions. 
It is no wonder that Alstott lives a wealthy life, all thanks to his hard work; however, he is not alone when it comes to spending his fortune. 
Mike Alstott's Life With Wife & Family
Alstott is a married man with a family. The former Tampa Bay player has been married to his wife Nicole Alstott, with whom he shares three children; two daughters, Lexie Alstott and Hannah Alstott, and a son named Griffin Alstott. 
By the looks of it, his children have decided to move in the footsteps of their father. Their son Griffin is a senior student-athlete sports management major at Western Michigan University who will graduate soon in December of 2021. 
Likewise, one of his daughters is into playing volleyball. When we mentioned, Mike is not alone in terms of spending his earnings, we did not mean that he likes to spend those on himself. 
Mike is not just rich in figures, but the 41-year-old is rich from his heart as well. He, along with his wife, founded the Mike Alstott Family Foundation in 2007. 
The Six-time Pro Bowl fullback envisions to uplit the minds, hearts, and spirits of families and children through his foundation. 
Therefore, some part of his fortune does cater to keep their goal moving. 
"Putting smiles on kids' faces is what Mike and I truly love to do," 
Said Nicole on the day they visited All Children's Hospital in the hopes of bringing smiles to their faces, and they successfully achieve the task each year. 
As per Mike's foundation's official page, they visit All Children's Hospital each year to spend time with the children and families. 
The loving couple is proud of the work they do and puts in their whole heart to it. Although his wife, Nicole, does miss her husband's playing days, the two surely have found another purpose in their life. 
After the retirement, Alstott has not yet backed out from the love he shares for football and has continued working even after all these years. 
Wife Of A NFL Player: Happily Married to a Former Baseball Player Husband, Nicole Zaloumis is Blessed With 2 Sons: Her Work-Life Balance
Mike Alstott Now?
Mike, also known as "A-Train," owns a restaurant named Island Way Grill in Florida, one that he opened with his former teammate Dave Moore. 
After four years of his retirement, he joined Northside Christian School to work as a Head Football Coach. Alstott also coaches youth football for Seminole Chiefs. 
Alstott stands at the height of 1.83 meters and is over 110 kilo's in weight. 
As of today, Alstott seems to live a fulfilling life with his family, all the while not letting go of his love for football. His jersey number 40 is also listed in various online shops, up for sale, ranging from $100 to $150.