Celebs
MJ Acosta's Intriguing Love Life That Began Unexpectedly!
MJ Acosta, a well-established NFL analyst with a hefty salary, is living her dream with a fulfilling personal life alongside her beloved husband.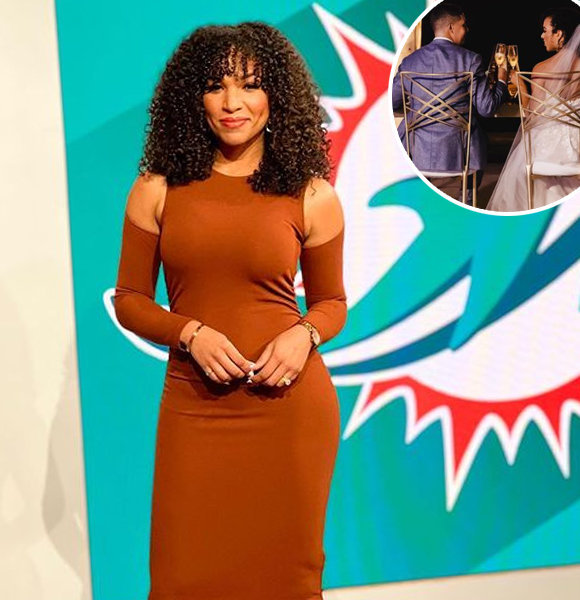 NFL Network analyst MJ Acosta had never thought she would receive one of the most beautiful presents on Christmas Day around 2013. 
Her love story with her husband is similar to some romantic movies filled with ups and downs but full of incredible bonds, happiness, and alluring first meet. 
How Did MJ Meet Her Love?
While MJ was enjoying a basketball game near her hometown on Christmas of 2013, she encountered her future husband for the first time. Little did she know her beau would be popping a wedding ring in the same venue seven years later.
MJ's super romantic partner swept her off her feet with his surprise proposal. While her love life was blossoming, her career was also at its peak.
Covering NFL Super Bowl week for a sports-lover like MJ was a dream career for her as she always wanted to be a part of the NFL. So regarding her career and love life, MJ stated, as reported by The Knot, 
"It also marked a pivotal career marker since the Super Bowl was hosted in Miami (my hometown and the place where we met). David proposed the night before the Super Bowl in front of the place where we first met. It was the epitome of a full-circle moment in so many ways."
After the proposal began the couple's big wedding planning. Following the plan, the couple decided to tie a knot in 2020.
But the wedding was one of the most challenging phases because of the COVID-19. The couple, however, managed to get married on 27 August 2020.
Beautiful bride in a long white gown and the charming groom in the navy blue coat, their appearance in the wedding was all about love, love, and love! Then later, the pair exchanged their vows and committed to the togetherness of a lifetime.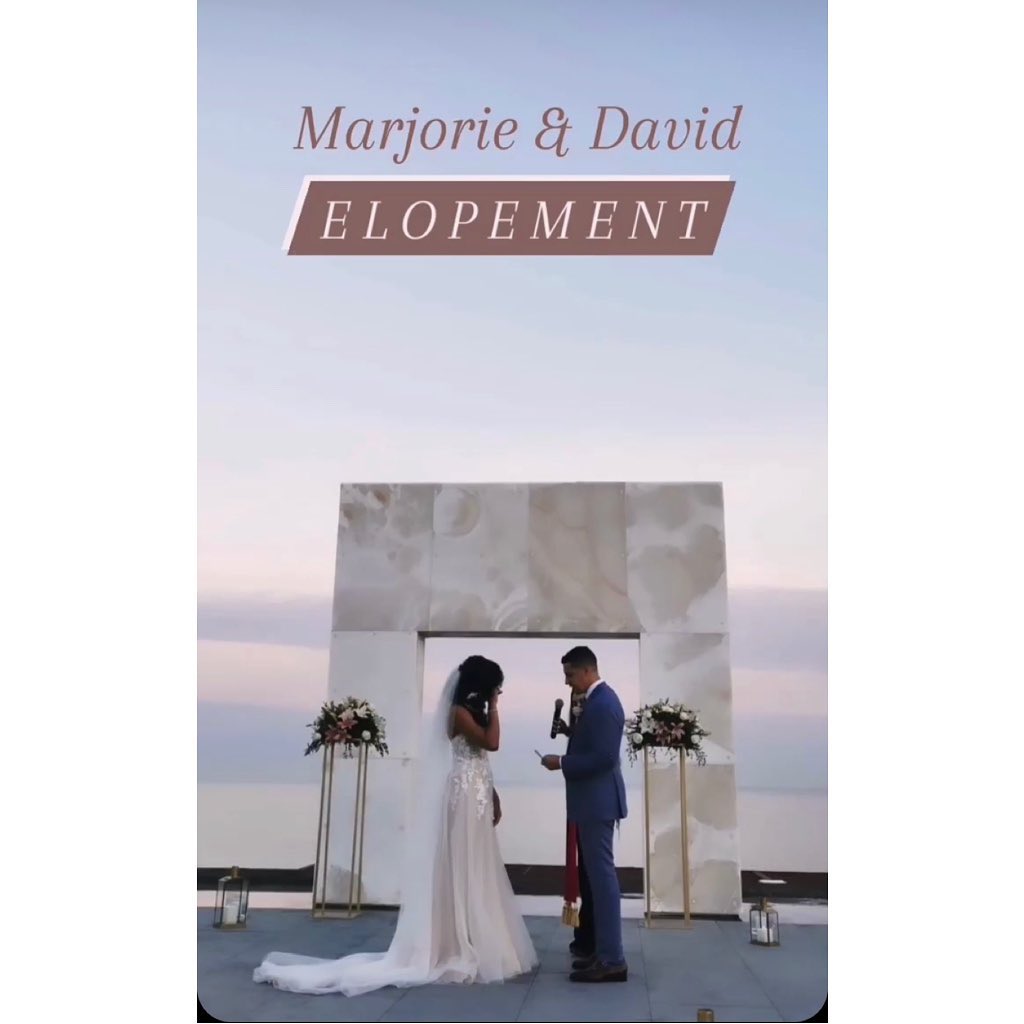 MJ Acosta and her husband on their wedding day (Source: Instagram)
MJ, explaining the planning process, stated that the wedding date was also not even fixed, but suddenly both the bride and groom planned for the elopement and set their wedding destination.
The happy couple chose Le Blanc Spa Resort in Los Cabos, Mexico. As seen in MJ's wedding picture, the beautiful outdoor ceremony seemed magical as the serene evening sky made for their wedding backdrop as they shared their love-filled vows.
Since her surreal wedding post, her followers are seemingly more intrigued to learn about the NFL analyst's husband.
Personal life - A Look Inside Karen Rogers Personal & Professional Life
MJ Acosta's Husband
MJ and her spouse, David Ruiz, share a beautiful relationship. David, age 29, seems to be very hardworking and has many insights regarding his career.
David Ruiz is an Army Veteran who has completed both the bachelor's and master from American Military University. 
The Army Veteran seems to come from an excellent academic field, along with 20 years of experience in IT and communications. 
He has been to several cities around the world in the context of his job, including Seoul and the different states of the USA. Currently, he is working as an IT Ops Trainer in the Bavaria state of Germany. 
With this, we can see that David earns a generous amount of salary to lead a financially stable life with his wife.
More on - Jen Hale Might Already Be Married?
Salary and Net Worth of MJ Acosta
MJ, since 2018, has been a part of the NFL Network. It is unknown about the precise net worth of MJ; it is reported that the average annual salary of an NFL member is around $87,034.
Also, the estimated median salary is around $104,642, or $50 per hour. With this being said, MJ certainly earns an outstanding amount.
MJ Acosta Ruiz,39, is in the spotlight of the NFL as her team provides in-depth access to all 32 teams in the NFL, including the behind-the-scenes footage.
At the beginning of her career, Ruiz, a Dominican-American, became a cheerleader for the Miami Dolphins during 2012 and 2013. 
After her journey as a cheerleader, New York grown-up Acosta joined ABC affiliate WPLG-TV in Miami and Fort Lauderdale.
She then later joined NFL, and her journey on NFL has been fascinating. She is also fluent in both English and Spanish. With this, she also reports for NFL Mexico and NFL Espanol channels.
MJ Acosta being superficially talented is gaining enormous appraisal from her work, and her future looks pretty bright.