Celebs
Pat Robertson's Blissful Life with His Wife And Children
A perfect example of a successful married and professional life indeed!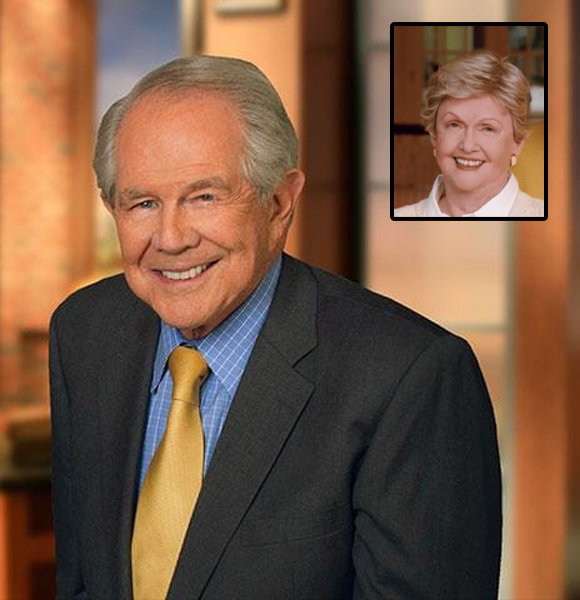 Throughout the decades of his career, famed American personality Pat Robertson has established himself as a multi-hyphenate media mogul.
While garnering a massive fortune and recognition for his outstanding professionalism, the Christian figure's blissful family life with his wife of over sixty years adds another feat to his accomplished life.
Pat Robertson and His Wife
While a long-lasting marriage is a rare sight amongst famed personalities, Pat and his wife's togetherness is indeed an exemplary one.
The televangelist first met his wife, Dede Elmer, during his days at Yale University. Having clicked from their first encounter, the pair soon fell in love with each other.
At the time, Dede was studying nursing at Ohio State University and enrolled at Yale to pursue a master's degree in nursing.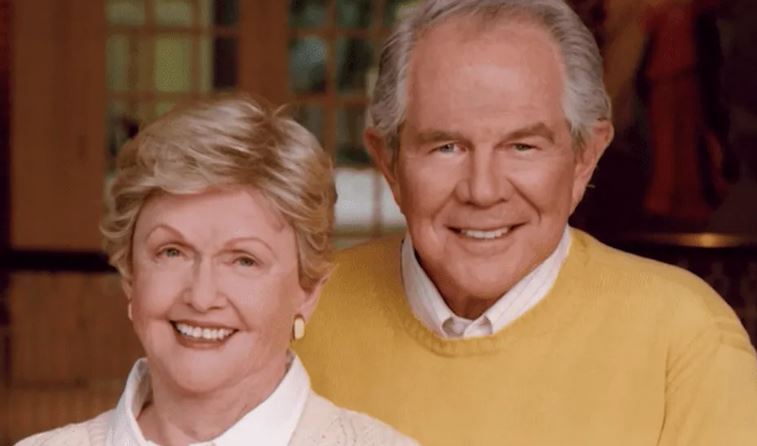 Pat Robertson and his wife (Source: Amomama)
Continuing their young romance, the couple tied the knot on August 27, 1954. During their wedding, held in Maryland, Pat's wife was already pregnant with their first son.
Ten weeks into their marriage, the couple welcomed their son Tim and later expanded their family to six, welcoming three more children.
More on Pat's Family Life
After a couple of years of Tim's birth, Pat and his wife became parents to their second child, Elizabeth Faith.
Again, in 1958, their son Gordon Perry was born, and soon after the birth of the couple's fourth child, Ann Willis, the family of six was completed.
All four of Pat's children grew up to be professionally accomplished personalities in their respective fields of work.
Besides three of Pat's children, whose personal lives are out of media's reach, Pat's second-born Gordon is known to be the CEO of the Christian Broadcasting Network.
Gordon is also recognized as the host of his father-founded TV program, The 700 Club. Along with a substantially notable career as a media personality, he relishes a fulfilling family life with his wife Katharyn and three children and resides in Virginia.
Pat's Professional Accomplishments
Pat, age 91, has garnered quite a reputation as a professionally acclaimed personality expanding his reach to a wider scope, including media, politics, and business.
With honorable academics, the Yale Law School graduate began his professional pursuit in 1960, establishing Christian Broadcasting Network in Virginia.
While he was dealing with a financial crisis, Pat and his wife's decision to buy the defunct UHF station to establish CBN turned out to be the major breakthrough in Pat's professional career.
But the road to success was not that easy for Pat. He started his broadcasting network from the ground up.
Taking baby steps at a time, CBN has now become the country's significant religious network and production company, broadcasting in 180 countries under seventy-one different languages.
With the success of CBN, Pat's exposure skyrocketed. He later started the TV program The 700 Club, a well-received CBN program that has been airing since 1966.
Apart from his media involvement, Pat's political advocacy has kept him in the limelight for a long time. His political inclination comes from a family with political influences, as his father served as a senator in the House of Representatives.
To sum up his professional success, his net worth is estimated to be 100 million dollars, per a report by Celebrity Net Worth.
Pat's extraordinary professional feats, along with his prosperous family life with his wife of decades, certainly make up for a perfect life.