Celebs
Penn Jillette's Wife 'a Real-Life Hero'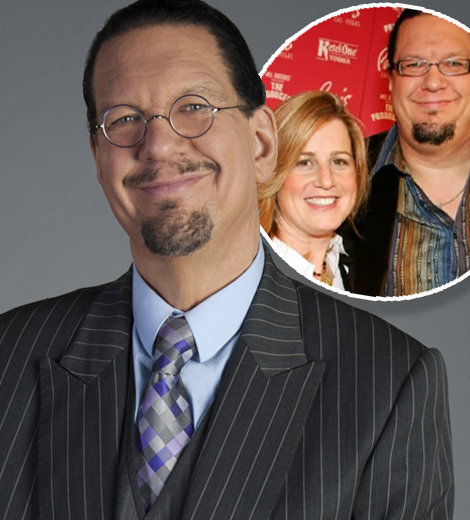 Magician Penn Jillette, famously known from 'Penn & Teller,' is undeniably the hero of the magic world, but his wife is no less in garnering the real-life hero title.
Penn's partner hit the headlines when she saved a severely injured man on a Hawaiian shore back in 2015.
Penn Jillette's Wife's Heroism
Little did the magician's spouse, Emily Zolten Jillette, know that she would encounter the unexpected while taking a relaxing stroll at a beach in Hawaii. 
When Emily was strolling by the beach close to the hotel, she was staying at, she noticed a man covered in blood lying still on the shore.
As curiosity drove her closer to the blood bathed body, she instantly realized the case was much serious than she had expected. As reported by Dailymail, she found the man was lying still on his back, and his face and head were entirely soaked in blood.
Her stay in Hawaii for participating in a golf tournament soon turned into an emergency call, and the whole situation seemed 'surreal' to her. She instantly ran towards the injured man and called out for emergency service.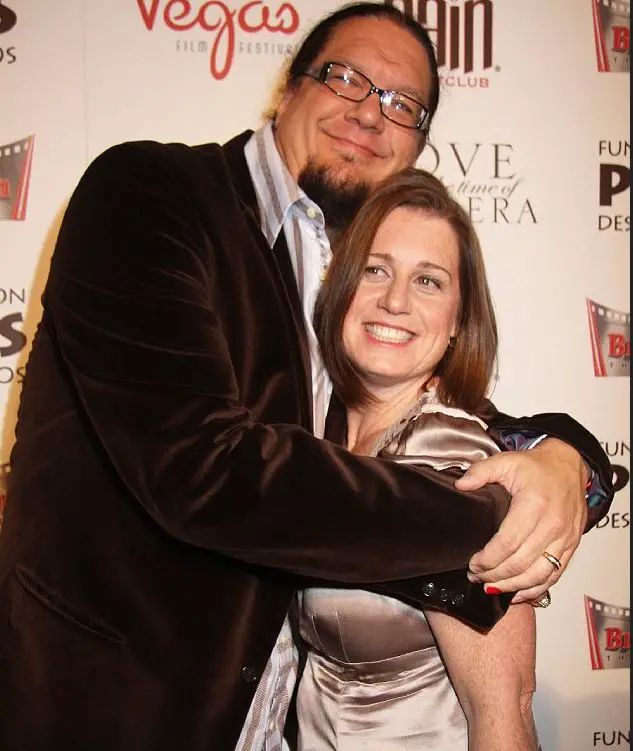 Penn Jillette and his wife pictured at an event (Source: Dailymail)
Until the help came, she stayed with the man, still awake despite the severe injury. While she asked the man some questions, the hotel security arrived for help.
Get to know - Jackie Long's Former Girlfriend Drops an EXCLUSIVE Bomb!
She contacted the injured man's Russian spouse, who was having a hard time understanding Emily's explanation of the incident.
Eventually, the Russian wife made it to the beach and broke down on seeing her husband in a terrible condition.
After the help arrived, the man was taken care of and was rushed to the hospital. Emily, who fulfilled her part of help towards the injured man, showed her concern saying,
I don't know what happened after that but can only hope they were OK, and if they were delayed a day or two going home, at least he was alive and I'd found him.
With a badge of saving a life, Penn's spouse straight wins the real-life hero title. While her presence on the beach came out to be an unforgettable experience for the injured man, her one-time presence in Celebrity Wife Swipe also happens to be an unforgettable one for many of Penn and her admirers.
More on Penn Jillette's Partner 
Mostly known for her production, her brilliance mostly shines through her works behind the cameras. But on one rare occasion, she switched her role, appearing on an episode of 'Celebrity Wife Swipe' in 2014.
As the name of the ABC series gives out the plot of the series, she appeared in 'Celebrity Wife Swipe,' swiping her role with comedian Judy Gold's wife for a week.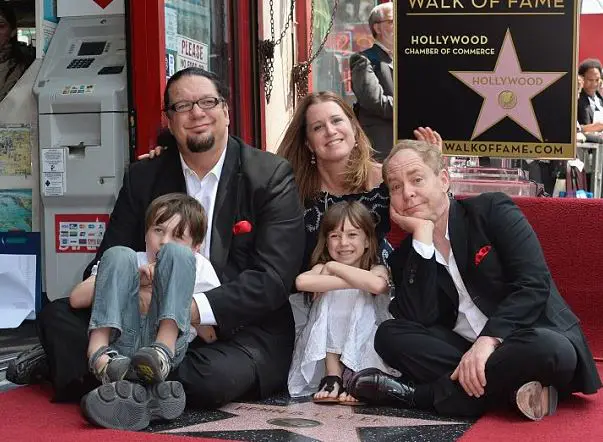 Penn with his spouse, son, daughter, & Teller posing by the Hollywood Walk of Fame (Source: Dailymail)
The entertaining American reality TV series was quite a show which displayed the challenges the swiped couple shared having to live in a tiny New York City apartment.
Besides her rare on-screen appearances, she is known for producing 'Striking Distance' and 'Rookie of the Year.'
More on - Take a Look Inside Jeff Hephner's Life Outside Cameras
As resounding Emily's professional life, her personal life with Penn, accompanied by two children, also adds to her feats.
Penn and Emily are parents to son Zolten and daughter Moxie. While the pair's son has reached the age of fourteen, their daughter is fifteen.
The magician's kids often get attention for their unique names. And on that regard, Penn once said to people,
I think it's pretty cruel to give a kid a name that others are going to have. I think it's very important to have a unique name within any group you're likely to be in.
Well, cannot deny his argument, though.
Pen Jillette and his spouse got married on November 23, 2004, after dating for a couple of years. The couple, who resided at Emily's Los Vegas home previously, is now relishing their family time in their lavish home outside Los Vegas in a community named The Ridge.