Celebs
All on Rachel Lindsay's Parents, Siblings & More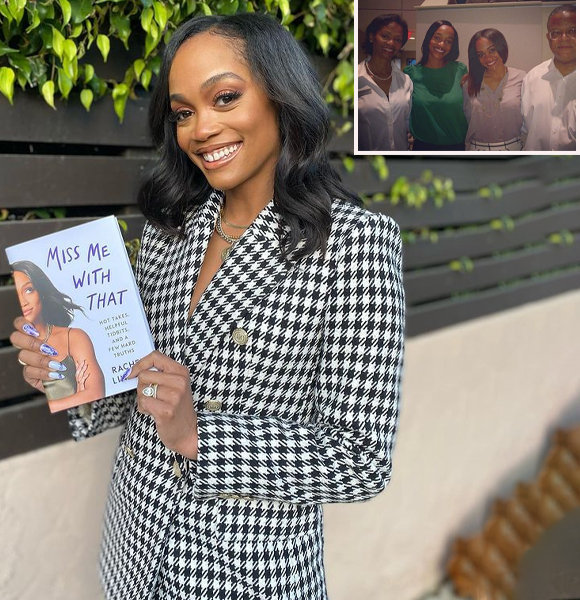 'The Bachelor' and 'The Bachelorette' star Rachel Lindsay is undoubtedly a striking and gorgeous personality. 
Now married to the winner of her season, Bryan Abasolo, she lives a happy family life alongside him. But apart from her doting spouse, her loving parents and siblings complete her picture-perfect family.
Rachel Lindsay's Parents
On April 21, 1985, Lindsay was born to her parents, Kathy and Sam A. Lindsay. Her mother is a beauty consultant and a former computer programmer, while her father served as a federal judge.
Her mom and dad have achieved much in their respective careers and have stood a formidable professional front for themselves.
Likewise, Lindsay is also a force of her own, who, after being the first African-American led in 'The Bachelor' franchise, is now a correspondent for Extra and a co-host of the Higher Learning podcast. 
Moreover, she is an attorney and has worked as a legislative intern for Texas State Senator Royce West. 
Lindsay then worked at a law firm named Cooper & Scully, P.C. 
So, it will be fair to say that she did walk in her father's footsteps as her father is a popular name in the law business.
She is also a partial owner of the FCF Wild Aces Indoor Football Team. 
Lindsay, who has been married to her husband since 2019, has an admirable relationship with him. However, her dad was skeptical of her relationship with her husband. 
Rachel Lindsay with Her Parents (Source Heavy)
Get to know - Michelle Young's Parents Were Skeptic about Her Wedding ?
Sharing on how as the contestant of the show, she had the odds against her, she said, "I mean, one, you've got to go through all these men or women, depending on who the lead is, to figure out who it is that you want to spend your life with." 
She further added how then one has to deal with the "court of public opinion" and then lastly, the family. 
Mentioning how families do not really "believe it," she shared how her father was skeptical and that he thought that the two were merely "infatuated" with each other. 
He was not buying into it. It took time for him to realize we were really in love and this was the real deal.
She said of her father's reaction. Well, she has proved her father wrong as the two are in a happy marriage now. 
The two at times had to do long distances as her husband is a chiropractor. However, her parents have been together for over 40 years now, and their relationship seems to be perfectly ideal. 
Rachel was born and raised in Dallas alongside her two siblings, an older sister, Constance, and a younger sister, Heather. 
Lindsay's family is not an unfamiliar face in the television world as they have had their share of appearances on the show. They have provided Rachel with their opinions regarding her choice in the show. 
The reality show star's sisters have also appeared on TV to give her their piece of mind and opinions. 
Rachel Lindsay now has her own little family with her husband, and over the years, they surely will add more to their family.
But despite having a newly formed family now, her parents and sister still remain an integral and essential part of her life.