Music
Robert Trujillo's Love Story & His Electrifying Net Worth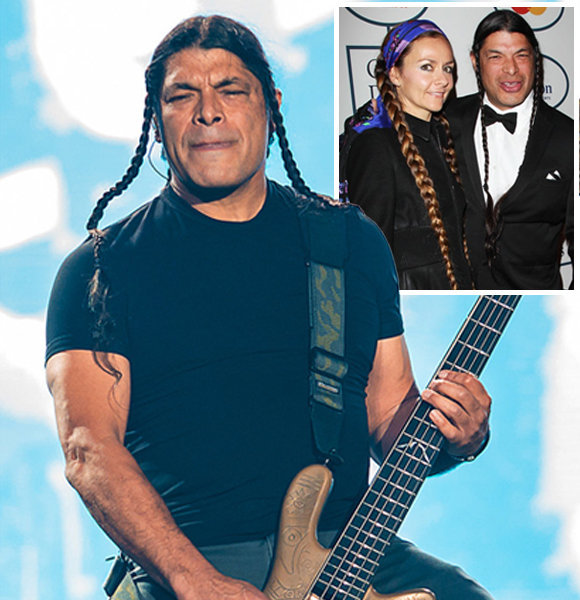 Robert Trujillo is an individual who rose to prominence in songwriting and singing through one of the most respected musical bands in the world, Metallica. Trujillo is one of those musical connoisseurs who has led an impactful life with his bandmates.
His musical career has lit up to the peak; apart from garnering million-dollar net worth, his fan base also views his balance track of personal life, which he cherishes alongside his wife, son, and daughter. 
Robert Trujillo's Wife
Robert is one of the most humble yet down-to-earth individuals who never fails to captivate his fans with his personality.
His professional life has reached heights, while his personal life is just in check. Robert has been relishing a life filled with the palette of joy and happiness with his wife and kids.
Grinding in his love life, he first met the lady of his life, Chloe Trujillo, a painter, and musician, in 1990.
Talking of how the rocker and his wife met, Robert was one of the bandmates who sang for the Suicidal Tendencies, whereas Chloe was into bands where her bandmates were friends to almost all the Suicidal Tendencies members.
Amidst all these, she gradually became friends with Rocky George and Mike Clark.
Elaborating her love story, Chloe appeared in one episode of the podcast Honest AF where she said that she was not immediately fascinated by Robert and that it was more of a gradual thing. 
However, after years of their meetings, Robert approached first and asked Chloe out on a date.
But, Chloe thought not much of him other than a friend. Moreover, she had recently come out of a horrible relationship, and Chloe wasn't ready for one.
As she didn't want to hurt his feelings, she went on a date with him. And, gradually, without her knowing, her feelings shifted into love soon.
But, their love has only strengthened with each passing year. The husband and wife are still together and have bound a prospering family together.
The couple has two adorable children, Lula Trujillo and Ty Trujillo. Both their children are paving the paths of their parents. The couple's daughter, Lula, is into paintings just like her mother.
Likewise, their son, Ty, has followed Robert's footsteps and is into music. He has also done several shows in stages and performed with Suicidal Tendencies. Robert cherishes the family bound with immense happiness and joy.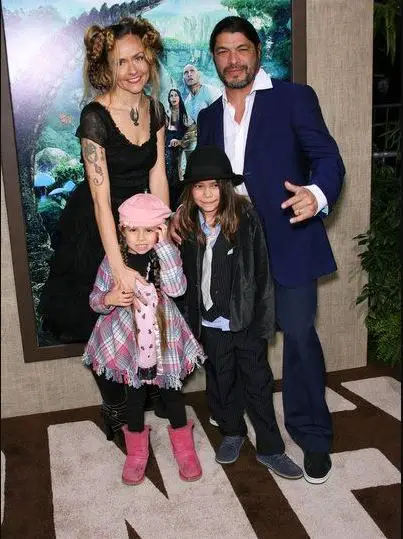 Robert Trujillo alongside his wife, Chloe, son, Ty and daughter, Lula (Image Source: Pinterest)
Along with relishing the taste of ethereal love and support from his family, his professional life is flourishing, garnering him millions of net worth.
Keep reading about another Metallica member Lars Ulrich Contrasts From Stage Acts As Family Man With Wife & Kids, A "Romantic"
Robert Trujillo's Electrifying Net Worth
Belonging to a band, Metallica, that has gratified the world with sensational music, this man still keeps his feet on the ground.
Apart from his glorifying career with Metallica, his associations include bands such as Sucidal Tendencies, Ozzy Osbourne, Black Label Society, and so on. 
It wasn't until 2003 that his musical journey skyrocketed with his entry in Metallica. 
He has garnered a net worth that still comes flooding in through his awe-worthy musical journey with immense fame. 
To be accurate, the musician has garnered a whopping $30 million net worth.
Today, he is well-established with all the luxuries in his life and resides in his California house with his wife and kids.