Rod Stewart, a father to eight kids from three different spouses, is finally reconnecting with his oldest daughter whom he left for adoption while young.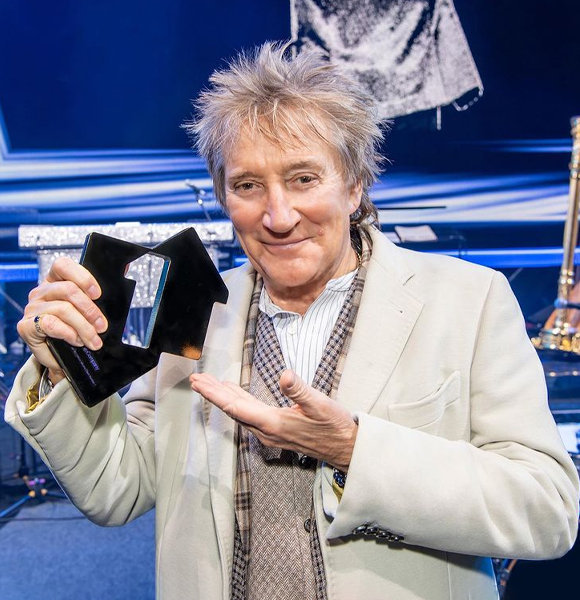 One of the most accomplished musicians, Rob Stewart has it all, from a massively successful career with a staggering net worth to a big happy family with eight kids.
Although his eight kids are from three different relationships, he shares a tight knitted bond with all his children, which pretty much reflects through his social media posts.
But it wasn't always the case. Rod, who became a father at the young age of seventeen, left his firstborn, Sarah Streeter, for adoption while young. However, several decades later, he reunited with his daughter, making up for all the decades the father-daughter had spent apart from each other.
Father-Daughter Reunion
The heart-warming reunion of the father-daughter grabbed all the buzz when Sarah came forth talking about her newfound relationship with her biological father.
It was lovely having a catch-up, just the three of us.
Shared Sarah while talking to Dailymail about seeing her father at a music event where Rod invited her along with her spouse. 
While Rod's other kids remained on the spotlight since their birth, Sarah, on the other hand, only came to know about her celebrity father when she reached eighteen.
Sarah reconnected with her father, Rod, only after the death of her adoptive parents. 
Talking about her experience through the initial stage of father-daughter reconnection, she remarked,
It's taken its time because he's not just my dad, is he? He's a big star. So, of course, that makes it difficult, especially when, like me, you lack confidence.
Over time the two caught up really well, and now their bond seems like they never separated in the past.
During the time of her mother's death, Sarah was at a depth of drug addiction but recognizing the turmoil her addiction had brought to her loved ones, she said,
Why I'm still here, I don't know. I carry a huge amount of guilt about what I put people through. The way it affected my family and loved ones was terrible.
Despite her guilt, she chose to become honest about the time she hit rock bottom.
Nevertheless, the result of Rod's young romance with his then-girlfriend, Susannah Boffey, has finally come to light after a decades-long separation. And, Rod has now rolled up his sleeves, taking on his position as a father to his firstborn.
Personal life of - Learn Cyndi Lauper's Secret to A Lasting Marriage
Get To Know His Kids
With the rekindled father-daughter relationship, Rod's family is now complete. Growing up in the limelight, all his kids have followed into an established career for themselves.
After Sarah, Rod was blessed with his secondborn, Alana Kimberley Stewart, in 1979. Alana, a television personality, fashion designer, and model, is yet to get married but is already a mother to her child Deliah del Toro, Rod's first grandchild.
In 1980, Rod became the father of his first son, Sean Rodrick Stewart, recognized as a songwriter.
Likewise, seven years later came his daughter Ruby Stewart. She also followed in her father's footsteps and built a career in music.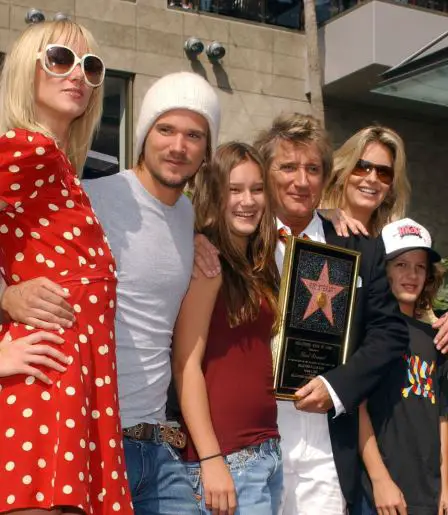 Rod posing with his kids and spouse while receiving an award (Source: Closer Weekly)
Another one from Rod's long list of children is Renee Cecili Stewart, born in 1992. The 29-year-old London Contemporary Dance School graduate is a model who has teamed up with several recognized fashion brands.
Liam McAlister Stewart, born in 1994, is the singer's sixth child. Choosing to have a career in sports, Liam picked ice hockey and is now a professional hockey player in New Zealand.
Next is Alastair Wallace Stewart, a 2005 born who has kept his life far from public attention. Lastly, Rod welcomed his youngest one, Aiden Patrick Stewart, in 2011, who is too young to have a career now. But seeming he will enter the entertainment business, only time will tell.
More on - 'I was a jackass' Gene Simmons Admitted To have Made Several Mistakes In His Relationship With Beloved Wife Shannon
Rod Stewart's Relationship History
No wonder the heartthrob of millions, with an estimated net worth of 300 million dollars, was widely popular among women, but his long list of lovers says all about it.
Among his eight relationships that surfaced in the media, three turned into marriage, while two ended up in divorce.
His first marriage dates back to 1979 with Alana Stewart. After welcoming two kids, the singer and his first spouse separated in 1984.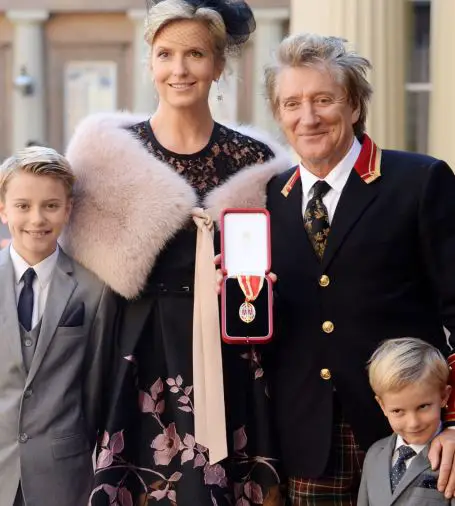 Rod with his kids and spouse, Penny, receiving a medal of honor (Source: Closer Weekly)
A few years after the separation, he married Rachel Hunter, which ended in divorce in 2006, after the pair became parents to two kids.
Two failed marriages later, the singer is now well-settled with his third spouse Penny Lancaster Stewart, with whom he shares two of his youngest children.
However, with his long list of girlfriends and spouses, people often question, 'Is Rod Stewart gay?' Well, his love life is evident enough to suggest he is a straight man.