Sports
Roger Goodell's Wife Defending Him on Twitter - Anonymously?
While Twitter attacks surrounded Roger Goodell, his wife defending him anonymously proved that he is blessed with his family's support.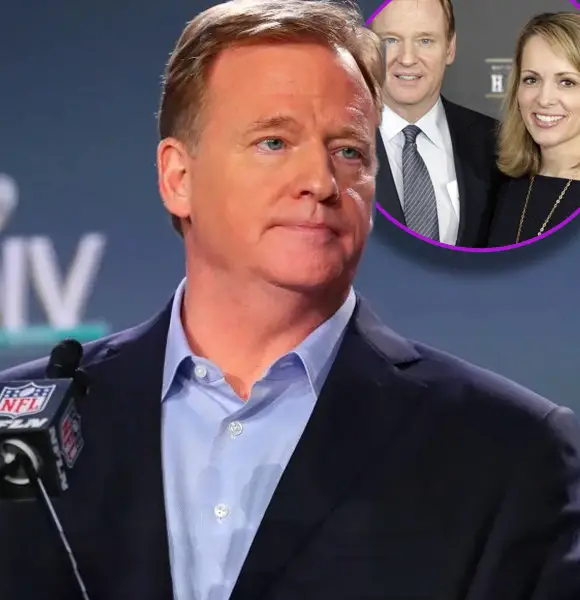 When the NFL Commissioner Roger Goodell was often on the radar of Twitter attacks, his wife was there to back him up defending her beloved husband anonymously.
The Wall Street Journal reported that Roger's online attacks were vigorously defended by a Twitter account under the name 'Jones Smith.' However, on investigating, it was found that the account created in 2014 actually belonged to Roger's wife, Jane Skinner, who would not let the online attacks against her husband go unresponded.
It's pretty interesting to what extent she could go to speaking up for her beloved partner. She would probably bag a 'supportive wife award' if there were any.
The rise of her fake Twitter account came to highlight when Roger was facing some outcry on the online platform regarding the handling of the NFL anthem protest that struck the NFL hugely.
While Roger, son of Senator Charles Ellsworth Goodwell, faced several criticisms regarding the critical issue, his wife's anonymous Twitter account was a shield defending the sour comments projected towards him.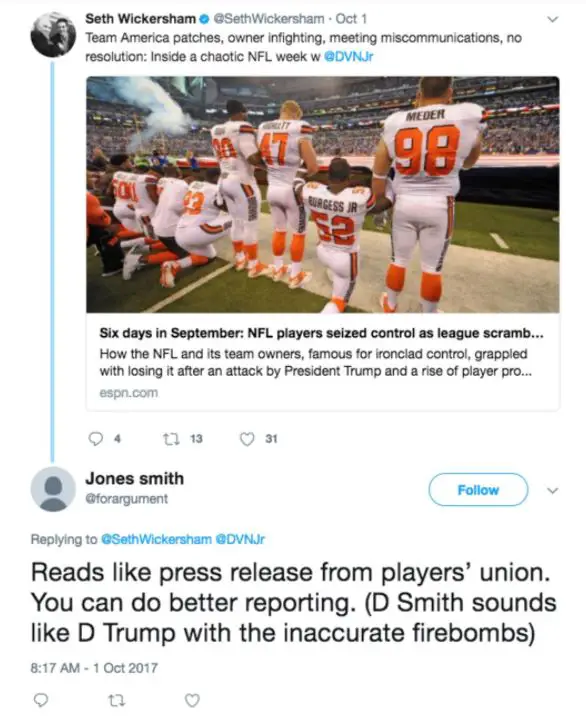 Roger's wife defending him on Twitter from her anonymous account under the name 'Jones Smith' (Source: The Wall Street Journal)
As the defending comments began appearing constantly, it sparked the curiosity of who was behind it. While deep diving onto the account's details, based on the followings, somehow it cracked open that it was Jane all along.
However, she has stopped using the account since the reveal, but her love and support for her husband remain the same. 
Learn about - 'The best day of my life!' Scott Frost's Wife Remarked About Their Wedding
Get to Know Roger Goodwell's Wife
Roger's wife, Jane Skinner, is a well-reputed former news anchor who is known for her daytime news anchoring at Fox News alongside Jon Scott.
The former Happening Now anchor's career began at KBJR as a political correspondent. Later she joined WNBC-TV serving as a general reporter.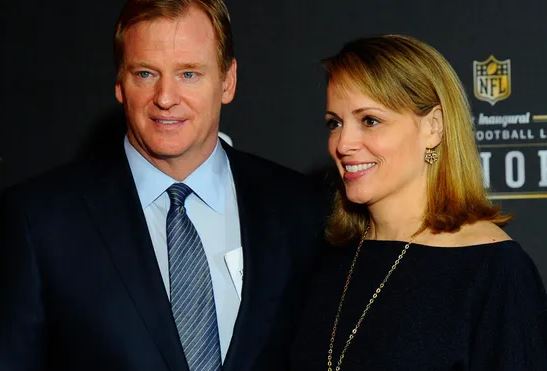 Roger and his wife, Jane (Source: USA Today)
Broadening her experience, she became a part of Fox News as the host of the network's primetime newscast.
Besides, her other affiliations throughout her career include programs such as Fox News Live, Studio B, Sunday Beast, and The Big Story with John Gibson.
Jane's progressive career was accompanied by the companionship of her husband Roger, whom she tied the knot on October 25, 1997. Expanding their family to five, the pair welcomed their twin daughters in 2001. 
Who Are Roger's Children?
Since garnering subsequent public exposure as a commissioner of the NFL, Roger has kept a considerably low profile in case of his family life.
Already been subjected to controversial criticisms, his choice of a private lifestyle is pretty understandable. In that regard, he has not let out sufficient information about his 20-years-old twin daughters.
Get to know - Sydney Mclaughlin's Parents Behind Her Successful Career
However, the twins are reportedly college students. As reported by USA Today, Roger's wife once commented on her daughters' academics band their inclination towards sports as,
They play both team and individual sports: lacrosse, soccer, tennis and track. They've been on both winning and losing teams. We've been really fortunate that they have coaches who have emphasized the importance of having fun, of learning, of teamwork.
Although Roger's children are now focusing on their education, paving the path for their career, given the guidance of their parents, they are set for a bright future in whatever direction they follow.