Entertainment
Ryan Reaves's Wife Shares The Details Of Their Fairytale Wedding
Ryan Reaves had a picture-perfect wedding with his wife and after 7 years of marriage, Ryan has it all from a wonderful family to an astonishing salary.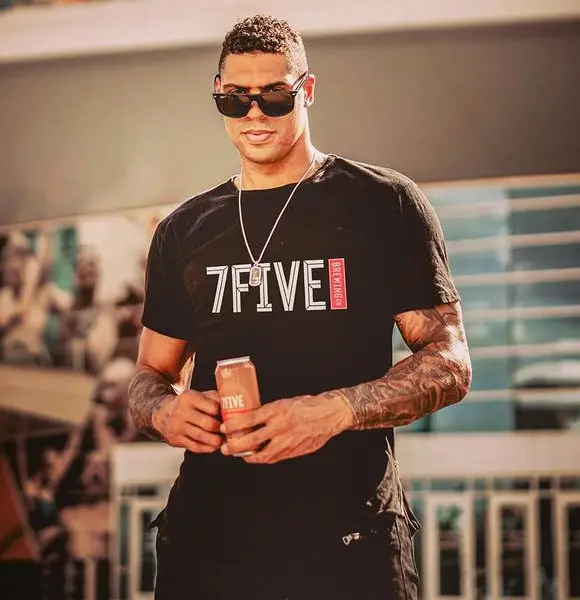 "It was breathtaking," expresses Canadian-American professional ice hockey player Ryan Reaves's wife while recalling their wedding.
Clad in sparkling gold and classic white, the wedding was one of the most magical weddings.
A Fairytale Wedding
The NHL star Reaves and his wife Alanna Forsyth got married back on August 16, 2014, in Winnipeg, Manitoba.
Ryan's wife Alanna was interviewed by Weddingbells, where she revealed wonderful moments from their wedding.
The pair had a glamorous summer wedding where bridesmaids were clad in sparkling gold dresses, and the bride herself donned a stunning mermaid wedding gown with a sparkling silver sequence around the bust.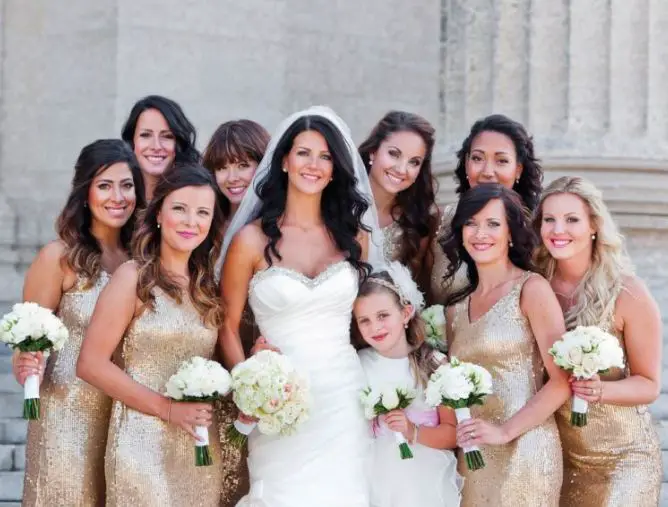 Ryan Reaves's wife Alanna, alongside her bridesmaid (Source- Weddingbells) 
Alanna recalls that it was her idea to choose the theme of her wedding. But the surprise of the wedding was the groom himself.
Another NHL Star: Jake Guentzel Gets 3-Years Contract With Notable Salary! A Young Man Strengthening Stats and Kicking Off NHL Career
The wonderful bride shares how she was unaware of what color Ryan would go with, and obviously, the 34-year-old New York Rangers player had to be the one to steal the show.
Reaves complimented the gold theme and came out with a stunning gold suit jacket.
Ryan's wife also recalls how she felt so much love while she was walking down the aisle as the room was filled with their closet family and friends, and the ambiance was 'cozy and romantic.'
Ryan And Alanna Become Parents 
The pair took their relationship a notch further when they beacme parents to their son, Kane. 
Again in February of 2019, happiness knocked on the doors of the Reaves household when they were blessed with another little angel.
After five years of marriage, the pair were blessed with another child, a daughter named Kamilla.
"..... Every day, you realize how lucky you are."
Says the father of two to NHLPA while talking about how his children keep him busy.
According to Reaves, his son does not enjoy hockey too much, but he is fond of skating. However, he has begun talking about hockey, and he might just start to show signs of taking the family legacy forward.
After all, he has the pressure of stepping on his father's and grandfather's footsteps and take the legacy of professional sports forward.
A Legacy Of Players
Born to parents Willard Reaves and Brenda Reaves, the NHL star was born from an interracial marriage. His mother is caucasian, and his father is black.
His father, Willard Reaves, was a professional football player in the Canadian Football League. Willard was a member of the Winnipeg Blue Bombers.
Ryan's father is a very notable former Canadian Football League running back who was in the field for just five years but even during such a short span of time; he was able to make a mark for himself.
But the New York Ranger fame is not the only one that walked on his father's footsteps. His brother, Jordan Reaves too is a professional football player associated with Saskatchewan Roughriders.
Talking about the accomplishments his sons have had in life, Willard says,
I'm extremely proud of both of them. You know, Jordan of course playing football with Saskatchewan (Roughriders) and Ryan growing up in Winnipeg and having the career that he had, coming up through high school, to the Wheat Kings and then American Hockey League and finally to the National Hockey League. He just continues to grow every single season and I'm very proud of him.
Growing up with a celebrity father, Ryan recalls how he was stopped everywhere, and people always talked about how great a guy he was as he used to give back to his community.
Reaves, being a caring son, has adapted this quality from his father as well. He is very vocal about standing against racial injustice and often times gives back to the charities that fight for the rights of people.
There is no doubt that the 34-year-old player has made his parents and his wife proud. With an amazing professional foot comes a rewarding career fortune, and Ryan is a perfect example of it.
Salary And Contract
Initially starting his career from St. Louis Blues in 2007, he signed a three-year entry-level contract.
After playing seven seasons with the Blues, he was traded by Pittsburgh Penguins in 2017, where he played for a year and progressed to Vegas Golden Knights in 2018 with a two-year contract.
More On Pittsburgh Penguins Player: Sidney Crosby Married, Wife, Gay, Dating
His contract was again extended in 2020 with an astonishing amount of $3.5 million. As per sportrac, he bagged an annual average salary of $1.75 million and earned a base salary of $2.125 million.
As of now, Reaves is associated with the New York Rangers and has freshly signed a one-year contract extension with the Rangers back on July 31, 2021.