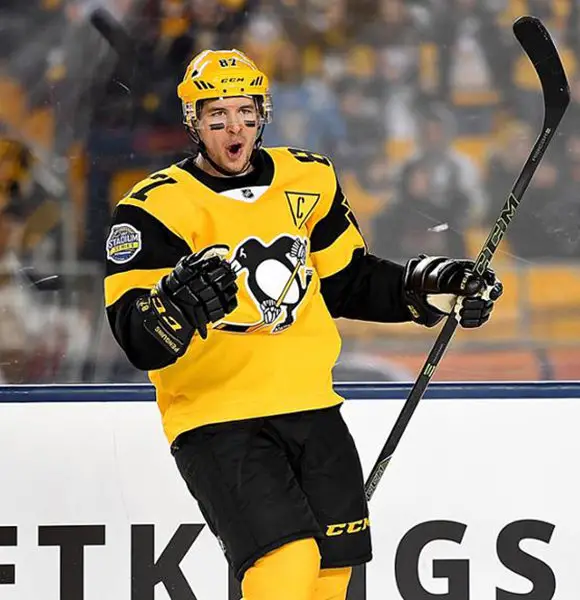 Professional ice hockey player Sidney Crosby has been the center of attention since he became the captain of Pittsburgh Penguins at the mere age of 19.
Although he's got no issue appearing on TV during matches, and pre- & post-games interviews, he doesn't enjoy the paparazzi messing with his personal life. Due to which he often remains low-key and keeps his relationship far from the media.
Sidney Crosby Bio
Sidney - age 31 - is a Canadian by nationality. Affiliated with Pittsburgh Penguins since 2005, he leads the team and his fellow players as a captain.
Under his leadership, the Penguins participated in the Stanley Cup Championships thrice in 2009, 2016, and the last time in 2017. Further, he holds two Conn Smythe trophy as a captain.
NHL Player Bio That You May Love:- NHL Star Andreas Martinsen Essential Details: Parents, Ethnicity, Stats, Facts
Sidney - who stretches at the height of 5 feet and 11 inches (1.8 meters) - has accumulated a considerable net worth from his career at NHL. However, the amount of his net worth is not disclosed.
Long-time Girlfriend; Married?
While relationships are so short-term nowadays, Sidney has found a loyal girlfriend.
He is dating a famous model named Kathy Leutner, who happens to be his first girlfriend. The loving duo has been together for more than a decade since 2008.
Sidney and Kathy first met via mutual friends, and their romance grew soon. Although they have not yet gone public with their relationship, the couple is often spotted together in public.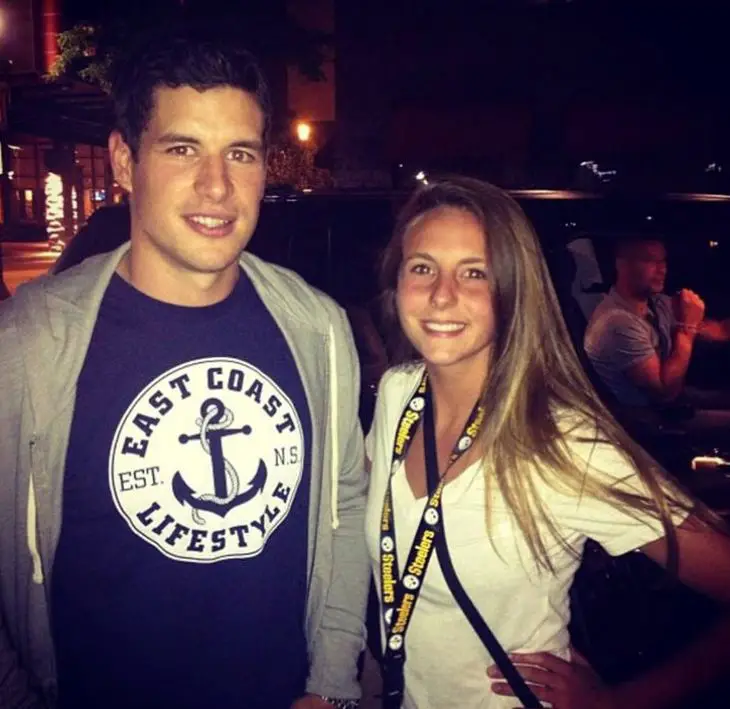 Sidney Crosby and girlfriend Kathy Leutner commenced their dating relationship in 2008 (Photo: The Sportster)
Further, Kathy is present in many of her partner's games. It indeed proves their existing romance, though they don't flaunt their relationship publicly. Interestingly, if reports are to believed, Kathy is very close to her boyfriend's family, and Sidney's parents would love to see her as their daughter-in-law someday.
Upcoming Marriage:- Brittany Cartwright Weight Loss & Wedding Plans, See Before & After Pic
It's also assumed that it was Sidney, who helped his girlfriend for a career boost.
As of now, neither Sidney nor Kathy are seen in any hurry to get married and settle down. So, it seems that the lovely couple will take time to transition into husband and wife.
Gay Supporter
Although Sidney is not a gay man, he still has sentiments and sympathizes with the gay people. He believes that people should not be discriminated simply because of their sexual preference.
His support for the LGBTQ community can be traced back to 2013 when Russia proposed an anti-gay law ahead of the 2014 Olympics. In response, Sidney, along with several other athletes, came flocking in support of the gay people. He claimed that everyone had rights to play, irrespective of their sexuality.