Entertainment
Explore Details on Sam Neill's Children and Recent Split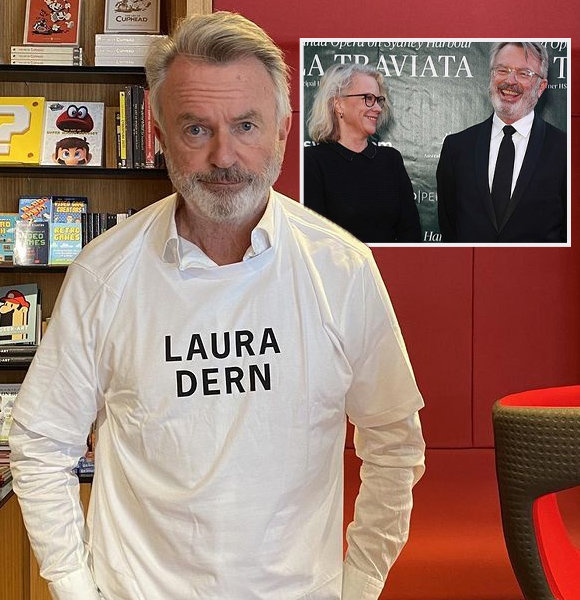 The well-celebrated actor Sam Neill's uncountable films and TV series appearances speak for itself about the incalculable success he has garnered throughout his years in the entertainment industry.
While his uprising career has never seen a downfall, his love life tells a different story altogether. Sam, a father to four children, has been through two divorces and a recent breakup.
From his separation from his previous wives to his recent split with his beau, there is lots of tea to be spilled on his love life.
Sam Neill's Recent Breakup
The casual online flirt that began on Twitter in 2018 has seen it end in 2021. The Hollywood star Sam is recently buzzing the media for his breakup with his journalist girlfriend, Laura Tingle.
Laura is a famed journalist who has been serving the Australian broadcasting media since 1981.
The two powerful personalities came to the limelight for their love life back in 2018 when they opened up about their relationship in January that year.
Although they confirmed their companionship in 2018, their flirtatious comments exchange early in social media 2017 somewhat indicated this was bound to happen.
One of the instances evident to their online comment exchange was March 2017, when Sam took to his Twitter to share a post saying the actor was not let into the election victory party of Malcolm Turnbull.
In the post where he wrote,
The night they wouldn't let us into @TurnbullMalcom's victory party. Perhaps the Libs have a thing about beards.
To which Laura jokingly replied,
Evidence suggests they have a thing about talent Sam.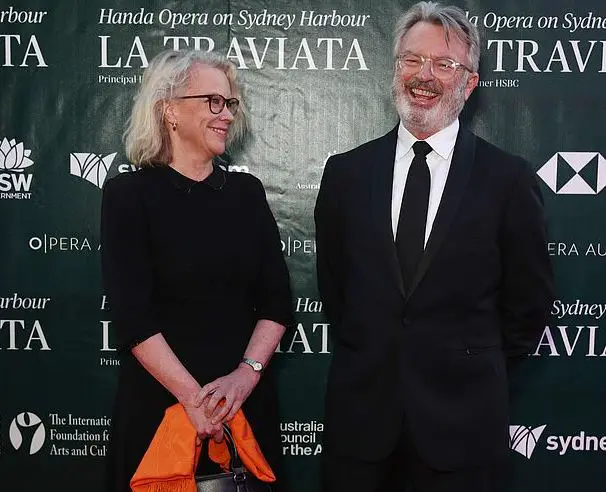 Sam Neil posing on the red carpet with his former partner Laura (Source: Dailymail)
While the pair remained together for years, the shocking revelation of their split came to be in 2021 when the two attended La Traviata's opening in March.
As reported by Dailymail, an unknown source surfaced the news of their separation at the event where they posed cheerfully beside each other looking stunning in matching black outfits.
Although they had been together for quite a long, they managed to keep low about their personal moments and did not share any children together.
The end of his entanglement with Laura marks his third publicly known unsuccessful relationship.
Get to know - Rupert Penry-Jones's Happy Married Life Alongside Wife
Sam's Past Relationships
Moving on to his previous relationships, the actor has been married twice in the past. Sam first tied the knot with his first wife, actress Lisa Harrow, in 1978.
The marriage lasted as long as eleven years and saw its end in 1989. During their time together, they shared a son.
But the same year he separated from his first wife, the Jurassic World actor tied the knot with his second wife, Noriko Watanabe, a make-up artist.
However, his second relationship also came down to the road of separation in 2017. The actor and Norika shared a daughter from the twenty-eight years of marriage.
Soon after his decades-long marriage ended, he found love again in Laura, but that did not last long either.
Despite his relationship with his ex-wives ended, the children he shared with him will always keep them connected through parental responsibilities.
More on Sam Neil's Children
Although the actor is a biological father to his son, Tim, and daughter, Elena, from his previous marriages, he is also a parent to his two other children, Maiko Spencer and Andrew.
Maiko is his stepchild from Norika's previous marriage, while Andrew is his adopted son.
Following in the footsteps of Sam, his biological children are already headed for their careers in the entertainment industry.
The 38-year-old Tim is into the industry undertaking his job in the camera and electrical department and mainly works behind the cameras. On the other hand, the 30-year-old Elena is an actress most known for her portrayals in Top of the Lake and The Brush-Off.
While two of Sam's children are engaged in the industry, the professional front of his other two kids remains oblivious.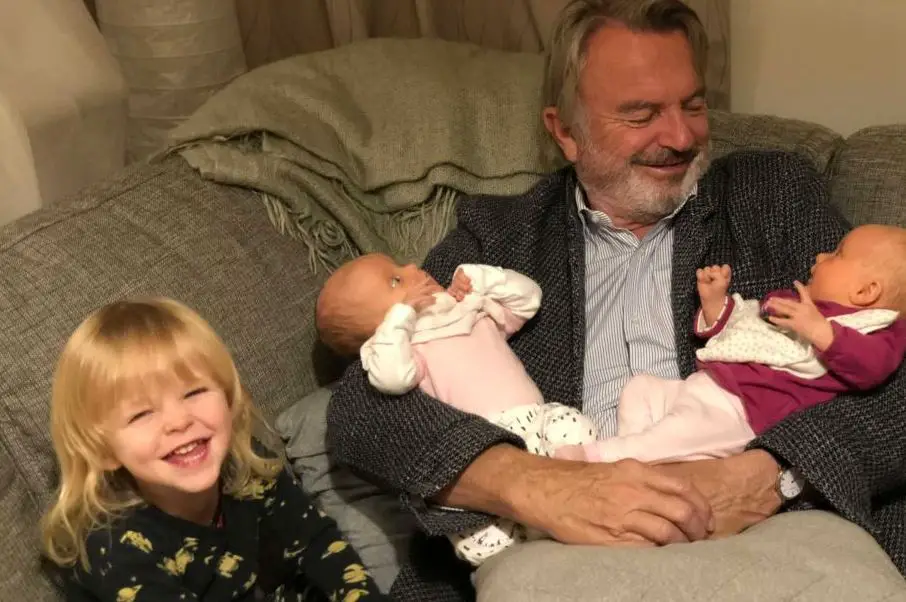 Sam Neil with his grandchildren (Source: ABC)
Moreover, most recently, the actor, who usually keeps his personal matters away from his social media, shared the joy of welcoming another grandson to the family.
Sharing a lovely picture holding his little one in his arms, he captioned the picture as,
The Love . I don't put family on media stuff. Except when they're brand new. This is my brand new grandson Nahlo , the bestest boy, 2 weeks old.
Although his love life has been a bit shaky, he responsibly embraces his role as a father and a grandfather.