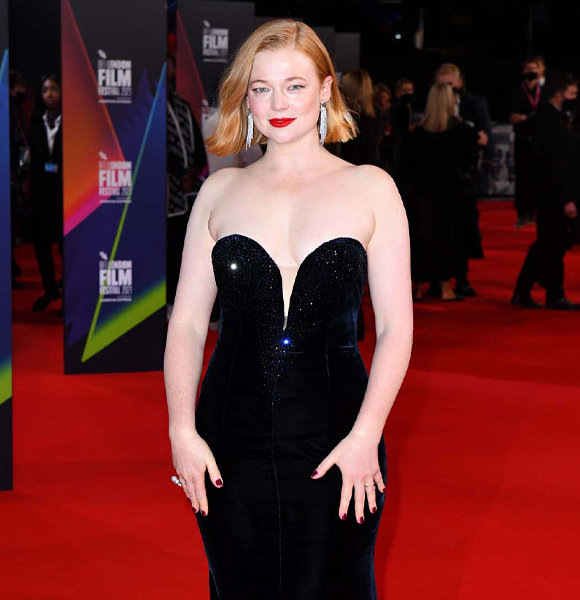 Sarah Snook has the viewers hooked on the show 'Succession' with her beauty and performance. 
But as of recent, a different question about her has the people hooked.
Following her weight gain speculations and a new marriage, people wondered if the actress was pregnant. Questions like 'does Sarah Snook have a baby?' have been floating around, so we're here to present you with the facts.
Is Sarah Snook Pregnant?
Clearing out the air, Sarah is not pregnant as of now. However, she faced a few comments about gaining weight based on her appearance on the recent episodes of 'Succession,' which ultimately led people to think she was pregnant.
Moreover, she was recently married to comedian Dave Lawson, which further added to people's doubts. But the truth is that she is not pregnant, and she does have a baby either. 
You might like: Wedding Bells Ringing for Chloé Zhao and Her Long-Time Partner?
Also, the pregnancy rumors started based on barely noticeable weight gain for the actress, which is a concerning stance for women and how their bodies are perceived. 
Usually, when a lady puts on some weight, the immediate reaction is jumping to the conclusion that she is pregnant.
This reflects on the unfair body standards set on women but not to worry, Sarah is here fearlessly bashing them all.
She made a powerful statement speaking to Vogue Australia about how she's fed up with these expectations. 
"Can I really be f*cked subscribing to an unrealistic beauty standard that then perpetuates and makes more women unhappy because they feel like they can't attain something that's not actually realistic anyway?" she said.
So while a baby might be a possibility in the future, it's not in the frame right now for Snook. Instead, she has something else to focus on- her secret and unexpected marriage.
Sarah Snook's Lockdown Wedding
Snook found love in the form of her best friend for years amidst the chaos of the pandemic and lockdown. She married comedian Dave Lawson in her backyard during the lockdown.
In fact, the lockdown was the cause of their love story. Although they had been friends for years, there was no romance sprouting between the two.
But, when they were stuck together during the pandemic, they got close and realized that their soulmate had been standing right in front for all this time.
So, she calls herself fortunate and has found the silver lining in the pandemic. She stated,
There's a really lovely grace in that without the pandemic, we might not have ended up together so quickly.
Hence, they decided to stick with each other for life. Sarah and Dave got married in 2020. A velvet Chloé coat and Blundstones sufficed as the wedding attire for the actress.
Moreover, she was the one who popped the question to Dave because she realized that this was it. She said,
It was that or nothing. It was like, "I've got to be in. I'm all in and I'm here."
"We're very blindsided by it, we fell in love and it was the only option - we couldn't be apart," she added.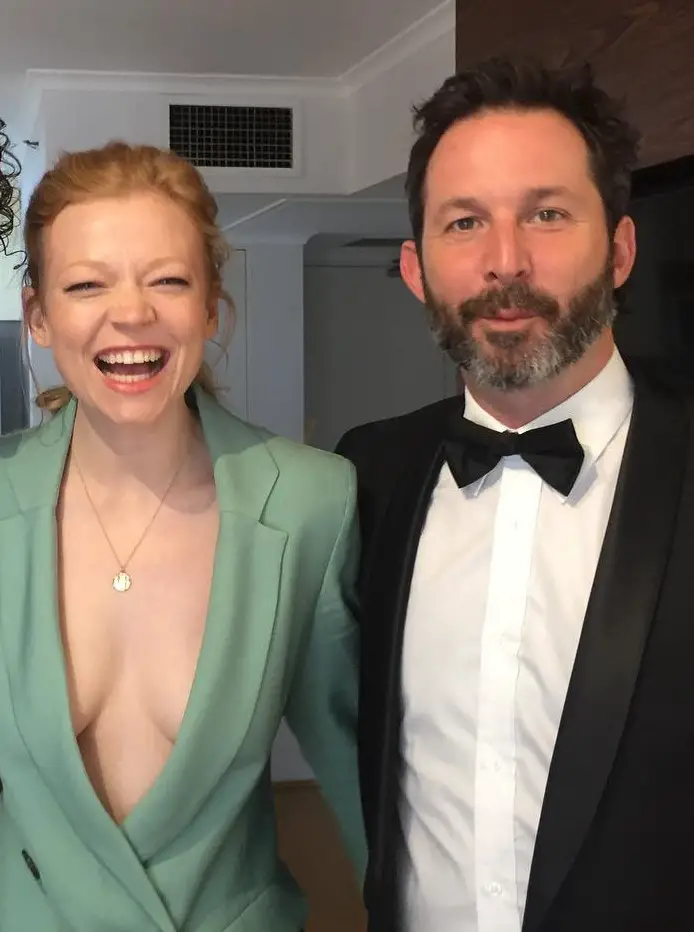 Sarah and Her Husband, Dave Lawson (Source: Dailymail)
Snook is usually super private about her love life but couldn't help share a few tidbits about her marriage with Dave.
She shared a picture with her husband on Instagram, and she is full of laughter in the frame. Well, I guess that's what happens when you marry a comedian.
Nonetheless, all that matters is that Sarah is happy. Even though she hasn't revealed any news about her plans to be pregnant, she has more to look forward to in her loving marriage and successful career.