Entertainment
Sergio Carrallo's Father Offers Him A Hefty Sum To Leave His Wife
Sergio Carrallo and his wife who stands at a multi-million dollar net worth were offered money by his father to let go of her due to their age difference.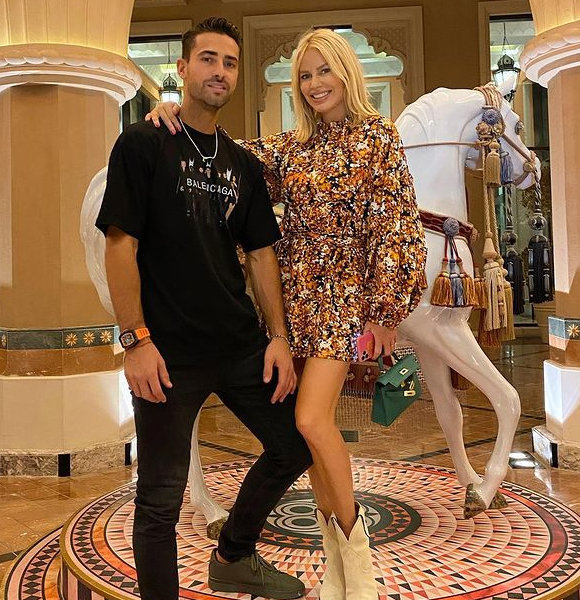 Former Real Madrid player Sergio Carrallo set out to become a perfect example that love does not look out for money, nor does it demand one to nurture it. 
Despite being a successful and wealthy footballer himself, the footballer found him in a position where he had to choose love over money, and what he did completely changed his life. 
Could A Hefty Net Worth Buy Love? 
In early November of 2020, a piece of news broke out that his father offered him money to "dump" her. However, as we all know now, that did not happen. 
His father, who seems to be quite wealthy, actually offered him a large sum to let go of his wife. Reflecting on why he might have made the proposal, his wife, Caroline Stanbury tells, 
'I don't think it's any parent's dream, is it: their golden boy going out with a woman who's more the age to date his dad?'
Stanbury is 18 years older than the former RM player. Sergio, age 27, then adds to her statement,
 '"Dad offered me a good amount of money — anything I wanted — to give Caroline up.'"
As per Caroline, she tried to see both sides of the story; she expressed that his father might have probably thought that she was "a crazy old woman desperate to walk down the aisle with his young son."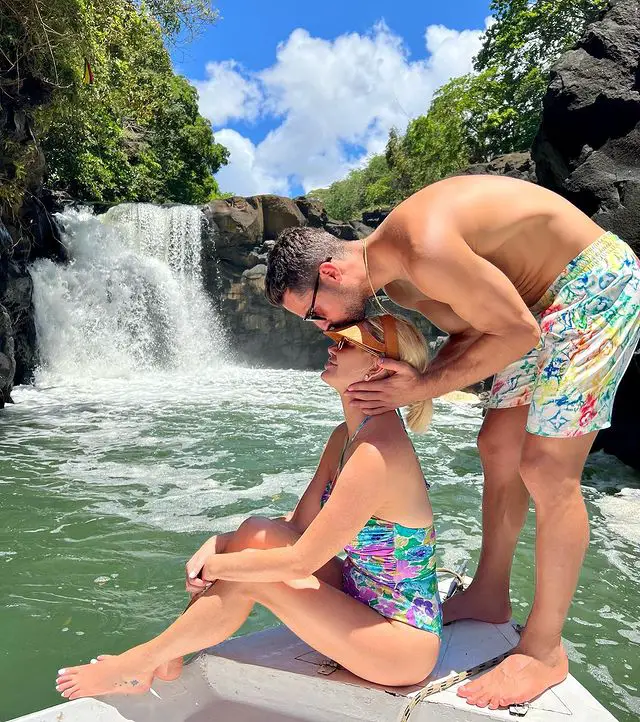 Sergio Carrallo & His Wife (Source Instagram)
However, the love birds also put up a fight from their side as well. Caroline shares that when they were meeting Carrallo's father, she confronted his father that his son was open to leave their relationship any time he liked. Sergio, age 27, also shares that his mother had a drastic reaction to the news, and she cried while saying,
"Why do you have to do this? Why not get a normal life with a younger girl and build a family?"
But as they say, times heals everything, slowly but surely, the two will be in a position where they are wholeheartedly accepted. 
Another Former Real Madrid Personality: Real Madrid Ex-Coach Zinedine Zidane Age 46 Shocking Salary & Net Worth!
Additionally, the couple is also not in a position to let go of each other even for millions, as they boast a net worth of millions themselves which helps them live quite a luxurious life. 
Although Carrallo's net worth is unreported, his wife's however net worth stands at a staggering $30 million, as reported by Celebrity NetWorth. 
So, money might not buy love, but it sure does help you buy a private jet, luxurious mansion, and super expensive cars. 
Luxurious Life Outside Of Country
Sergio, along with his wife, Caroline Stanbury, lives in a luxurious house in Dubai. Stanbury is a British businesswoman and a reality television personality who is well known in the media industry as much as her husband is known in the sports industry. 
Being a known businesswoman allows Stanbury to feature alongside reputed magazine interviews and shows. For example, on 27 May 2021, she was featured in Harper's Bazaar Arabia's segment named, Interior Motives where she took the viewers along the tour of her luxurious mansion. 
Caroline & Sergio's House In Dubai
Apart from this luxury, the couple also occasionally boasts luxurious cars such as Ferrari and, oh of course, how could we forget, A PRIVATE JET! on their social media. 
While his wife is a boss woman, Carrallo also is an entrepreneur, and as per him, he let go of his past career to launch a career in digital marketing. 
Despite facing challenges due to their age gap, the couple has been a perfect example that it rarely matters, but of course, one has to be an adult and mature to make the decision for themself. 
Another Businesswoman: Businesswoman Adrienne Maloof: After Acrimonious Divorce Battle With Husband, Facing Unstable Dating Life
Their dream-like life is accompanied by a fur baby and talking about babies; Stanbury has twin sons, Aaran and Zac, from her past relationship. 
Needless to say, the two are very much happy together and are balancing a successful career accompanied by a beautiful married life.