Sports
Yadier Molina's Lavish Wedding & His Family Life Is Definitely Worth a Look
Been together for several years, the MLB player Yadier Molina and his wife have built a fulfilling life together about which the player cannot help but show off on his socials.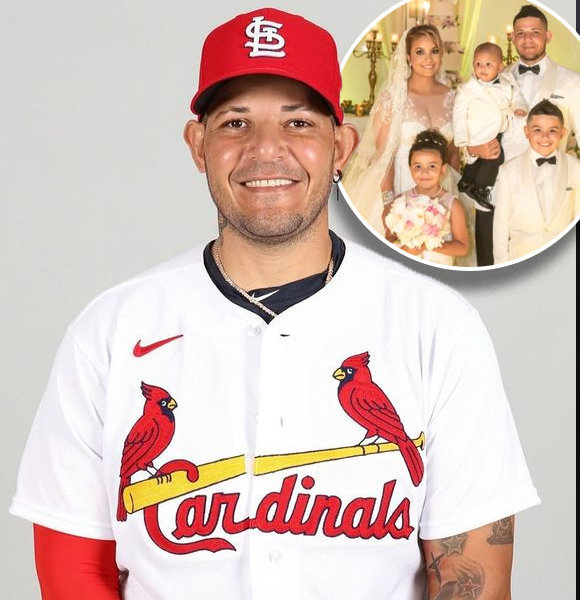 Puerto Rican professional baseball player Yadier Molina sealing his deal for a lifetime with his high school sweetheart is more than he could ask for happy family life.
While building a family together with three kids, the pair have been relishing their fulfilling bond to date. Although the athlete is not very flashy about his love life on his socials, his wedding photography is available on a website to treat his fans giving all the inside scoop of their lavish wedding.
Inside Yadier Molina's & His Wife's Lavish Wedding
As a source claims, Yadier and his wife, Wanda Torres, met in high school while the two were attaining Ladislao Martinez High School.
Having fallen in love since high school, the two dated for several years until they tied the knot in 2007. However, judging the fact that their kids also accompanied their wedding as displayed on the website of their wedding photographer, the pair seemed to have remarried.
Although the athlete has not shared many details of his big day on his socials, the special moments of their big day are all treasured on the website of Jose Ruiz Photography.
Each beautifully captured image of their wedding reflects their love for one another. Talking about the wedding attires of the stars of the event, Yadier was dressed in a black and white fit paired with a black bow tie that stood out on his white shirt layered with a matching white coat.
As for the bride's attention-stealing appearance, she looked gorgeous in the sweetheart-neck laced-up white gown that revealed her back, adding a touch of elegance to her look. Further, the beautiful wedding dress that sharpened her physique with flared, long-tailed silhouette was paired with a floor-length veil, and a rose bouquet completed her gorgeous dress.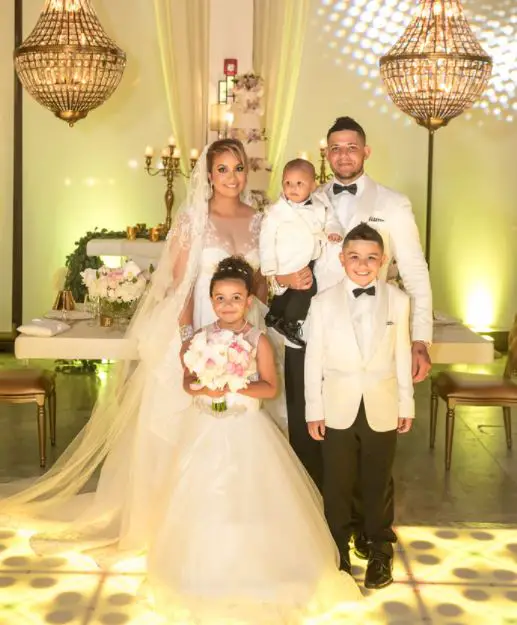 Yadier Molina and how wife on their wedding day posing with their kids (Source: Jose Yuiz Photography)
The ceremony began after sun-down, witnessed by several of their close ones as the pair shared their vows. Soon after the exchange of the vows, fine diner, music, and dance added charm to the event.
Having been together for several years, they are rejoicing their ever-lasting chemistry through all walks of their lives, building a beautiful family of their own.
Family life of - Shawn Marion Pours Out His Heart To His Son Through An Instagram Post
Yadier Molina and His Family of Five
The pair share three kids from their relationship, and the proud father often flexes his kids on his socials.
His oldest son, Yanuell, was born in 2008. Soon after a couple of years, the pair made another addition to the family, welcoming their daughter, Arianna. In 2016, the family of four turned to five when the family was added with the pair's youngest child, Daniel.
Yadier is not the only one in the family garnering a successful career; his daughter, Arianna, is also headed towards a bright future as a professional singer from a young age.
Yadier flaunted his proud father moment through his Instagram, celebrating his daughter's first album release on August 30, 2021.
Likewise, his daughter also takes her time to display her affection for her father through her socials frequently. On that note, she once dedicated an Instagram post to her father, celebrating father's day, where she wrote to her father,
Thanks God for you, HE gave me the best Dad on earth, for some people he is Yadier, for others Yadi, for others the best catcher ever, for me just Dad, the best one!!!
Yadier shares a tight-knitted bond with all his children, and his Instagram posts are evident in his blissful family relationship.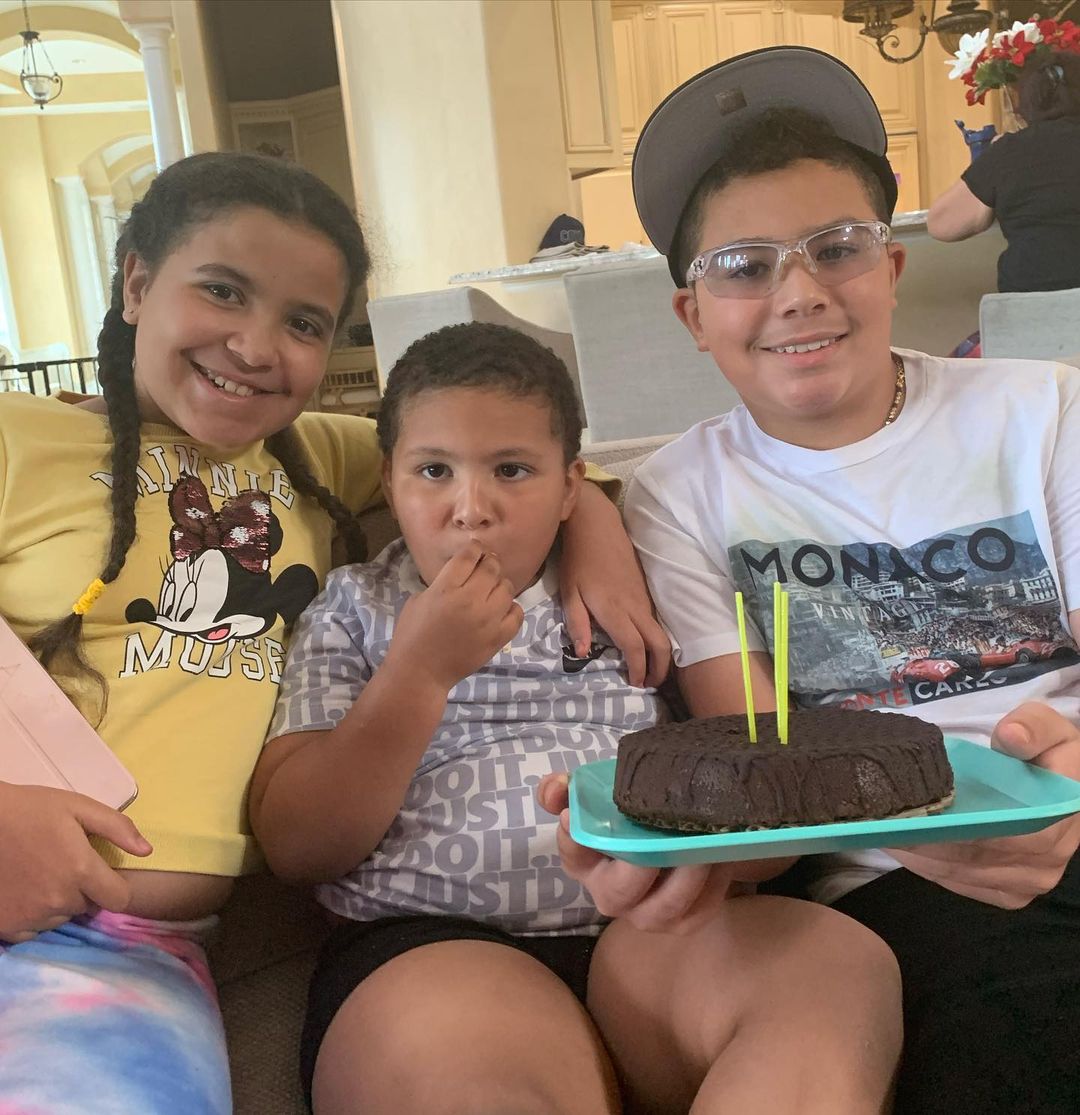 Yadier Molina's kids (Source: Instagram)
An Instagram post dedicated to his kids reflects how responsibly the athlete takes his father-duties. Sharing a picture of his three kids on his 'gram, he wrote a lengthy caption regarding his journey as a parent that read,
As a father of three children, I have to teach them to love their neighbor and teach them that hatred is something that we cannot have in our hearts, all humans make small or big mistakes ... it is a matter of truly forgiving and being happy and loving!
As his morals reflect through his relationships with his family members, in the same way, his dedication and hard work reflect through his profession that has earned him a massive net worth over the years.
Personal life of - 'The best day of my life!' Scott Frost's Wife Remarked About Their Wedding
What Is Yadier Molina's Net Worth?
The baseball player, who began his MLB career in 2004, never surprised the audiences with his outstanding gameplay. Since he debuted as the catcher for the St. Louis Cardinals, he has earned several titles throughout his affiliation with the team.
Some of the major titles under his name are ten times All-Star, two times World Series champion, nine times Gold Glove Award winner, four times Platinum Glove Award winner, and the list goes on.
As reported by CelebrityNetWorth, Yadier's excellence in the arena has garnered him an impressive net worth of 45 million dollars. Besides, the athlete also earns a hefty sum from brand endorsements.
His massive wealth includes his 2.2 million dollars worth Creve Coeur home while he recently sold his Jupiter mansion valued at 8 million dollars.
With a multi-million dollar valued net worth, he is undoubtedly amongst the highest-paid baseball players in MLB. Indeed, he will continue to add more to his existing wealth with a promising future ahead.