Music
Get to Know T-Pain's Family Life and Net Worth
Faheem Rasheed Najm, professionally also known as T-Pain, has been around recording studios since the age of three.
With an amazing passion for music, the star has also been receiving fame for his amazing family life.
So the question stands,
Is T-Pain Married? 
Married in the year 2003 to his beautiful girlfriend turned wife, Amber Najm, the star had to clear some ongoing assumptions regarding his relationship.
With assumptions of an open relationship, Pain stated,
"It's definitely not that, not at all, not even close."
 "I wouldn't even want to do that with a girlfriend, nonetheless my wife… It's not like we can just go off and have relationships with other people. People were assuming we got married for nothing."
"Just because we smash an every now and then doesn't mean we have an open marriage."
With almost two decades of togetherness with his wife, the star revealed the key to long and healthy married life.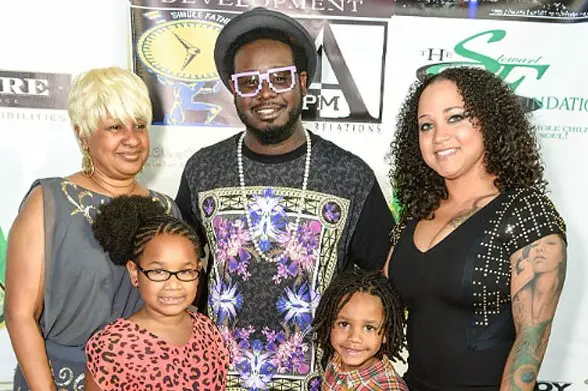 T-Pain with his family (source: ecelebritymirror)
He stated,
"listening to each other."
"See things from all sides of the situation, and just try to understand each other rather than try to be the one that's right."
Adding to their amazing relationship, the star revealed how the couple had been dating since college and how his wife is an inspiration to him.
Explore: Timbaland's Married Life & Kids- Still Together with His Wife?
Dedicating the song I'm Sprung to his beautiful wife in 2005, the star couple has won many hearts.
Sharing his feelings, the star quoted,
"It was brand new love. It was the kind of love that makes you write a song about it,"
"The song itself came together quickly. "I was experimenting with Auto-Tune at the time, and I really got into it. It was fairly easy to get that done,
 because it was about something I am well-versed in: love. It surprised me how fast it happened, but I already knew it was a good song." 
With his song for his beau reaching #8 on the Billboard Hot 100, the star made his wife and all his fan fall in love with the music.
Read About: Samuel L. Jackson's Four-Decades-Long Married Life and His Impressive Net Worth
Adding on to his rising career and family life, the star also revealed how December 8th is the anniversary of meeting his wife and also his debut album.
Adding to the bundle of happiness, the star couple also welcomed three children into their life.
T-Pain's Children and Family
Currently, at the age of 18, the Najm family's first daughter is Lyriq Najm, who celebrates her birthday on March 14.
Along with a beautiful daughter, the family also has two sons, namely Muziq Najm and Kaydnz Kodah Najm.
Apart from the star's married life with his wife and children, T-Pain is also well known for his career and net worth.
Net Worth and More
Involved in many charities, the rapper is well known for having an amazing net worth but also in the giving community.
For the launch of his charity, If I Could Change The World, the star rapper held a benefit concert.
With big names like DJ Khaled, Ace Hood, and many more, the charity focuses on different initiatives every year.
Following his stunning collection of cars and new heights of success, the star has a raving net worth of $10 Million, according to Celebrity Net Worth.
Stay around for more updates regarding the star's family and professional life.