Tate McRae, a successful artist with an impressive net worth, has some relationship tips to share with her fans, but does she have a boyfriend?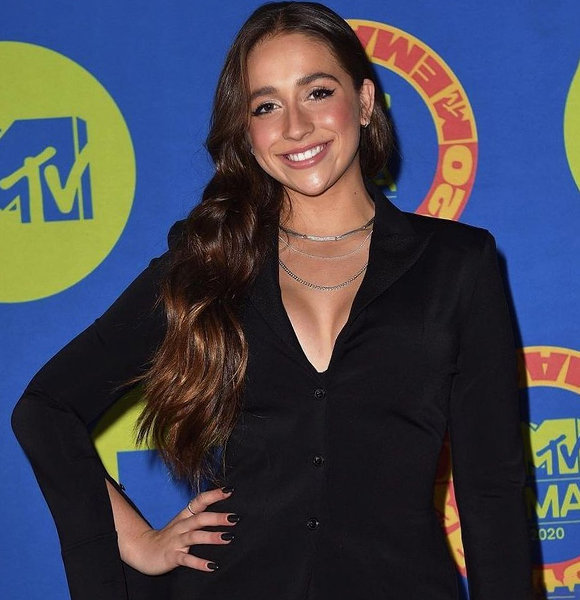 In a recent interview video by Seventeen, the Canadian singer-songwriter and dancer Tate McRae is seen giving advice regarding relationships to her fans.
While she fluently sheds some light on relationship tips for her fans, the main question remains if she has a boyfriend.
Does Tate McRae Have a Boyfriend?
Although she gives the best possible tips in terms of relationships, her social media presence does not hint at her having a boyfriend. More so, there has not been any news of Tate being in a relationship in the past.
Regardless of her being assumably single, You Broke Me singer is pretty good at giving relationship advice, though she thinks she is 'really bad' at it.
Tate McRae sharing her relationship advice (Source: YouTube)
Starting the Dating questions with Tate McRae segment, the singer began with the first fan question that went as 'I have a crush on my bestfriend, how do I tell him?' 
Answering the question, she replied,
Don't do it randomly. Don't do it out of the blue, otherwise, they are gonna be caught off guard and they are gonna act weird, it will be awkward...if you are in a situation 
That certainly does not sound like someone bad at sharing relationship tips. And, she probably saved her fan's crisis with that answer.
Replying to another one of her fans' intriguing question, she shared her 'girl code' which went as 'Don't go out with your friends' exs or boyfriends.'
She also has her opinion on whether it is okay to kiss on a first date. She thinks it's okay to show the romantic gesture but advised not to make it seem forcible. In her case, she said she would make the boy wait for the first three dates.
Well, that is how her dating rules follow if she ever goes out on a date. Besides, she has no problem with making the first move in asking a guy out. In fact, she thinks it's 'pretty badass when a girl goes for it.'
She also has some breakup tips, which might be handy for you if you are looking for one. For example, if you ever reach the point in a relationship where 'the vibe is off,' she suggests confronting it straight up with honesty rather than keeping your partner hanging.
Besides her dating tips, she seemingly prefers keeping her dating life at bay. However, her flourishing professional life is worth taking a look at apart from her boyfriend. 
Personal life of -Alex Bowman Split with His Girlfriend?
Tate McRae's Net Worth
The dancer turned singer is quite a famous social media personality. Her Instagram alone has amassed 1.7 million followers recently while only uploading 34 posts to this date.
Another social media platform she is dominant on is YouTube, with 3.66 million followers. The YouTube channel that she started in 2011 contains mostly her songs with a few of her lifestyle videos.
Out of several of Tate's songs, some of the well-received ones with millions of views are You Broke Me First, You, Working, Bad Ones, and many more.
No wonder Tate has earned a hefty net worth from her successful music career, but the accurate figure remains undisclosed. However, Socialblade analysis tells her annual earning from YouTube peaks up to almost 100 thousand dollars, based on her videos' views.
Moreover, the royalties she receives from her music and online streaming also add to her supposedly impressive net worth.
Net Worth of - Inside Billy Currington's Million Dollar Fortune And Love Life
More On Tate
Well, talent runs in her family. Tate is not the only one making a big name in her family. Her older brother, Tucker McRae, is already a well-recognized hockey player, the captain of the hockey team Okotoks Oiler.
The brother-sister duo is often seen making public appearances, and one of such instances includes an event by Amazon Studios for the special screening of Panic.
Celebrating her birthday on July 1, Tate has reached the age of 18, and her professional success at this age is quite exemplary. Her dedication to arts shined through as early as six years old when she trained as a dancer.
Even now, the amount of effort she puts into her craft is immeasurable, which is the secret sauce to her outstanding career.