Entertainment
Dissecting Taye Diggs' Tattoos & Their Significance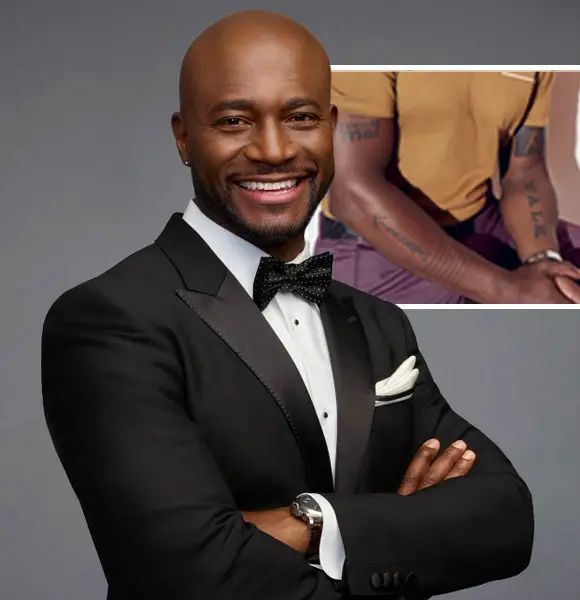 "Broadway Musicals Rent," star Taye Diggs is one of the most renowned actors in Hollywood. His contributions have screamed success in many ways.
His career is on top, but his unique personality adds more elegance to his name. Diggs is blessed with a tall height and a great physique, and his eye-grabbing tattoos perfectly complement his rouged looks.
However, those inks represent much more than just a bodily show. They all have some significant meaning enclosed within. 
Taye Diggs's Meaningful Tattoos
Diggs is one of those who lead a meaningful yet justifiable life. Yet, despite immense fame, he makes sure to keep himself down to earth and humble. He doesn't speak much; it's his actions that scream on his behalf. 
His cool yet masculine personality is also a prominent feature of his. Adding shine to this perfect personality are Diggs's thirteen tattoos, each of which has a unique significance. 
The most eye-catching ink design of his would be the one on his shoulder. He has a Chinese symbol, 'Tao,' which clarifies the path forward and reflects the principles one has in their life. 
Moreover, the one on his biceps' side reads as 'Chocolate Boy,' and his right forearm has a cute little smiley underneath. Those are the reminiscence of his son's drawings. 
Also, he has made sure to tattoo a special statement written by his dear son saying, 'I LOVE DADDY.' Then, again, he has tattooed 'DADDY LOVES WALKER' on his right forearm as his adorable son wrote this for him.
In addition, his son had once drawn two pictures of the dinosaurs, which he excitingly showed his father. Diggs later got that inked too. 
His adorable gesture of love dedicated to his son speaks volumes of the tight-knitted bond the father-son share. Talking about his son's bringing up, the proud father once said,
I want my son to grow up happy, healthy, and strong.
Seemingly, a girl is inked right after 'Tao,' along with dots. However, the girl is also a drawing from his son. Despite being divorced from his ex-wife, Idina Menzel, he takes full responsibility for his only son.
Diggs, for real, takes away the crown for one of the best dads. In addition, he has loop-shaped tattoos on his right bicep whose meaning is yet to be revealed. Moreover, he has written 'RISE' on one of his forearms.
Keep reading about- All about Rob Dyrdek's Net Worth & Tattoo.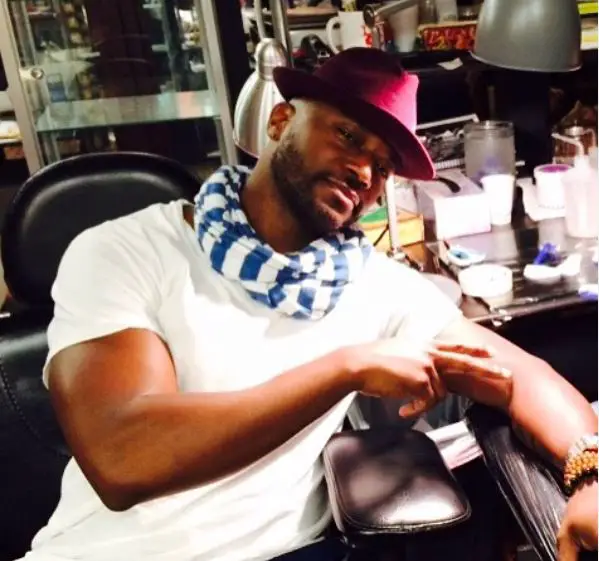 Taye Diggs getting inked at Rising Dragon (Image Source: Instagram)
One of the ink shops added the above picture when he went there to get himself cool inks.
The post captioned, "Taye Diggs getting tattooed by Jason at Rising Dragon! Super cool dude. Check him out in Hedwig and the Angry Inch on Broadway! Thanks, @tayediggsinsta."
Also, one of his inks represents a guy walking and written 'WALK' underneath the symbol on his arms. His arms are filled with various ink designs, but he also got a little more on his legs. 
Diggs also has a band inked on his leg. Summing up, the inner side of the lower portion of his leg has a small symbol inked.
The symbol represents ankh which refers to life. These are just a few glimpses of ink designs he has shared publicly, and he has a lot more than what we see. 
So, will the Hollywood star add more inks to his existing collection? Well, hang on for further updates on what significant ink he adds to his intriguing collection.