Sports
Teddy Bridgewater and His Girlfriend Inspire Each Other
Teddy Bridgewater, a high-net-worth earning NFL player, inspired his girlfriend to write a book based on his journey as an aspiring athlete.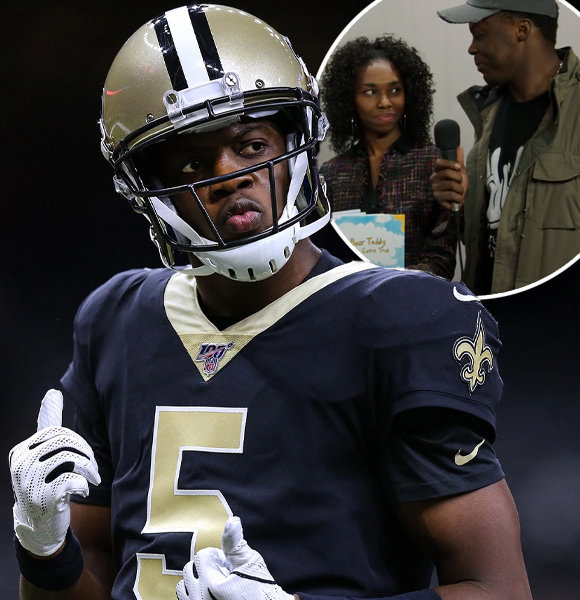 While Denver Broncos' quarterback Teddy Bridgewater is out in the arena pouring his effort in the game, his determination most certainly inspires many to take on their dreams. And one of the people genuinely inspired through his journey is his girlfriend.
Teddy's long-time beau encapsulated his journey as an athlete through her children's book Little Bear Teddy, which she wrote in hopes of encouraging children to follow their dreams.
Teddy Bridgewater Inspiring His Girlfriend
Teddy has seen many changes in his career, but what remains the same is the avid support of his girlfriend, Erika Cardon.
Having been together since high school, their high school romance still remains intact to this date, inspiring each other to achieve their dreams.
When Teddy was drafted as a 2014 NFL Draft pick, Erika was there by his side, cheering his accomplishment. And years later, when he underwent an injury threatening his NFL career, his girlfriend was with him being his strength through the rough period.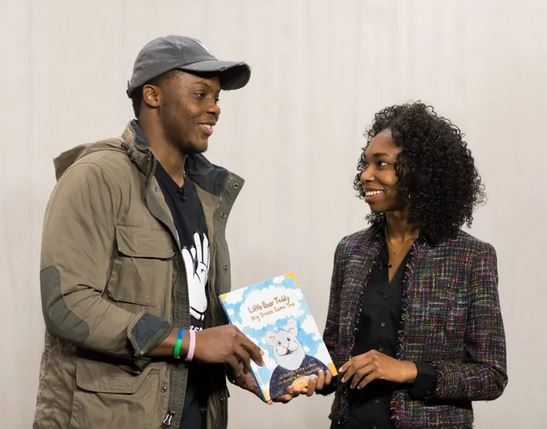 Teddy and his girlfriend, promoting the book Little Bear Teddy (Source: Vikings)
The period of his injury inspired her to author her first book, Little Bear Teddy, as a source of motivation to children to go for their dreams, whatever they may be.
Speaking about how she got started with writing the book, she told Voice of the Vikings,
I had the idea shortly before Teddy's injury. But once he got injured, I needed something to keep me busy, so I went ahead and finished up with the story.
Further illustrating how she adopted the story in her book, she quoted,
It's going to be a little bit about Teddy's dream of playing football. The bear is the football player. They have a few similarities.
Amazed by his girlfriend's brilliance, Teddy couldn't help but praise her, quoting 'she has a sharp mind' and referred to her work as 'impressive.'
Just as Erika remained by his side as a pillar during his injury, Teddy also supported her in promoting her work. Later, she released another book, a continuation of her previous book's story.
While her previous book reflected when Teddy's NFL journey was at the edge due to his injury. Her next book explores core beliefs such as hard work, perseverance, resiliency, and determination that got Teddy past the rough phase.
Get to know - Sydney Mclaughlin Soon to Be a Bride to Her Long-Time Boyfriend
Teddy, A Family Guy
"Everything I've been through, it helped me mature. As a result, I matured at a young age."
Talking about his rough childhood, the Denver quarterback told Texas Sports Nation back in 2014 when he was the focal point after being drafted by the Vikings.
Born in Miami, Florida, Teddy's parents are Teddy Bridgewater Sr. and Rose Murphy. He spent his childhood being around his father, who was barely home, and his mother battled with cancer while Teddy was still young.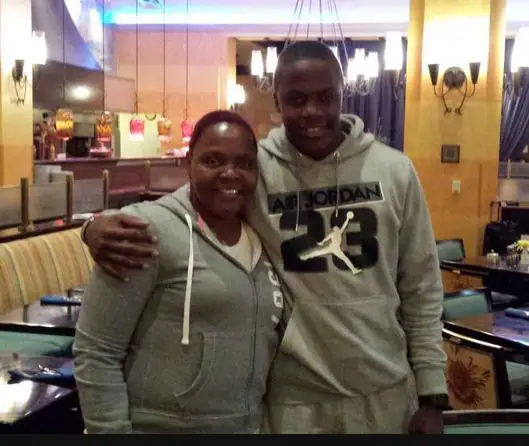 Teddy with his mother out at a restaurant (Source: Texas Sports Nation)
Having seen his mother struggle with the disease, he took on the responsibility of taking care of his family since he was young. And, the NFL player credits his childhood struggles for turning him into a responsible adult, which he effectively shows in the arena as well.
Fortunately, Teddy's mother bravely fought the battle with cancer, and now the family is out of the 'worst' struggle.
More on - Roger Goodell's Wife Defending Him on Twitter - Anonymously?
Teddy's Multi-Million Dollar Net Worth
Apart from fulfilling family life, Teddy's accomplished career as a sought-after NFL player is another aspect adding fulfillment to his life.
Talking about the fortune he has amassed from his career as an NFL player, he is entitled to a staggering net worth of 8 million dollars as claimed by CelebrityNetWorth.
As per the stats by Spotrac, he began his entry-level with Minnesota Vikings with a four years contract valued at 3.3 million dollars. Later, he shifted to New York Jets with a one-year contract signed at an average salary worth 6 million dollars.
With his astounding gameplays, he stayed on a year-long contract deal with New Orleans Saints for 7.2 million dollars of average salary, while he changed his jersey after signing a deal with Carolina Panthers for an annual salary of 21 million dollars.
Currently playing for Denver Broncos, Teddy's staggering net worth does not surprise given his multi-million dollar contract deals. As exponentially his career is excelling, he will only add more numbers to his existing wealth.