Since Tiffany Moon's presence in the RHOD, her special relationships with her husband and kids have not gone unnoticed by her fans.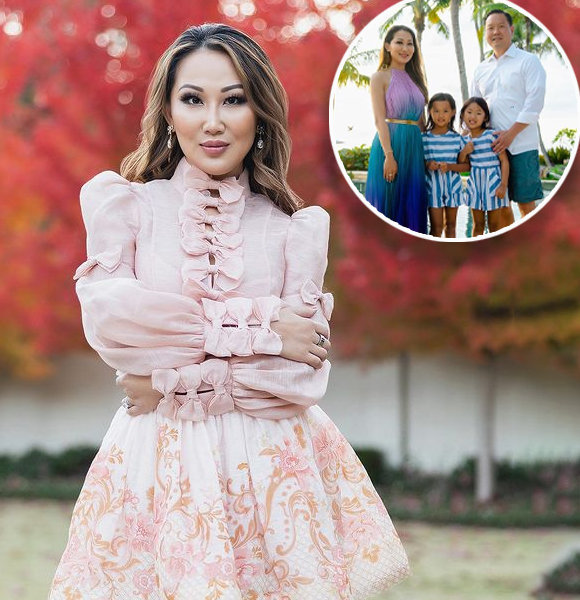 "My everything," the Real Housewives of Dallas's newest star Tiffany Moon wrote on her Instagram, while uploading her adorable family portrait.
Her caption is clear enough to signify what her husband and kids mean to the reality star who has been booming to fame since her debut in the fifth season of RHOD.
Entering into the center of drama ever since her appearance in the reality TV show, her personal life is one of the aspects garnering intense attention from the RHOD lovers.
Tiffany's Off-Screen Life with Husband & Kids
Tiffany and her spouse, Daniel Moon, often referred to as 'power couple,' tied the knot in 2008 in Hawaii, when Tiffany was in the last year of her medical school.
Showcasing her beautiful love story through a series of old pictures, she told the story of how it all began. In the reminiscent video clip, she wrote,
He is my best friend. I am so grateful to have this family.
After all these years, their love for one another still shows through Tiffany's social handles, where she frequently features her beau.
While Tiffany does not mind flashing her boldness confidently in front of the camera, her spouse, on the other hand, is quite the opposite.
Although the couple garnered substantial attention since the fifth season of RHOD, Daniel maintains a low-key public presence and refrains from being seen often on screens, unlike Tiffany.
Tiffany, a physician anesthesiologist, once talked to Bravo TV about her partner's reaction to her being in the show. On that note, she remarked,
My husband is very shy. He's an introvert. He will do the things that I ask him to do because he's just the sweetest husband in the world, but he'd rather not be in front of the camera.
Despite Daniel not fancying being filmed, he appeared on the show a few times supporting Tiffany when she was surrounded by drama.
It's probably the couple's admirable bond that got the RHOD fans to call them a power couple. From almost 23 years of their marriage, Tiffany and her better half share twin daughters.
Get to know - Falynn Guobadia Makes an Addition to Her Family
In addition, Daniel's twins, Nicole and Nathan, from his previous relationship complete the Moon family. Judging Tiffany's Instagram handle, she seems to be closely bonded with her step-kids.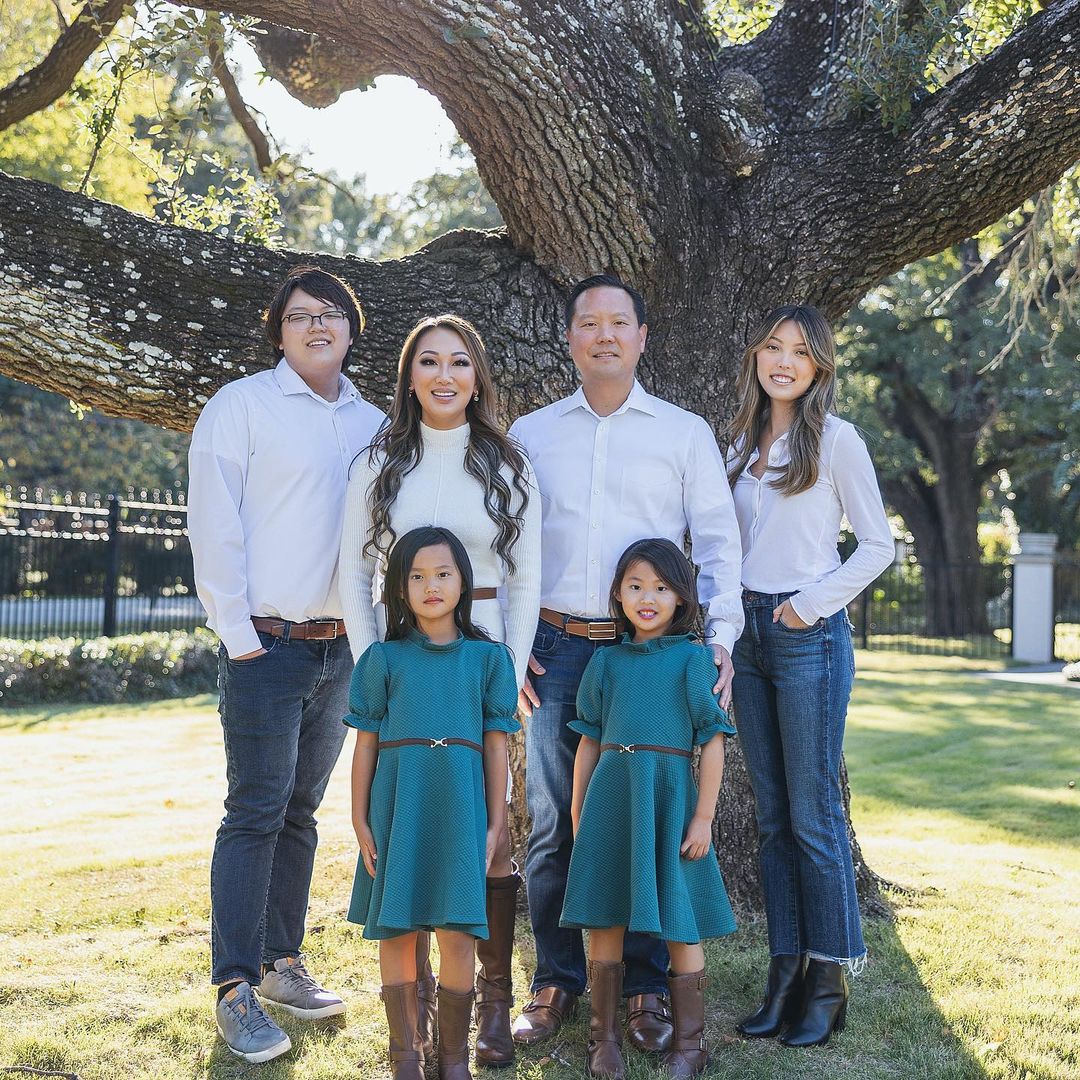 Tiffany Moon's family portrait with her husband and kids (Source: Instagram)
While Tiffany's screen debut is taking her on a whole new level of professional success, her partner's professional expertise lies in business.
What Does Tiffany Moon's Husband Do for a Living?
Daniel currently handles his real estate family business, Sam Moon Group. After he finished his education at SMU's Cox School of Business, he took on the role of leading his family business that had seen some rough roads in the past.
Once a wholesale retailer, the Group has expanded dramatically as one of Texas's dominating real estate and development companies.
Personal life of - Michael Darby Embracing Fatherhood for the Fourth Time
Sharing his experience through the rough time in his family business, Daniel told D magazine his father, David Moon, had lost everything because of a lawsuit faced by the company in the early days.
However, not giving up on the company, Daniel's father continued to expand the Group's reach.
Risen from bankruptcy, the company's extensively high valued assets include the luxurious hotel Renaissance Dallas in Plano, Texas.
Moreover, Tiffany also shares a similar story of building an immensely successful career out of nothing.
Tiffany Moon's Net Worth
Having immigrated from China at the age of six, Tiffany belonged to an average economy family.
She has now established herself as a certified medical personal with her hard work and determination. Not to mention her participation in the RHOD is another significant addition to her professional accomplishments.
As the exact number of Tiffany's net worth is yet to be revealed, according to Salary, her annual income from her medical practice is probably around 400 thousand dollars, besides, her personal brand Tiffany Moon also garners considerable income.
Her massive mansion in Dallas, where she lives with her spouse and kids, speaks for itself that Tiffany's net worth is nowhere less than a million dollars, while it also hints that her husband's net worth is undoubtedly in millions of dollars.
As the physician has soared to popularity since her TV debut, her net worth is bound to increase exponentially.