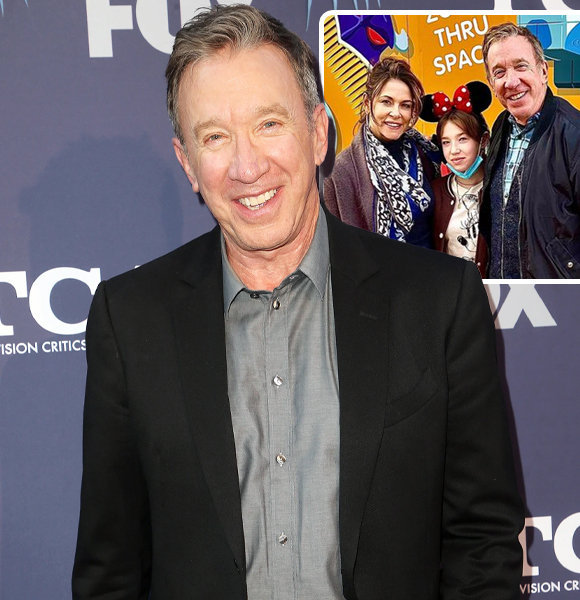 Tim Allen is an award-winning veteran actor who is the favorite of many. He has established himself as an esteemed actor, and fans have loved him for his numerous portrayals in movies and shows.
While his admirers are well-aware of his professional accomplishments, they have grown curious about the actor's family life off-screen, and we are here to shed light on the personal aspect of his life. 
All on Tim Allen's Family 
First of all, to clear all the doubts in the air- Tim is not related to Jeff Allen or Ted Allen. Many consider Tim as the brother of Jeff because of their same last name, but they are not related.
In fact, the actor's actual name is Tim Alan Dick, and Tim Allen is his stage name.
He was born in Denver, Colorado, to Gerald M. Dick and Martha Katherine Dick. 
Tim has two elder brothers, two younger brothers, and a younger sister. So he does have a great big family, but he is the only member who has chosen the path of fame, and the rest of them have a rather private life.
Also check out: Who Is Tim Kang's Wife? Get to Know His Family
It might be unknown to many, but Tim had a difficult life growing up. He hasn't reached where he is without going through immense struggles and hardships.
Unfortunately, the hardships started in his life early on. He lost his beloved father in a car accident at the age of 11.
His father was an important figure in his family, and he loved him dearly.
"I loved my father more than anything. He was a tall, strong, funny, really engaging guy. I so enjoyed his company, his smell, sensibility, discipline, sense of humor—all the fun stuff we did together. I couldn't wait for him to come home," he told Parade Magazine reminiscing his dad.
He added,
I really responded to my father. And then, the very moment I realized that I loved him unconditionally, that life was going to be great just because he was in it, he was gone.
Tim's mother got remarried soon after, but that did not fill the void in his heart. He explained,
I kept looking around for someone to help me deal with these feelings. I needed taking care of, but nobody was going to do it.
Life had a rough road ahead of Allen since then.
Combined with the grief of his father's death and loneliness, he swayed down the wrong paths and got involved with drug dealing, and faced prison time when he was younger.
However, he discovered a newfound passion for acting in the meantime.
It might just have been the saving grace for the actor and since his big break in 'Men Are Pigs' in 1990. Finally, he realized what he wanted to do in life after performing for an audience.
Moreover, Allen also had his wife, Laura Deibel's support through it all.
They have a daughter, Katherine, together. But the pair separated after 15 years of marriage in 1999.
Tim was again having a hard time with his marriage and handling all the fame, and he turned to alcohol for comfort.
This time, his daughter kept him on the right track, and he rediscovered unconditional love through her.
"My daughter slowly crept up on me, removing the obstacles to connection," he said
My daughter eases the ache I used alcohol to calm. Because of her, this void at the center of things since my father died started to fill up.
Since then, his family life and career only saw growth and progress.
Finally, he quit all the bad habits and gave love another shot with his current wife, actress Jane Hajduk. Jane and Tim also have a daughter, Elizabeth.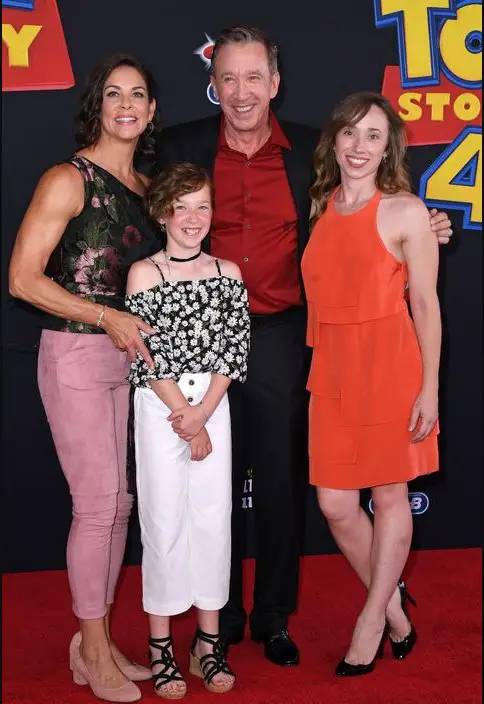 Tim Allen's Family With Wife And Two Daughters (Source: The Pioneer Woman)
The heights of success Tim has reached now reflect his sheer dedication to his craft, for which he is admired immensely. 
Many have praised his work in 'Last Man Standing,' 'Toy Story,' 'Assembly Required,' and more. As a result, Tim lives a joyous life with his family and outstanding career.