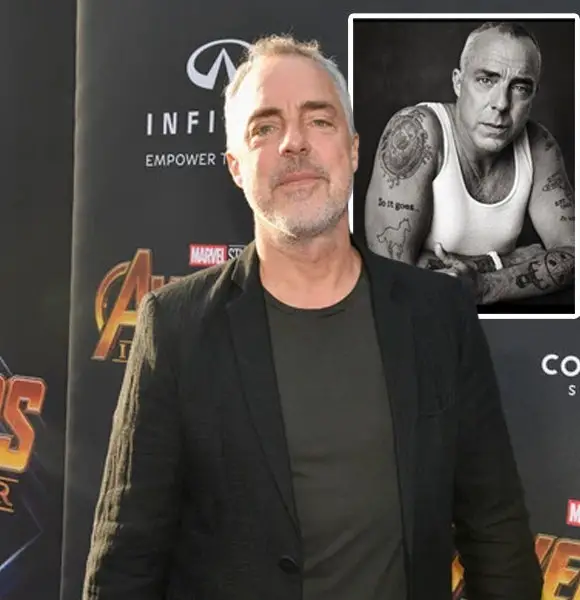 Titus Welliver, most notable for his role in 'Deadwood' and now seen in 'The Mandalorian,' has a long list of news surrounding his married life as he has been married five times now and his divorce with his fifth wife was pretty recent, in 2021. 
But Welliver's personal life is not the one that has caught the eyes of the masses. Instead, it is his tattoos, over two dozen of them, actually. 
Titus Welliver's Tattoos
So to answer the question, "Does Titus Welliver has tattoo"? Yes, he does, and he's got a lot of them. 
His fascination for inks is not a newly born love. On the contrary, it is something he has always loved since he was young, "Far too young," as he told himself. 
His first ink was a martial arts dojo of two koi circling a rock. As per Welliver, it represents "strength and fluidity."
During an interview with the Inked, Titus sat down to share how tattoos have affected his life and how it has influenced his career. 
Adding on to the types of inks he has, he shared that he has gotten almost 30 tattoos (back in 2018) and said, 
"Some of them are the names and birth dates of my children, and others relate to my Irish and Native American background."
Well, one thing is for sure, Welliver does like a significant meaning behind his inks. In addition, Welliver has three children, and they seem to like his designs. 
Titus then talked about how the stigma behind having inks has changed as it used to be "negatively stigmatized" before, but nowadays, it has "drastically changed." He further looked back on how they used to be illegal in some states. 
More On Tattoos: Jelly Roll & His Story Behind His Multiple Face Tattoos
The conversation then shifted to his Hollowood career and if his inks have ever affected it. To which, his response was very insightful and one of a kind. 
"I know lots of actors that have tattoos. I don't think Hollywood necessarily needs more actors with them, but body art is now more common," He said,  "and now we can see more characters in television and in film that aren't just bad guys or special forces soldiers. Hollywood still uses tattoos as a way to depict badass-ery though."
Which indeed is true. The stigma behind inks has drastically changed over the years, and it has only become more and more accepted, from the fashion world to acting to everywhere.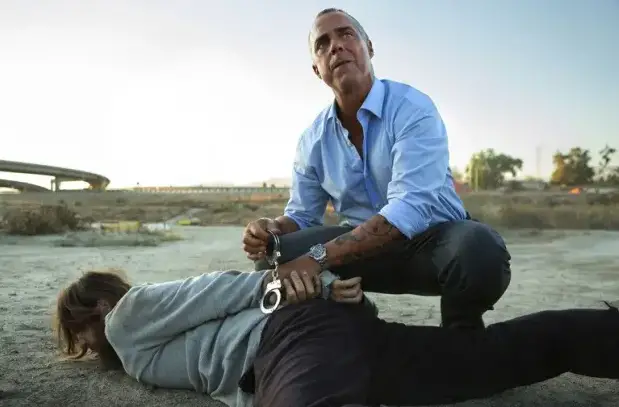 Titus Welliver's Real Ink on the Series Bosh (Source Inkedmag)
Welliver, who is also notable for playing a badass role in 'Bosch,' has never covered up his inks and the makers of the show itself decided to keep his inks intact, and well, it only made his character shine more on screen. 
The actor has never really shared much on his designs apart from what he said about having designs replicating love for his children and heritage. 
However, not a lot, but there might be a detailed insight into one of his inks that replicates another essential aspect of his life. 
Keep Reading: Rob Zombie's Multi-million Dollars Net Worth to Numerous Tattoos
Titus Welliver's Tribute to His Favorite 
Titus has an ink that is a tribute to one of his favorite musical bands. He is known for having a love of jazz but seems like he is fond of other kinds of music as well. 
One of his inks is a tribute to his favorite band, Deftones. He has a design inspired by the band's White Pony album. 
Talking about his ink and love for the band, he said, 
"I'm sort of almost oddly schizophrenic in my musical leanings...But the Deftones, for me to tattoo that white pony image on my arm is significant in my connection and love of the band." 
Although we could not get out hands on all of the designs of his many inks, one thing is for sure, Titus is fond of inks and likes to keep adding them on as he makes new memories along the way 
So we are definitely sure that over the years, he is going to add more, and we shall let you know about any updates on his tattoos accordingly.