Toheeb Jimoh may be a fairly new name in the industry, but he's already making it big with his exceptional acting skills.
With increasing fame, the fans' curiosity also sees a spike in interest in his personal life with his wife or partner. Many have recognized his talents, and thus he has garnered immense popularity.
Every character he plays suits him like he was born to play the role, but has the actor found the perfect woman to suit him?
Does Toheeb Jimoh Have a Wife?
Rest easy, ladies; Toheeb has yet to tie the knot with a special woman. He currently does not have a  wife and has not disclosed anything about his partner either.
So, it's highly possible that the handsome actor is single. However, his career took off only a few years ago, and he's still a new face for the audience, so he has other things to focus on for now.
However, he's already had a test run of the marital life with the character Anthony Walker in the movie 'Anthony' released in 2020.
The movie revolves around the tragic story of a victim of a racist attack. Amidst the gravity of the plot, Toheeb had a heart-touching wedding scene with his on-screen wife, Julia Brown, in the movie.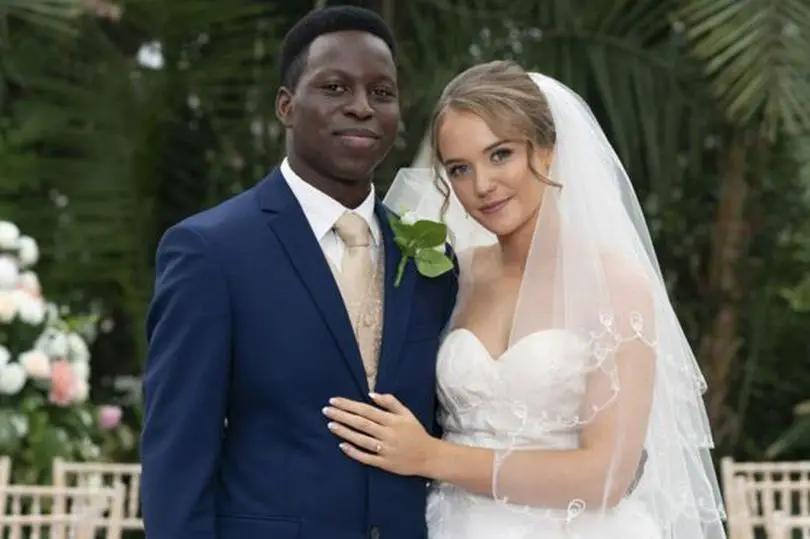 Toheeb Jimoh and His On-Screen Wife, Julia Brown (Source: Liverpool Echo)
Viewers loved the on-screen wife and husband duo and were deeply moved by the emotional scene.
If a simple movie wedding scene had the viewers so riled up, we could only imagine how his fans might get when he actually decides to settle down.
Nonetheless, the actor is still at the age of early 20s, and he has a long way to go and plenty of time to find a wife.
Also check out: Nina Arianda's Love Life - Is She Married?
Apart from his love life, Toheeb's fans are also curious to learn more about the new star's family and background. Fortunately, that is one aspect of his life that he is open to sharing.
More on Toheeb Jimoh
Toheeb was born in the UK to his parents, who come from Nigerian roots.
The actor celebrates his birthday on April 15th, 1997, and has reached 25 years. He stands tall at the height of 6'1".
Moreover, he had a colorful childhood, having spent time in both UK and Nigeria.
He moved to Nigeria when he was just one year old, returned, and stayed in Brixton when he reached age seven. His nationality is British.
More on 'Ted Lasso' stars: Cristo Fernández Has a Special Lady in His Life
He shared with GQ that he often has trouble fitting in between the two nations.
Many immigrants feel that they're too foreign to fit in with their home country and, again, too foreign to fit in with the country they move to.
Jimoh faced something similar, but he has found common ground now. In fact, he represents his country and culture on screen and is proud of it. He told Vanity Fair,
I'm a young, British actor, but my culture is Nigerian, and Nigeria means a lot to me. I'm proud that I get to represent Nigerians on screen.
He has already tasted success in his fresh career, but had things gone a bit differently a few years ago, we wouldn't see Jimoh on stage.
Toheeb had to choose between football, which he also greatly enjoyed, and the school play. Eventually, fate had it in for him, and he ended up selecting the theater.
As a result, he is emerging as a promising young actor and is sure to progress further in his career. You can catch him on 'The Feed' and 'Ted Lasso.'