Celebs
Tom Papa's Reason for Why Marriage Is Better Than Dating
Tom Papa shared the secret recipe of a long lasting marriage with his wife plus the beautiful life he has with his family is one not to miss.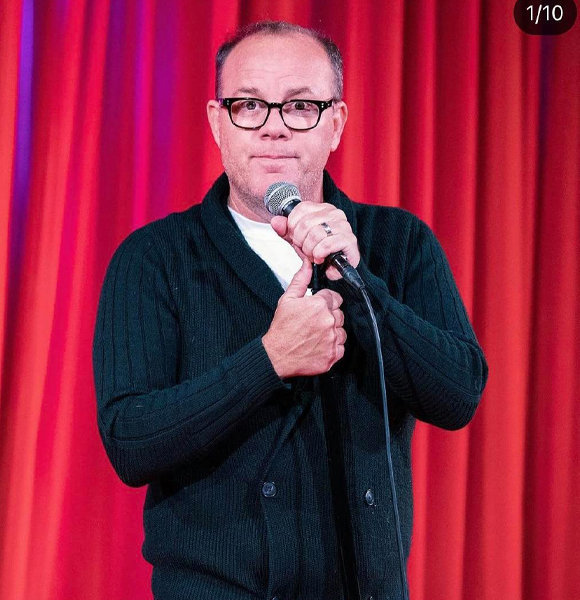 The famous comedian Tom Papa is known for his gigs and humorous scripts regarding marriage during his stand-ups. Papa's humorous routines regarding how married life is better clearly reflect that he indeed has a happy life with his wife and family. 
Tom Papa's Wife & Family
Recently on June 30, 2021, Papa presented a hilarious stand-up on the topic of how marriage is better than dating. In the one and half minute monologue, he showed the contrast of how effective an advantageous marriage is over just dating. 
Papa also went ahead to say that marriages are carefree, and one does not have to think about others getting affected.
Tom also touched upon the fights that wedded couples have, and well, it seems he does not call it a 'fight,' the comedian has another word for it, 'communicating in a timely fashion.'
Tom Papa's Stand Up Regarding Marriage & Dating
Must be a reason why his marriage with his wife has lasted for two decades now. Tom's gigs seem to be less a fictional presentation and more of a reality that he shares with his wife. 
And not to mention, he does that quite a lot. In one segment of Just For Laughs back in 2017, his opening dialogue was, 
"If You Are Married, You Win."
Rightfully so, as Papa writes these scripts with his personal experience as he shares a very happy family with his wife. He is married to his wife, Cynthia Koury-Papa. 
However, one can not forget that he is a comedian, and as much of a happy life he lives (we are certain), there will always be humor and satire attached to whatever he says. 
Back in 2016, when he was at Conan O'Brian's talk show, he had his own secret recipe to a long-lasting marriage, and well, it was far from what we hear on his shows. 
So, if anyone had high expectations with marriage after hearing his stand-ups, then you sure will have them crushed to the ground after this. 
"You have to lower your expectations," hilariously mentioned the 53-year-old comedian while talking about the secret to marriage. He also went as far ahead to say that marriage is "far from a dream" and eventually it will get boring. 
Personal Life Of Another Comedian: ABC's George Stephanopoulos And His Comedian Wife: 15 Years Of Married Life And Their 2 Children
Tom further revealed that he also planned to have a girlfriend but not for himself but for his wife, at least that's what he says.
The comedian very conveniently covers up his thought of having a girlfriend for himself to having a girlfriend just to make her his wife's assistant. 
His statement was supported by laughs and claps as for all of them, it was a joke, including Papa.
... At least, we hope so. He is married to his wife, so maybe the plan crashed?
A New Jersey-born, Tom shares two kids with his beautiful wife, and both of them are two beautiful daughters. The father of two occasionally shares the life he lives with his teenage daughters on his social media.
Weather is sharing his daughter's amazing baking skills to sharing cute day-to-day life encounters; Tom is an attentive and a proud father, to say the least. 
The comedian/actor's two-decade-long marriage has made him experience immense happiness and joy. Likewise, his career has backed up his merry life with content, making him enjoy a tasteful net worth. 
Tom Papa's Net Worth
Born in New Jersey, Papa has put his hands on multiple industries and has never been afraid of trying new things. A prominent figure in the comedy industry, he has played roles in many films, including "Luff in The Knick." 
Apart from movies, he also has many TV appearances, one of which is; "The New Adventures of Old Christine." Aside from his acting career, he is also a prominent radio host. 
He hosts the Sirus XM Satellite Radio show, Come to Papa and What a Joke with Papa and Fortune. Additionally, he has also hosted NBC's "The Marriage Ref" and Fox show "Boom!."
Keep Reading: Comedian Kevin Bridges On-Off Relationship With Girlfriend, Susan Riddell: Still Dating?
The author of the book "You're Doing Great!" also appeared in an hour-long comedy special under the same name that aired on Netflix. 
All the different professions he takes up reward him with good fortune. As a result of which, his net worth is $3 million, as reported by CelebrityNetWorth.